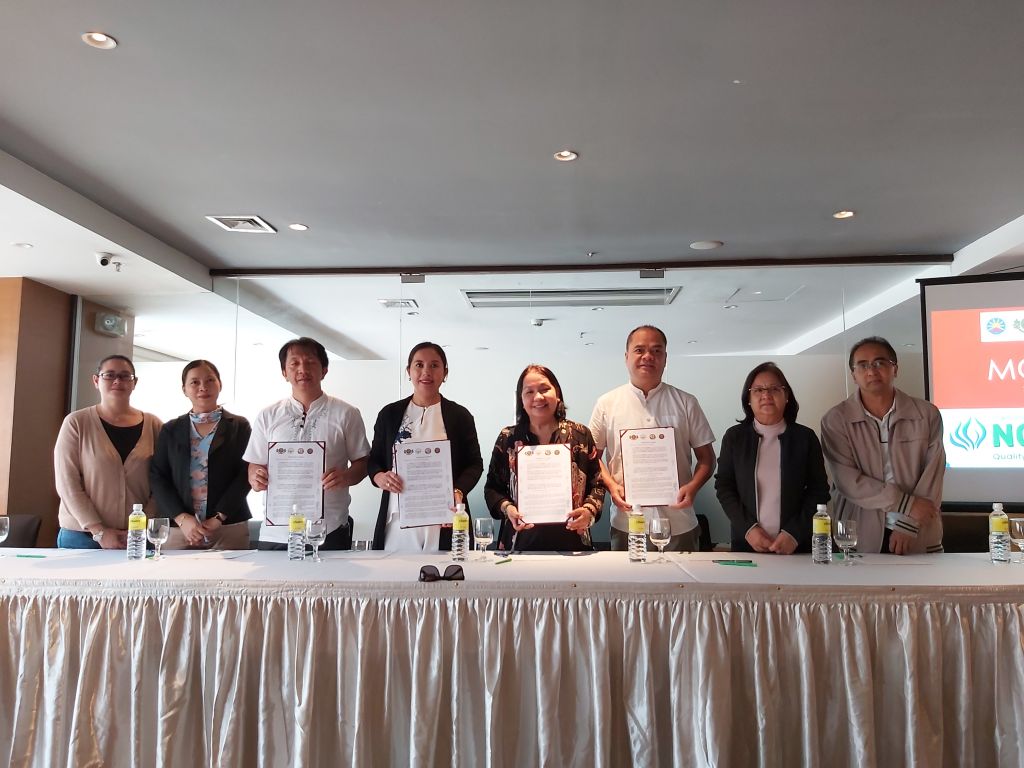 Four Philippine state colleges and universities (SUCs) signed the memorandum of agreement (MOA) to officially commit to the promotion of open and distance education and technology-enhanced learning through the 6th National Conference on Open and Distance eLearning (NCODeL 2019).
On 23 September 2019 at the Holiday Inn, Baguio City, the University of the Philippines Open University (UPOU) represented by Chancellor Melinda dela Pena Bandalaria; University of the Philippines Baguio (UPB) represented by Chancellor Raymundo D. Rovillos; Benguet State University (BSU) represented by Vice President for Academic Affairs, Dr Kenneth Laruan on behalf of President Feliciano Calora, Jr.; and the Ifugao State University (IFSU) represented by President Eva Marie Dugyon, signed the MOA to collaboratively organize and hold the NCODeL 2019. NCODeL2019 hopes to address the issues and pathways that challenge equity and access in quality higher education.
During the short program held for the MOA signing, Chancellor Bandalaria explained how the idea of collaborating with other SUCs for NCODeL came about. She shared that UPOU has been capacitating UPB, BSU and IFSU to enable them to offer programs from technology-enhanced to fully online mode of instruction. These initiatives were done as part of RA 10650 or the Open and Distance Learning Act. Being partners with the three SUCs for NCODeL2019 will be beneficial for all parties.
Each SUC representative also delivered short speeches of gratitude and anticipation for the partnership and conference. They hope to be able to contribute their experiences in technology-enhanced learning and ODeL through the NCODeL2019 especially with the Conference Fellowship that Commission on Higher Education has made available.
NCODeL2019 will be held on 26-28 November 2019 at the Holiday Inn, Baguio City. All administrators, faculty members, researchers, even students, of Philippine higher education institutions are invited to participate in this biennial assembly of experts, practitioners and policymakers of ODeL. NCODeL2019 aims to provide a venue and opportunity for HEIS and SUCs to share experiences and best practices in instruction and results of research in flexible/technology-enhanced learning and ODeL. NCODeL2019 also aims to enable other SUCs to expand their capability to implement the Universal Access to Quality Tertiary Education Act (RA 10931).
Interested participants may register through ncodel.org or email ncodelsecretariat@upou.edu.ph.