Government Service Insurance System (GSIS) representative, Mr. Enrico L. Torres, Frontline Services Division Staff Officer III, conducted a re-orientation and briefing on the basic services of GSIS with UPOU employees on 17 June 2019 at the Audiovisual Room, UP Open University, Los Banos, Laguna. Mr. Torres was accompanied by Mr. Jose Cresencio H. Garcia, Acting Officer I, Billing, Collection and Reconciliation Division (BCRD).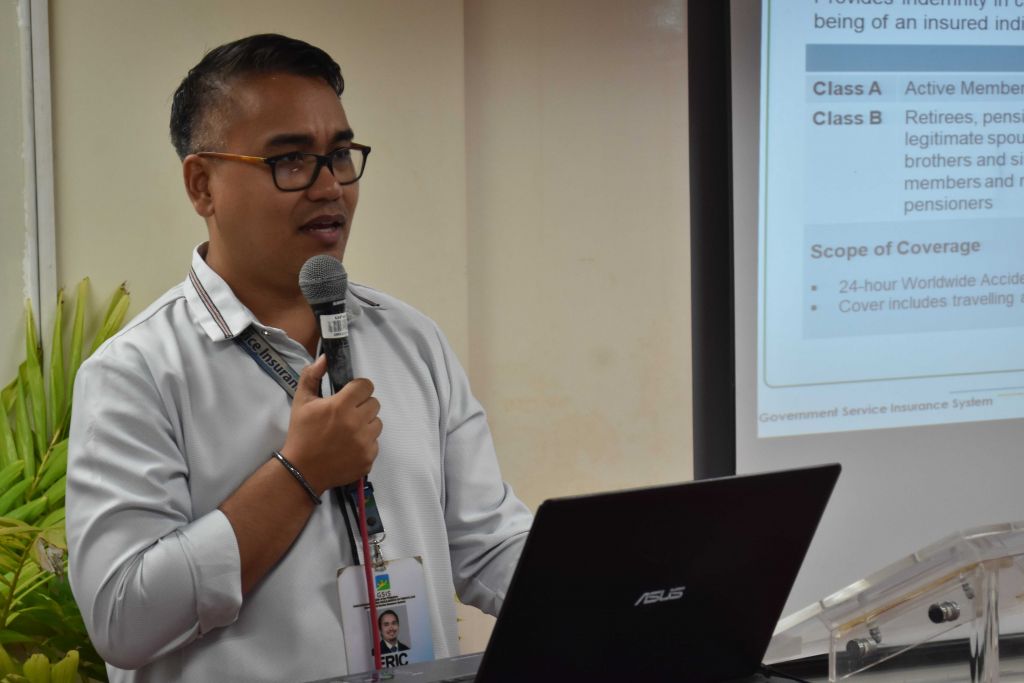 The activity served to review and update employees on the basic social security benefits inclusive of GSIS membership. Around 60 employees attended the said program.
The speaker presented updates on loan restructuring and status revalidation through GSIS Wireless Automated Processing System (GW@PS) for old-age and survivorship pensioners, which is under the Annual Pensioners Information Revalidation (APIR) program. He also discussed retirement modes, laws, and benefits, and other social insurance benefits offered by the institution.
Benefits for employees who are active members include life insurance, separation or retirement benefits, and disability benefits. GSIS also administers General Insurance Fund, under RA 656 or the Property Insurance Law, which provides coverage to government assets and properties that have government insurable interests.
GSIS offers two types of life insurance policy: Life Endowment Policy (LEP) and Enhanced Life Policy (ELP). LEP is issued to GSIS members who entered government service before 1 August 2003. Those who entered government service on or after the said date is covered by ELP. In terms of retirement benefits, GSIS offers two options under RA 8291, or the GSIS Act of 1997: five-year lump sum and old-age basic monthly pension (BMP) after five years and 18 months Cash payment and old-age BMP starting on the date of retirement.
UPOU employees are covered in compulsory GSIS membership, pursuant to Section 3 of RA No. 8291, which includes all government employees who are receiving compensation and have not reached the compulsory retirement age, irrespective of employment status.
Torres reported a total of 1,783,317 active GSIS membership as of February 2019, with top three comprising DepEd (51.78%), LGU (23.34%), and National Govt Agency (18.02%). According to records, the average age of active members is 43, with average salary of PhP 25,387.28 and average years of service amounting to 13 years. The same data also indicated 479,766 total number of pensioners.
For other details, you may visit GSIS website at https://www.gsis.gov.ph/. (KDTChispa)