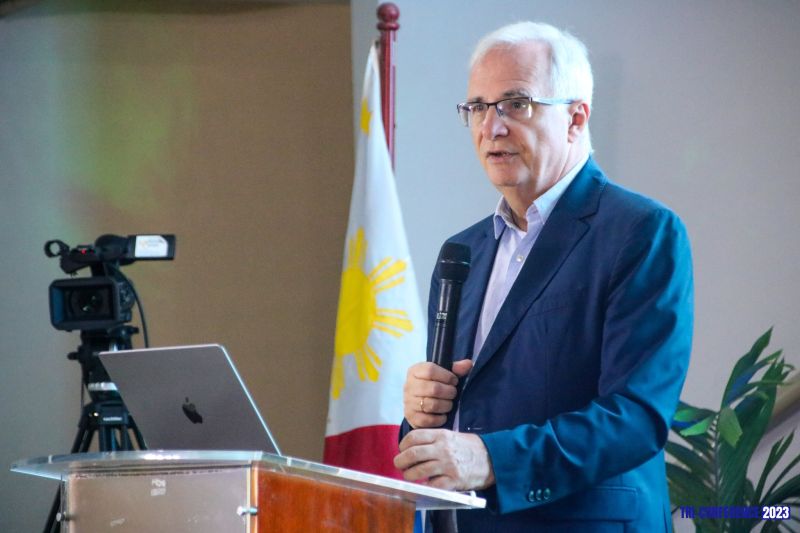 The 5th International Conference on Open and Distance eLearning (ICODeL 2023) took place on 22-23 August 2023 featuring three distinguished and renowned experts in Education as the plenary speakers.
Prof. Carlos Delgado Kloos, Ph.D., a Professor from the Universidad Carlos III de Madrid led the discussion for first Plenary Session. In his talk titled "Small is Beautiful: From MOOCs to Micro-credentials," he discussed new options that educators may use in Massive Open and Online Courses (MOOCs) production and microcredentials.
Prof. Kloos initially presented the evolution of learning tools from paper, nooks, and journals to the development of artificial intelligence (AI). He also stated the evolution of MOOCs, which is where video and course duration are shorter while the content becomes smarter and smaller. He proceeded to present the keys to every MOOCs' overall design, videos from pre-production until post-production, concept, script that can be AI generated, resources, quizzes, and forums. He also introduced various Artificial Intelligence tools and their functions. According to Dr. Kloos, as different platforms continue to evolve, incorporating AI tools into the production process and development of MOOCs will be easier. He advised educators to familiarize themselves with AI tools and prepare graduates to work in an AI-driven environment. Prof. Kloos also added that with the advancement of these AI technologies, new educational formats will emerge. There are a lot of new and other options that should be explored, as well as microcredentials. As presented, microcredentials provide a record of learning outcomes that a learner acquired following a small volume of learning.
When it comes to the obvious and non-obvious challenges of microcredentialing, Prof. Kloos shared that the handling of courses will be challenging. He advised rethinking and reorganizing the staff members who handle these. Hence, having appropriate administration is a key to success. Prof. Kloss emphasized that AI is changing very fast, and the world is not yet ready to grasp it. AI is changing everything, presenting both excitement and difficulties. It is also important for educational institutions to rethink the kind of assessment they use to ensure transparency and authenticity with the rise of AI technology.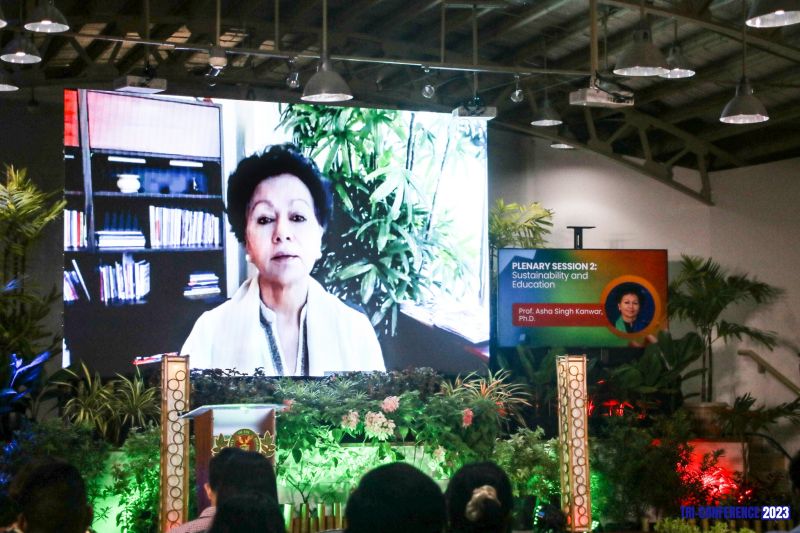 The President and Chief Executive Officer of Common Wealth Learning, Prof. Asha Singh Kanwar, Ph.D. was the second Plenary Speaker. She talked about the importance of aligning sustainability in education and introduced ways universities can incorporate sustainability in their curriculum in her presentation aptly titled "Sustainability and Education."
Prof. Kanwar discussed how, with the explosion of the AI revolution, academe should be inclined toward sustainability. Greening the curriculum can be attained by introducing environmental literacy and aligning it with the Sustainable Development Goals (SDGs) while physical facilities can be sustainable through the use of renewable energy. The presenter also introduced other universities and countries with sustainable practices, such as the Earth University in Costa Rica, Japan, where activities are linked to the environment, and outdoor education in Canada.
She said that MOOCs can also be a tool for promoting sustainability in education through courses such as the responsible use of oceans and how Open Universities encourage sustainability. Prof. Kanwar also discussed contemplative pedagogy and the role of technology, where scale, access, and collaboration are a few points to consider. To conclude the discussion, the presenter shared that sustainability in education means providing affordable and accessible quality education for all, promoting research and knowledge creation for the sustainable development of societies, and modeling sustainable behaviors for people and the planet. According to Prof. Kanwar, "Technology must be placed in an appropriate social, cultural, and political context."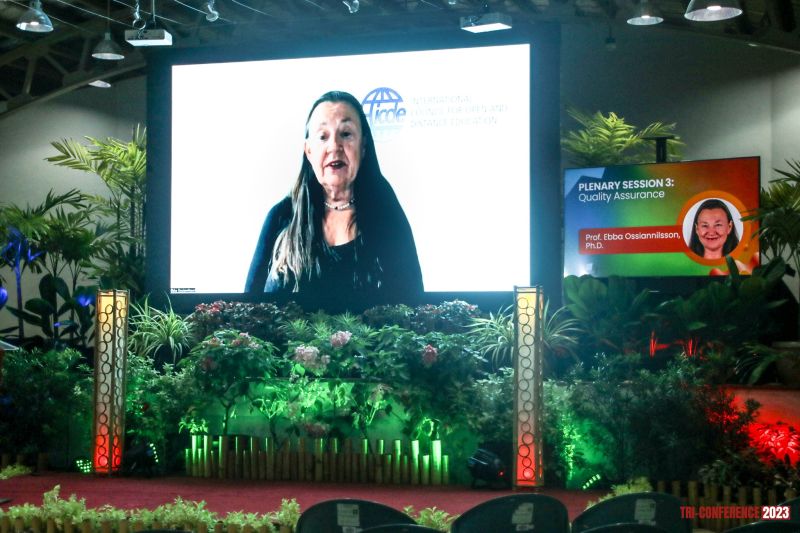 The third and final Plenary Speaker was Prof. Ebba Ossiannilsson, Ph.D., Adjunct Professor at the Victoria University of Wellington and a member of the International Council for Open and Distance Education Executive Committee. The session, dedicated to tackling Quality Assurance, was a discussion of the need for a new quality agenda in education and the significance of lifelong learning as a response to the challenges of today.
The session started with a discussion of education in a post-COVID-19 world. Prof. Ossiannilsson presented ideas for public action: to forget social goals and that human beings should be living and working together toward the common good. She mentioned that people should learn to empathize and cooperate. This was followed by introducing global trends, specifically the integration of technology and data-driven decision-making.
Dr. Ossiannilsson stated that in response to the challenges of today and the decades to come, a culture of lifelong learning is highly in demand. This is also a solution to the complexity of modern life, which requires adaptability, active citizenship, and employability. The presenter added that emerging economic, technological, environmental, and social changes signal the need for lifelong learning. With this, a new quality agenda is also in demand, which focuses on well-being, health, caring, societal growth, ethics, core values, satisfaction, engagement, and contributions to development. Prof. Obssiannisson reiterated that sustainability should be included in the quality assurance framework.
In these plenary sessions, Prof. Carlos Delgado Kloss, Prof. Asha Singh Kanwar, and Prof. Ebba Ossiannisson provided insightful discussions on exploring innovation through the use of technology, the integration of sustainability in education, and quality assurance.
ICODeL 2023 is part of the Tri-conference 2023 held from 21 to 25 August 2023, organized by UPOU in collaboration with the Southeast Asian Regional Center for Graduate Study and Research in Agriculture (SEARCA), UPOU Foundation, Inc. (UPOUFI), and the Philippine Society for Distance Learning (PSDL). The Tri-conference includes the ICODEL 2023, International Symposium on Education and AI Convergence (ISEAC 2023), and the ASEANnale, which share the same theme: Sustainability in Education: Intersections, Ideation, Innovations. Tri-Conference is sponsored and supported by Concentrix (Platinum Sponsor), Near-Life, Development Bank of the Philippines and Nephila Web Technology, Inc (Gold Sponsors), and the following Exhibit Partners: Digital Freedom Network, Disini Law, Veterans Bank, Land Bank, DOST-PCAARRD.
Written by Tri-Conference 2023 Publicity Committee