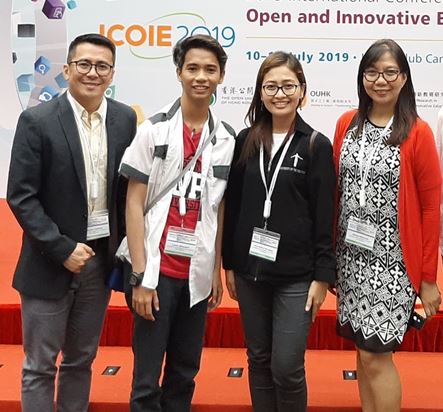 Two students of the University of the Philippines Open University (UPOU) presented their study at the International Conference on Open and Innovative Education (ICOIE) 2019, which was organized by the Open University of Hong Kong (OUHK).
Lexter J. Mangubat, a Bachelor of Education Studies student, and Ana Katrina P. de Jesus, a Doctor of Communication student, wrote and presented the paper "Re-living the Eve of the 1896 Revolution: Assessing Katipuneros RPG as an Educational Communication Tool for History."
Katipuneros RPG (role-playing game) is an immersive and gamified play that engages the "players" or members of the audience to the initiation rites of the 1896 secret revolutionary group in the Philippines called Katipuneros. Mangubat explained that the game is anchored on constructivist, play-based, and multisensorial learning theories. The study showed that through the RPG, the students felt they were able to relive history and added that it is a more effective way of learning history as they feel so immersed and they were able to interact with their co-players. They also noted that it is a more effective way of learning history than the traditional classroom set-up. Though the effect of the innovation was more affective, it is still an innovative and relevant way of teaching history, especially that the new students have attention spans that are getting shorter.
Mangubat and De Jesus co-authored the paper with faculty members from the College of Development Communication, UP Los Baños (UPLB). They were with Assistant Professor Mildred Moscoso and Assistant Professor Edmund Centeno.
Mangubat has recently completed all his requirements for the BES program and is expected to graduate as part of the UPOU class of 2019. He currently serves as project staff member of the UPOU Multimedia Center, where he had served as a student assistant for four semesters. De Jesus, on the other hand, is an Assistant Professor at the UPLB College of Arts and Science, where she teaches humanities subjects.
ICOIE was held on 10-12 July 2019 at the Jockey Club Campus, OUHK, Kowloon, Hong Kong. The international conference was participated in by faculty members, researchers, and personnel from academic and training institutions from different countries. The conference served as a venue for sharing research, practices and views relevant to open and innovative education; for facilitating collaboration and engagement among practitioners in the fields of educational innovation; and for promoting open and innovative education. (Multimedia Center)