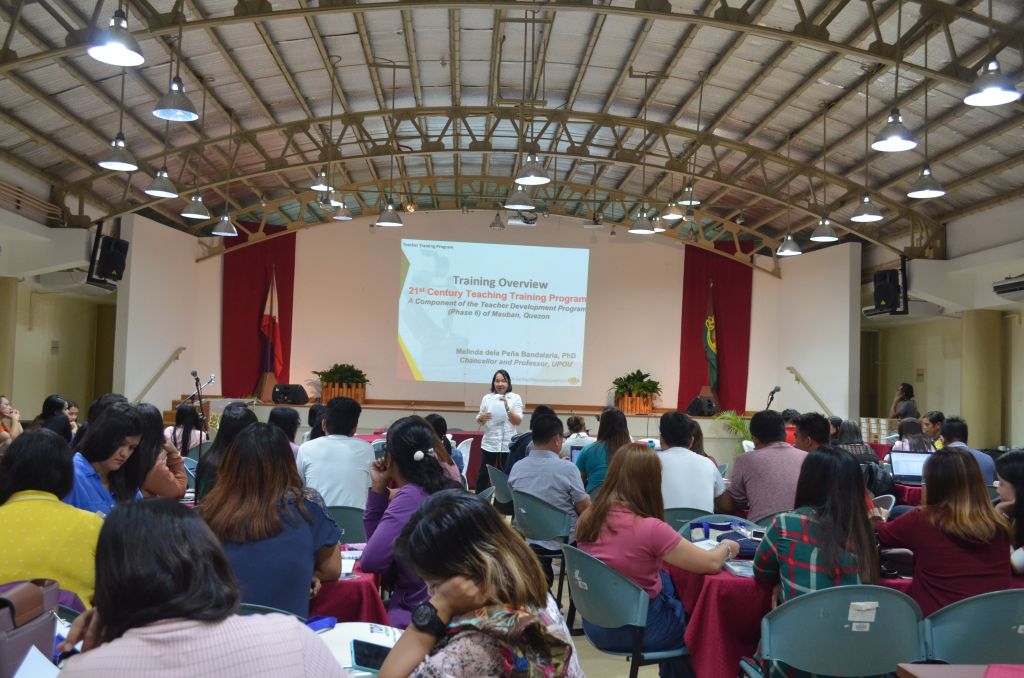 The University of the Philippines Open University (UPOU) is holding a two-week training titled 21st Century Teaching Training: A Component of the Teacher Development Program (Phase 6). The activity commenced with a two-day face-to-face training session held on 27-28 August 2019 at the UPOU Headquarters, Los Baños, Laguna. The remaining sessions of the training shall be held online until 9 September 2019.
UPOU Chancellor Melinda dP. Bandalaria, Teacher Development Program (TDP) Project Leader and Lead Trainer, said that the training program aims to provide teachers with the knowledge and skills that will enable them to do the following:
integrate modern information and communication technologies (ICTs) into their teaching and adopt the technology-enhanced/flexible teaching strategy;
use open educational resources in their teaching; and
implement disaster readiness and risk reduction strategies at the school.
Dr. Ricardo T. Bagarinao, Dean of the UPOU Faculty of Education, served as one of the resource persons. He discussed the module on School-Based Disaster Risk Reduction and Management.
Seventy-five teachers from 13 government educational institutions of Quezon, majority of which were located in Mauban, participated in the training program. These educational institutions include Alitap Elementary School; Bilucao Elementary School; Cagbalete Island National High School; Cagsiay 1 National High School; Cagsiay 2 National High School; Dr. Maria D. Pastrana National High School; Liwayway National High School; Manuel S. Enverga Memorial School of Arts and Trades; Mauban North Elementary School 1; Pambayang Kolehiyo ng Mauban; Quezon Science High School; San Miguel-San Rafael Elementary School; and Tejero Elementary School. (LGelisan and RVerena)