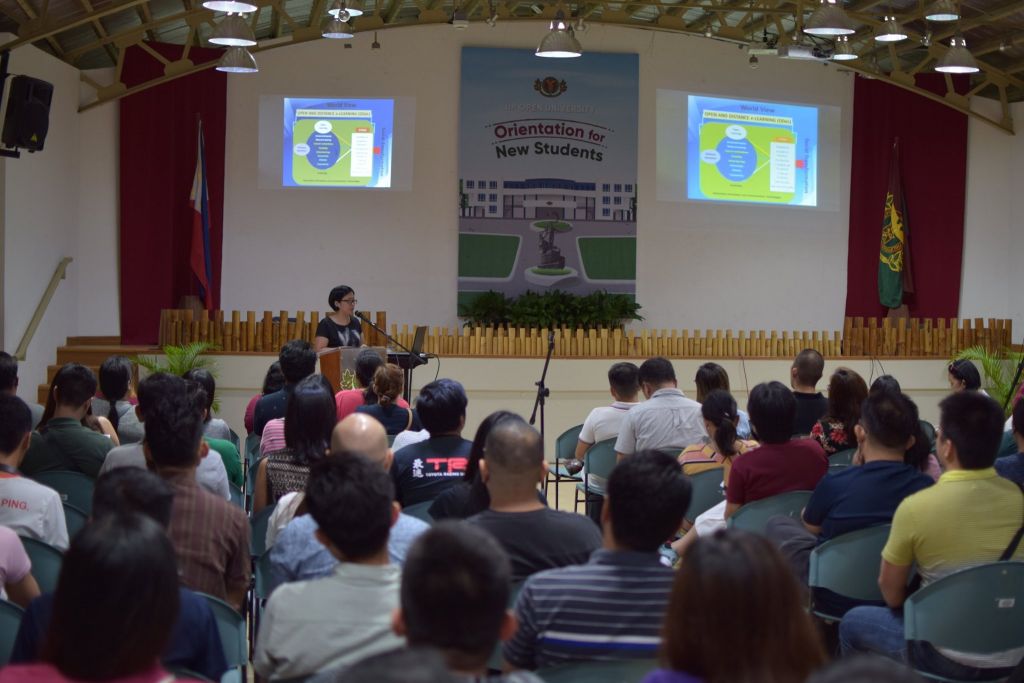 The University of the Philippines Open University (UPOU) Office of Student Affairs (OSA) held an orientation program for new students on 31 August 2019 at the Centennial Center for Digital Learning (CCDL) Auditorium, UPOU Headquarters, Los Banos, Laguna. One hundred twenty (120) incoming undergraduate, graduate, and non-degree students participated in the orientation.
The general orientation was live streamed via the UPOU Networks, with 244 new students participating. Video conferencing was also arranged with some new students who attended the orientation in the UPOU Mega Learning Hubs (MLH) located in the National Capital Region (Diliman, Quezon City), Visayas (Cebu City), and in Mindanao (Davao City).
The orientation program started with a Campus Tour followed by presentations and discussions about the different aspects of open and distance eLearning (ODeL). Dr. Joane V. Serrano, Associate Professor and Director of UPOU Information Office, explained what is ODeL Framework; Ms. Victoria Canape-Belegal, Administrative Officer V of the Office of the University Registrar, talked about Academic Processes and Procedures; Ms. Luisa A. Gelisan, Director of the Multimedia Center, introduced the uses and how to use Myportal or UPOU's virtual classroom and UPOU Networks, the repository of open access learning materials; and Asst. Professor Rita C. Ramos, Faculty Secretary of the Faculty of Management and Development Studies, shared study skills that an elearner must acquire and develop.
Student support services provided to UPOU elearners were discussed by Ms. Yasele Irene Angela M. Yambao, Director of the OSA. She talked about UPOU Scholarships and Financial Services Program; Library services; the UPOU MLH; and the Examination Services and how these can be availed.
Ms. Rhonna Marie R. Verena, the Director of the UPOU Office ng Ugnayang Pahinungod, on the other hand, presented Pahinungod programs that students may actively participate in.
After the general orientation, orientation by Faculty Office and degree programs were conducted in the afternoon. (Linda M. Manarin)