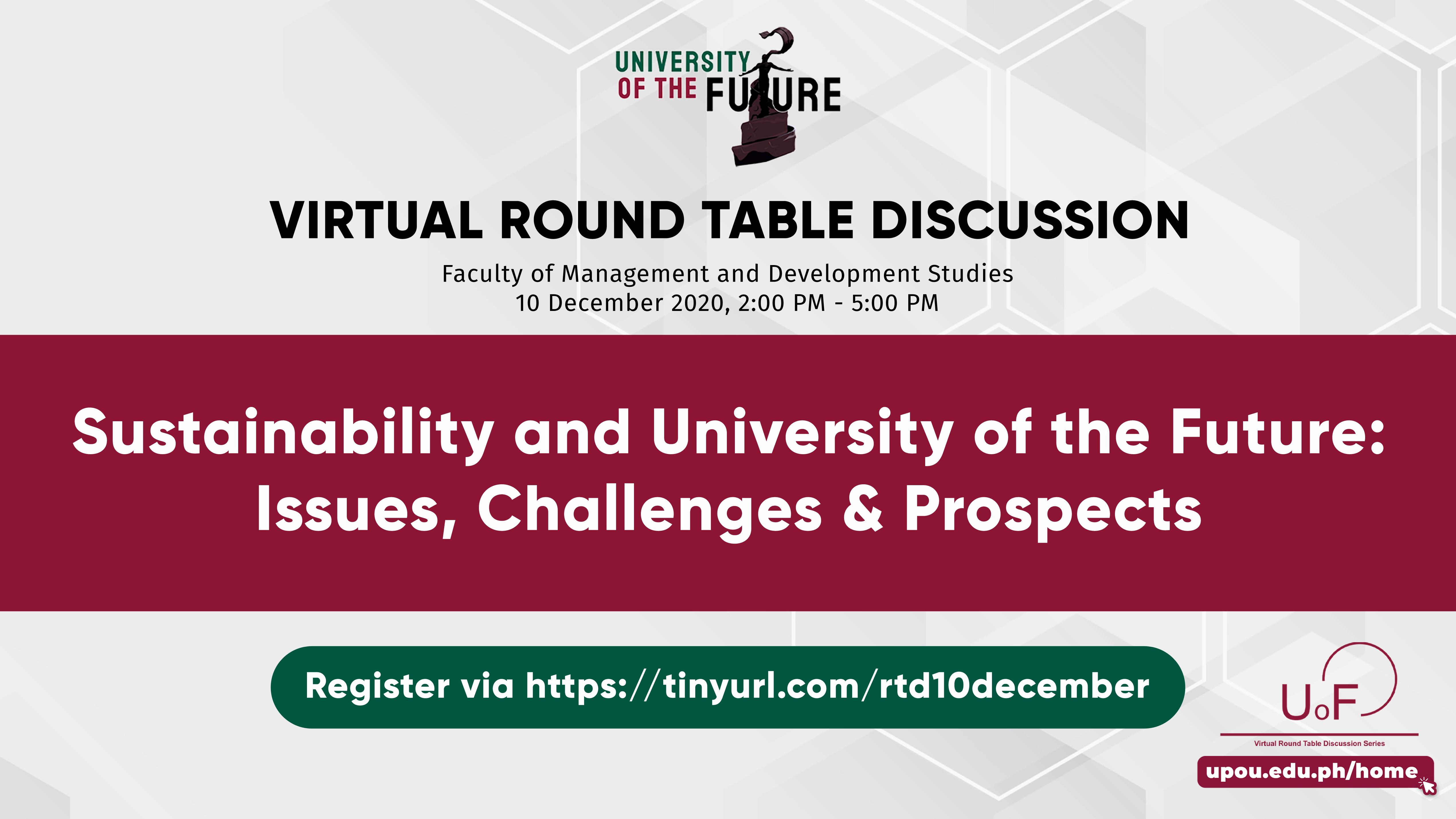 UP Open University organized a virtual round table discussion (VRTD) on "Sustainability and the University of the Future (UoF): Issues, Challenges & Prospects" on 10 December 2020. Hosted by the Faculty of Management Development Studies (FMDS), the  VRTD was participated in by UPOU faculty, staff, students, and alumni.
The event  started with an opening message from FMDS Dean Primo G. Garcia,  who gave an overview of the experiences, conversations and realizations  undergone by the members of the Sustainability Task Force as they tackled the concept of sustainability, as part of their task to propose a doctorate program in sustainability in UPOU. He also said that the need to incorporate sustainability in higher education is in line with the recent thrust of UPOU to imagine the University of the Future. 
After this, members of the Sustainability Task Force took turns in presenting conceptions of sustainability and its importance, the team's journey from 2015 that led to the development of the proposed Doctor of Sustainability (DS) program in 2020, the proposed DS program framework , and the parallelism between DS Program Goals, Sustainability Competencies by Wiek and others,  and 21st Century Goals, and the lessons learned from the team's journey. The Task Force members were Dr. Joane V. Serrano, Dr. Consuelo dL. Habito, Dr. Maripres U. Sarinas, Dr. Ricardo T. Bagarinao, and Dr. Primo G. Garcia.
After the presentations, the attendees discussed in small groups and presented how they propose to incorporate sustainability in the University of the Future's teaching and learning, research, public service, and university/program governance. It was agreed upon that a manifesto will be drafted endorsing to  the University the incorporation of sustainability perspectives in its academic programs and quality assurance system. 
Dr. Consuelo dL. Habito moderated the discussion. Vice Chancellor for Academic Affairs Dr. Melinda F. Lumanta delivered the closing message.
This is the second session in the University of the Future (UoF) Virtual Roundtable Discussion Series initiated by the UPOU  Office of the Chancellor for Academic Affairs (OVCAA).
###
Written by Noreen Dianne S. Alazada
Edited by Primo G. Garcia