Certificate Course for Data Protection Officers
UP Open University, UPOU Foundation Inc., and Digital Freedom Network team up to bring you the Certificate Course for Data Protection Officers.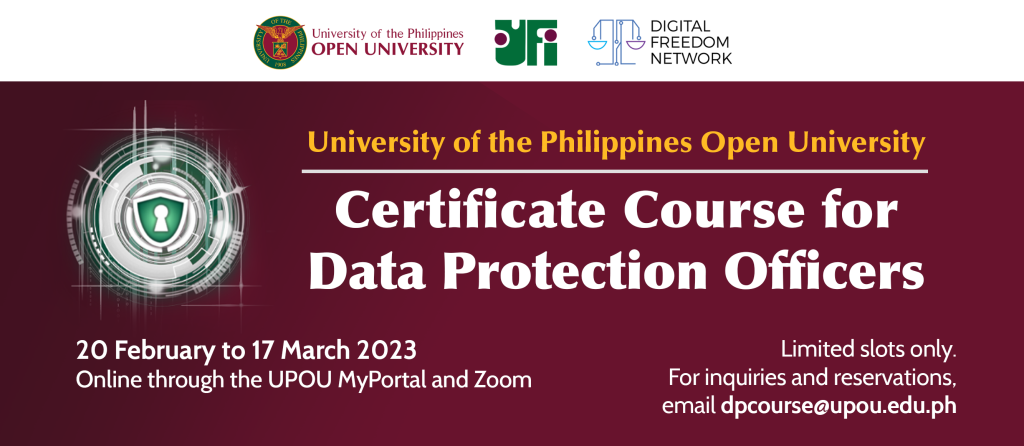 Course Description: The course is designed to train and certify Data Privacy Officers who will be tasked with designing, implementing, and overseeing the respective data privacy policies of their organizations, in compliance with the Data Privacy Act and its Implementing Rules.
At the end of the course, participants will be taking a certification exam based on the course modules and lectures. A Certification shall be issued to participants who pass the exam.
This 4-week online course will take place in MyPortal — the virtual classroom or course site of UPOU — and also through Zoom. It will involve you doing some asynchronous activities (e.g., watching video lectures in the course site) and attending synchronous/live/real time sessions (e.g., live lectures, recitation) via Zoom meetings.
The Lecturers/Resource Persons for this online course are:
Atty. Jose Jesus M. Disini, Jr.

Atty. Oliver Xavier A. Reyes

Atty. Roberto Miguel O. Raneses

Atty. Paolo A. Sumilong

Atty. Paula G. Filart

Engr. Kama Neson Ganeson
Course Objectives
At the end of this course, you should be able to discuss:
Data Privacy Act, its Implementing Rules, and relevant issuances of the National Privacy Commission (NPC)

the role of the Data Protection Officers and their expected duties

how to develop a Privacy Management Program for your organization

how to handle security or data breach incidents within your organization

the basics of Information Security
Course offering schedules for 2023:
| | |
| --- | --- |
| | Duration |
|  CCDPO 1_2023 |  20 February to 17 March |
|  CCDPO 2_2023 |  TBA |
|  CCDPO 3_2023 | TBA |
|  CCDPO 4_2023 | TBA |
|  CCDPO 5_2023 | TBA |
Please register online at DP Course Online Sign-up Form and expect to receive an email from us on the enrollment procedures to know if there are still slots available.
For more information, visit https://fmds.upou.edu.ph/ccdpo/ or send an email to [email protected]