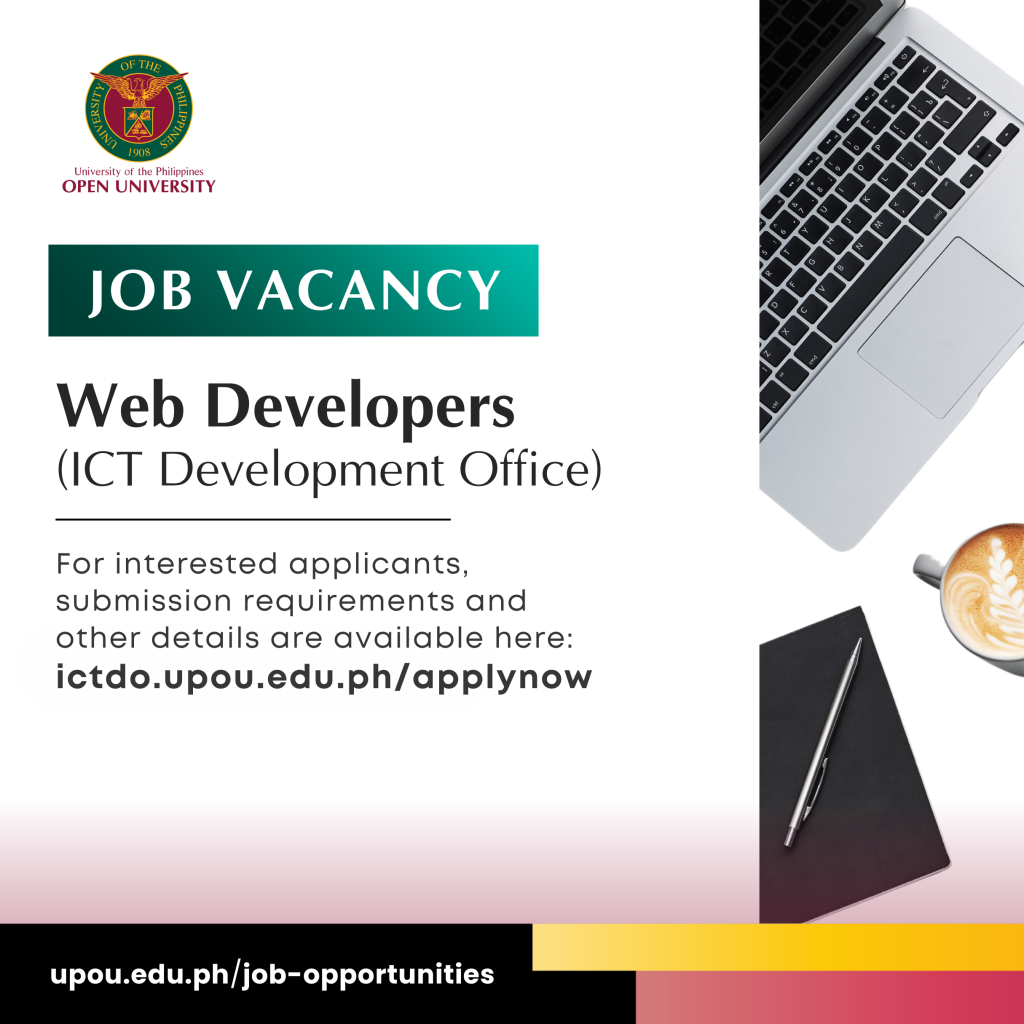 The UP Open University (UPOU) ICT Development Office is looking for 2 web developers (SG-19, PHP 51,357.00/month).
Minimum Qualifications
Bachelor's degree relevant to the job (e.g., Computer Science, Information Technology).

8 hours relevant training and/or 2 years relevant experience.

Fresh graduates and graduating students are welcome to apply.
Preferred Qualifications
Willing to be based at the UPOU Headquarters in Los Baños.

Knowledgeable in NodeJS, MongoDB, PHP, and Jenkins.
Duties and Responsibilities
Design and develop applications and information systems primarily for the ICT Development Office and the Office of the University Registrar.

Manage and audit existing information systems,

Assist in resolving any ICT issues.
For interested applicants, submission requirements and other details are available here:  https://ictdo.upou.edu.ph/applynow

As part of the National Women's Month celebration, the Faculty of Management and Development Studies (FMDS) of the University of the Philippines Open University (UPOU) conducted a hybrid forum entitled "Breaking the Glass Ceiling: A Forum on Women Pioneers in the Tech Startup Ecosystem in the Philippines" last 22 March 2023 at the Centennial Center for Digital Learning Auditorium, UPOU Headquarters, Los Baños, Laguna and was streamed via UPOU Facebook page, UPOU Youtube channel, and UPOU Networks.
Read more: www.upou.edu.ph/news/fmds-conducts-a-hybrid-forum-on-women-pioneers-in-the-tech-startup-ecosystem...
...

See More

See Less
As part of the National Women's Month celebration, UPOU FMDS conducted a hybrid forum entitled "Breaking the Glass Ceiling: A Forum on Women Pioneers in the Tech Startup Ecosystem in the Philippines" last 22 March 2023.

Read more: https://www.upou.edu.ph/news/fmds-conducts-a-hybrid-forum-on-women-pioneers-in-the-tech-startup-ecosystem-in-the-philippines/
The Information and Communication Technology Development Office (ICTDO) of the UP Open University (UPOU) organized a seminar on 14 March 2023, to educate its employees on the importance of protecting their personal accounts.

Read more: https://www.upou.edu.ph/news/ictdo-organizes-a-seminar-on-cybersecurity-series-1-secure-password-management-and-practices/
#UPOpenUniversity
#UPOUAlumniInspiringStories: Joanne Laurice Caguicla's story is a testament to the power of a woman's determination and perseverance.
Read: https://www.upou.edu.ph/news/rising-above-limitations-the-empowering-journey-of-a-upou-alumna/
#elearning #UPOpenUniversity