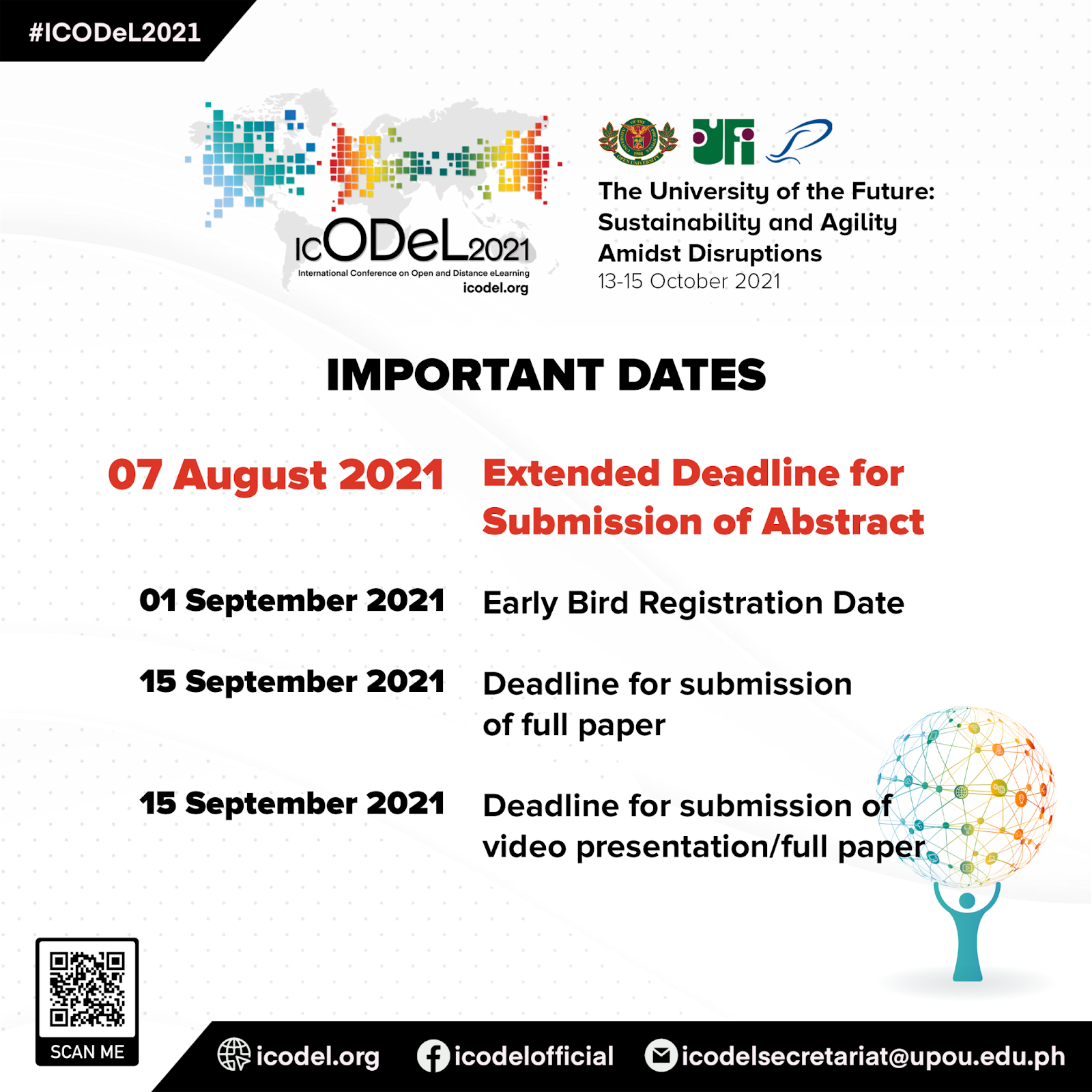 The abstract submission for the 4th International Conference on Open and Distance e-Learning (ICODeL 2021) has been extended to 7 August 2021.
ICODeL aims to provide a platform for scholars, practitioners, policy makers, and other stakeholders of distance education and e-learning to convene and share expertise and discover and create possibilities for open, distance, and e-learning for development.  Having the theme "The University of the Future: Sustainability and Agility Amidst Disruption," ICODeL 2021 will be held virtually on 13-15 October 2021. 
The plenary speakers of the event include Professor Don Passey, established researcher and expert in technology enhanced learning from Lancaster University; Dr. Mansoor Al Awar, Chancellor of Hamdan Bin Mohammed Smart University; and Ms. Torunn Gjelsvik, Secretary-General of the International Council for Open and Distance Education (ICDE).
Individuals interested to present research studies should submit a research-based abstract that does not exceed 350 words.  The proposed paper should be relevant to the theme and one of the sub-themes of the conference.  Only accepted abstracts can be submitted for full paper review and will be included in the conference proceedings.  
Selected papers will be recommended for publication in the International Journal on Open and Distance e-Learning (IJODeL), Asian Association of Open Universities (AAOU) Journal, and ASEAN Journal of Open and Distance Learning (AJODL).
All administrators, academics, policy makers, practitioners, teachers, and students in open and distance learning, flexible learning, and technology-enhanced learning are invited to participate. 
The conference is organized by the University of the Philippines Open University (UPOU), Philippine Society for Distance Learning (PSDL), and UPOU Foundation, Inc. (UPOUFI). 
For more information about ICODeL 2021, visit the official conference page, https://icodel.org/ and follow its official Facebook page, https://www.facebook.com/icodelofficial/.  For inquiries, email icodelsecretariat@upou.edu.ph.
Written by Jaime Guimbao
Edited by Joane V. Serrano and Anna Cañas-Llamas