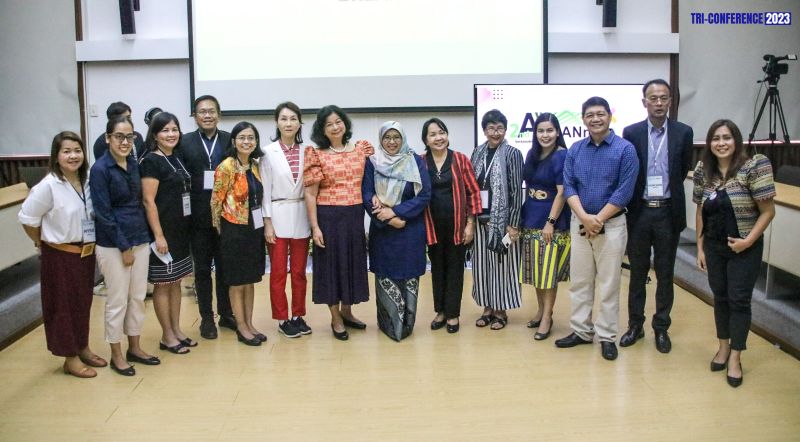 As part of the International Tri-Conference 2023, ASEANnale 2023 was held on 24-25 August 2023 with a hybrid setup at Drilon Hall, SEARCA, UP Los Baños. It was organized by the University of the Philippines Open University (UPOU) and co-organized by the Southeast Asian Regional Center for Graduate Study and Research in Agriculture (SEARCA).
The ASEANnale 2023 Opening Program started with the singing of the National Anthem, followed by the ASEAN Anthem. After a short introduction of guests, Dr. Melinda dela Peña Bandalaria, Chancellor of the UP Open University, and Dr. Nur Azura Binti Adam delivered opening messages. ASEANnale 2023, according to Dr. Binti Adam, is an "instrumental platform to forge meaningful connections, foster cross-disciplinary collaboration, and exchange knowledge and ideas in the region," by bringing together different narratives and perspectives for a festival of ideas mentioned Dr. Bandalaria.
A short overview of the 2-day event was given by Dr. Ricardo T. Bagarinao, Program Chair of the ASEAN Studies Graduate Program, Faculty of Management and Development Studies, and Director of the Center for Open and Digital Teaching and Learning, UP Open University.
The opening program was graced esteemed ASEAN officials, including Her Excellency Elizabeth P. Buensuceso, Foreign Affairs Adviser (FAA) of the Department of Foreign Affairs, representing the Philippines as Eminent Person to the High-level Task Force; His Excellency Abdul Malik Melvin Castelino, Ambassador Extraordinary and Plenipotentiary, Embassy of Malaysia; Her Excellency Megawati Manan, Ambassador Extraordinary and Plenipotentiary, Embassy of Brunei Darussalam; His Excellency Sonexay Vannaxay, Ambassador Extraordinary and Plenipotentiary, Embassy of the Lao People's Democratic Republic, represented by Mr. Phetsamone Souliyavng, Deputy Chief of Mission/First Secretary; His Excellency Hoang Huy Chung, Ambassador Extraordinary and Plenipotentiary, Embassy of the Socialist Republic of Viet Nam; and His Excellency Tull Traisorat, Ambassador Extraordinary and Plenipotentiary, The Royal Thai Embassy. Participants and paper presenters were also present online or onsite.
Two plenary speakers were featured for ASEANnale 2023. This was moderated by Dr. Jean Saludadez, Vice Chancellor for Finance and Administration, UP Open University, and former Program Chair for the ASEAN Studies programs. The first speaker is Dr. Roger Yap Chao Jr., who currently serves as the Assistant Director and Head of Education, Youth, and Sports Division at the ASEAN Secretariat. He presented about The Role of Education, Youth, and Sports in ASEAN Community Building, and how there is a need for more evidence and evidence-based policymaking, highlighting the importance of research. Dr. Chao shared some of the work plans in the Education, Youth, and Sports sectors that will enhance ASEAN community building, focusing on inclusion to make sure that the marginalized vulnerable populations are not excluded from these plans.
The second plenary talk was given by Ambassador Elizabeth P. Buensuceso on ASEAN's Responses to Future Megatrends and Indo-Pacific Strategies (IPS) given the challenges on major power rivalries as projected in IPS, and the directions of the megatrends. These responses include the ASEAN Vision 2045, ASEAN Outlook on the Indo-Pacific (AIOP), and ASEAN Centrality, upon which Amb. Buensuceso provided suggestions on how the audience can further participate in ASEAN programs and promote ASEAN studies in the region. As part of her presentation, entry points for participation were presented – from raising Philippine and ASEAN flags to conducting research opportunities for faculty, all with the invitation to get involved in each of these activities.
The morning session of ASEANnale 2023 Day 1 ended after the awarding of Certificates of Appreciation to the plenary speakers.
ASEANnale 2023 is part of Tri-conference 2023 held from 21 to 25 August 2023, organized by UPOU in collaboration with the Southeast Asian Regional Center for Graduate Study and Research in Agriculture (SEARCA), UPOU Foundation, Inc. (UPOUFI), and the Philippine Society for Distance Learning (PSDL). The Tri-conference includes the ICODEL 2023, International Symposium on Education and AI Convergence (ISEAC 2023), and the ASEANnale, which share the same theme: Sustainability in Education: Intersections, Ideation, Innovations. Tri-Conference is sponsored and supported by Concentrix (Platinum Sponsor), Near-Life, the Development Bank of the Philippines and Nephila Web Technology, Inc (Gold Sponsors), and the following Exhibit Partners: Digital Freedom Network, Disini Law, Veterans Bank, Land Bank, and DOST-PCAARRD.
Written by Tri-Conference 2023 Publicity Committee
Sustainable Development Goals