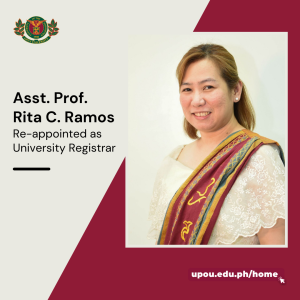 Assistant Professor Rita C. Ramos has been reappointed as the University Registrar of the University of the Philippines Open University (UPOU). She was appointed to the position in 2020 and will continue to hold the post until 28 February 2023, in support of Dr. Melinda dela Peña Bandalaria's third term as UPOU Chancellor
Asst. Prof. Ramos began her career in UPOU in 2006 as a Senior Lecturer/Clinical Preceptor in the Master of Arts in Nursing (MAN) program.  She then became an Assistant Professor with the UPOU Faculty of Management and Development Studies (FMDS) in 2010.  She took the post as Program Chair of the MAN program from 2013 to 2016 and was appointed as the Secretary to the Faculty of Management and Development Studies from 2016 to 2020.  
Asst. Prof. Ramos is a registered nurse and is active in various public service and extension activities.  She is one of the project leaders of the "Aruga sa Batang may Cancer (ABC)" Initiative, a project dedicated to provide patients, caregivers, and other healthcare providers an access to pediatric palliative care information.  She is also the Chair of the UPOU Health and Wellness (H&W) Committee, which is aimed to improve the holistic wellness of the workforce in line with the Team Approach and Youthful Outlook for UPOU (TAYO) Flagship Program of the University.
Asst. Prof. Ramos has published a number of papers on nursing interventions, academic learning, student performance, and postgraduate distance education, among others. She has been actively involved in several local and international seminars and conferences, such as the ASEANnale 2018, Youth Capacity Building and Exchange Program toward Sustainable Development and Conservation of Ifugao Rice Terraces, Open Education (OE) Global Conference 2017.
Asst. Prof. Ramos holds a Master of Arts in Nursing from UP Manila, and a Bachelor of Science in Nursing from San Juan De Dios College of Nursing.  She is a PhD candidate in Educational Psychology from the De La Salle University Manila.
Written by Jaime O. Guimbao
Edited by Myra C. Almodiel and Anna Cañas-Llamas