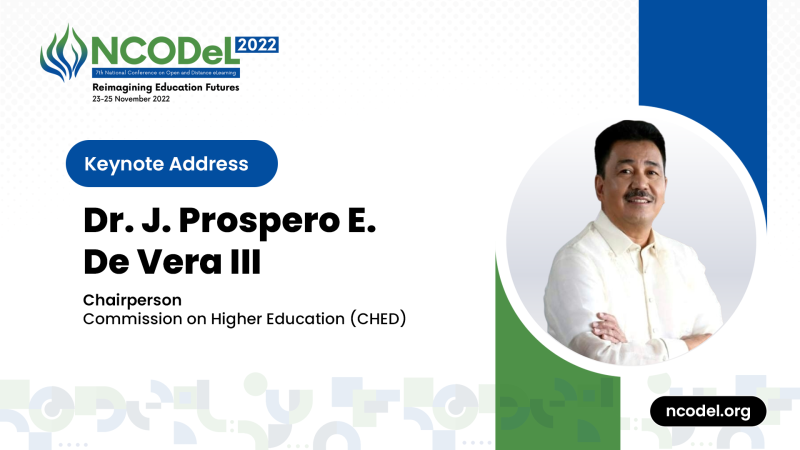 The Chair of the Commission on Higher Education (CHED), Dr. J. Prospero "Popoy" de Vera,  is the Keynote Speaker for the 7th National Conference on Open and Distance eLearning (NCODeL 2022). NCODeL 2022 is a virtual conference for all education practitioners and advocates that will be held on 23 – 25 November 2022. 
Dr. de Vera, will be expounding on the theme of the conference, which is "Reimagining Education Futures." Dr. de Vera has staunchly advocated for the resilience and preparedness of Higher Education in the Philippines and has gained insight from what the Philippine education system in the country went through especially at the onset of the pandemic. This time, he will delve into the whats and hows of CHED as it teams up with educational institutions in the country in reimagining the future of Philippine Higher Education. 
Dr. de Vera is an Adviser of the Philippine Negotiating Panel with the National Democratic Front/Communist Party of the Philippines/New People's Army (NDF/CPP/NPA), and Commissioner of the United Nations Educational, Scientific and Cultural Organization (UNESCO). He is a Professor of Public Administration at the University of the Philippines and served as its Vice President for Public Affairs from 2011-2016.
Dr. De Vera is an academician who has used his technical expertise to help policymakers, educate the public, and run political campaigns. His areas of policy expertise cover higher education, agriculture, indigenous communities, environment and climate change, good governance, and local governments.
He was a Fulbright-Hays Visiting Scholar at the University of Southern California and the California State University-Sacramento and a Senior Fulbright Visiting Professor/Fellow at the Johns Hopkins University. He served at the Committee on Revenue and Taxation of the California State Legislature and was the first Filipino recipient of a California State Assembly Resolution [Res. No. 7 given by Speaker Willie Brown] commending his work at the California Legislature in 1992.
Dr. de Vera finished his BA in History and Doctor of Public Administration degrees from the University of the Philippines and an MA in Social Science degree from De La Salle University.
Join the discourse on 23-25 November 2022 and reimagine the future of education with us! Learn more about the conference by visiting ncodel.org or its official Facebook page.