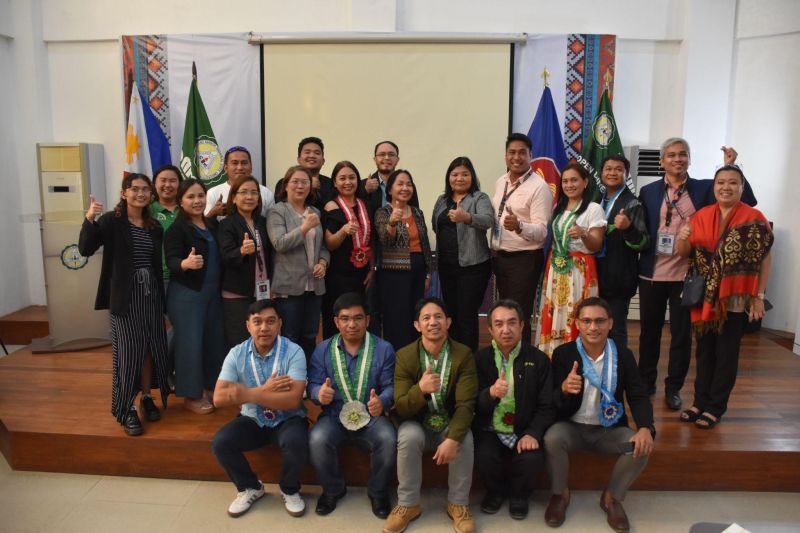 The Consortium of Open and Distance Education Providers in the Philippines (CODEPP) gathered on 19-20 September 2023, at the Don Mariano Marcos Memorial State University Open University System (DOUS) in San Fernando City, La Union to chart a promising course toward enhancing open and distance education in the country.
The meeting was done through a Strategic Planning Workshop for the Capacity Building Program Towards CHED Accreditation to Offer Distance Education.
Promoting Collaboration and Learning
The program commenced with welcoming remarks delivered by Dr. Bernardo D. Lamadrid, the Executive Director of DOUS. Dr. Lamadrid expressed his hope that the venue would provide an ideal setting for collaboration, knowledge sharing, and mutual learning, all in the service of advancing distance education in the Philippines.
During this event, Dr. Melinda dela Peña Bandalaria, the current President of CODEPP and Chancellor of UP Open University (UPOU), extended her gratitude to DMMMSU and its President, Dr. Jaime I. Manuel, Jr., for their hospitality and for hosting the event.
In her opening message, Dr. Bandalaria emphasized the importance of member institutions taking turns to host the bi-annual CODEPP meetings, stating, "Aside from pursuing the objectives and deliverables and the outcomes that we want to have through this Consortium, we are also learning by experiencing it. Kita natin ang set-up ng bawat isa. We have seen the setups of Benguet State University, Ifugao State University, Mariano Marcos State University, and now we are at DMMMSU. Our approach is always two-pronged. We are learning from seeing what we are doing and it is exactly the purpose of why we are trying to visit each Open University System that is a member of CODEPP. At the same time, at each meeting, we have specific goals that contribute to our overall objectives and milestones for each gathering aside from getting to know more about each member institution." 
Dr. Bandalaria also likened the gathering to a mini conference or a round table discussion noting, "You may have noticed that UPOU is leading the discussion for the first two meetings, but in the subsequent meetings, everyone contributes to the discussions. Thus, we are learning from each other and, for me, that is more important. We are not just learning from each other; we are also contextualizing our learnings. It is also gratifying that we are enjoying the process of working together."
Strategic Milestones Achieved
The strategic planning workshop achieved three primary objectives:
Accreditation Action Plan
During the gathering, member institutions provided updates on their Commission on Higher Education (CHED) accreditation applications. Collaborative efforts were made to formulate action plans tailored to each institution's needs, with a focus on achieving accreditation by the end of 2023.
Capacity Building Program
CODEPP members identified their priority training requirements and planned specialized training to support the accreditation process. The training of trainers sessions, designed to be cascaded to faculty members and staff, will commence at the UP Open University (UPOU), starting with the Central Luzon State University's (CLSU) capacity-building training on Quality Assurance in ODeL on October 5-6, 2023. IFSU, BSU, and MMSU will follow suit in November 2023.
Strategic Action Plan 
In addition to these key objectives, CODEPP developed a strategic action plan for the consortium as a whole, outlining their unified steps toward advancing open and distance education standards and practices nationwide. The plan encompasses initiatives such as the Training of Trainers Program and regular updates on CHED Accreditation progress. A meeting early next year is scheduled to assess the achievements vis-à-vis the targets set during this event.
Exploration and Commitment to Quality Education
Following the productive sessions, participants had the opportunity to explore the natural and cultural wonders of the La Union region. The tour included visits to Immuki Island, an island of dead corals surrounded by mangroves in Balaoan, La Union; Paraoir Manmade Forest, where towering canopies create a natural green tunnel that stretches at Bacnotan-Luna-Balaoan Road; Baluarte Watch Tower, a 400-year-old watchtower facing the West Philippine Sea built during the Spanish period, and a quick stop De Castro's Loom Weaving in Bangar where the group met some of the province's oldest Abel weavers and witnessed them do their craft. 
The meeting served as an opportunity for CODEPP to strengthen collaboration among its members and reaffirm their commitment to delivering high-quality open and distance education in the Philippines. As the nation's educational landscape continues to evolve, CODEPP remains at the forefront, ensuring accessible and quality education for all.
The Consortium is composed of eight higher learning institutions that offer open distance education in the country. These universities are UPOU, MMSU, DMMMSU, BSU, CLSU, IFSU, Cavite State University (CvSU) and John B. Lacson Foundation Maritime University – Arevalo, Inc. (JBLFMU-Arevalo, Inc.).
Written by Shaira Tanay ♦ Edited by Myra C. Almodiel and Anna Cañas-Llamas ♦ Contributed by the Office of the Chancellor