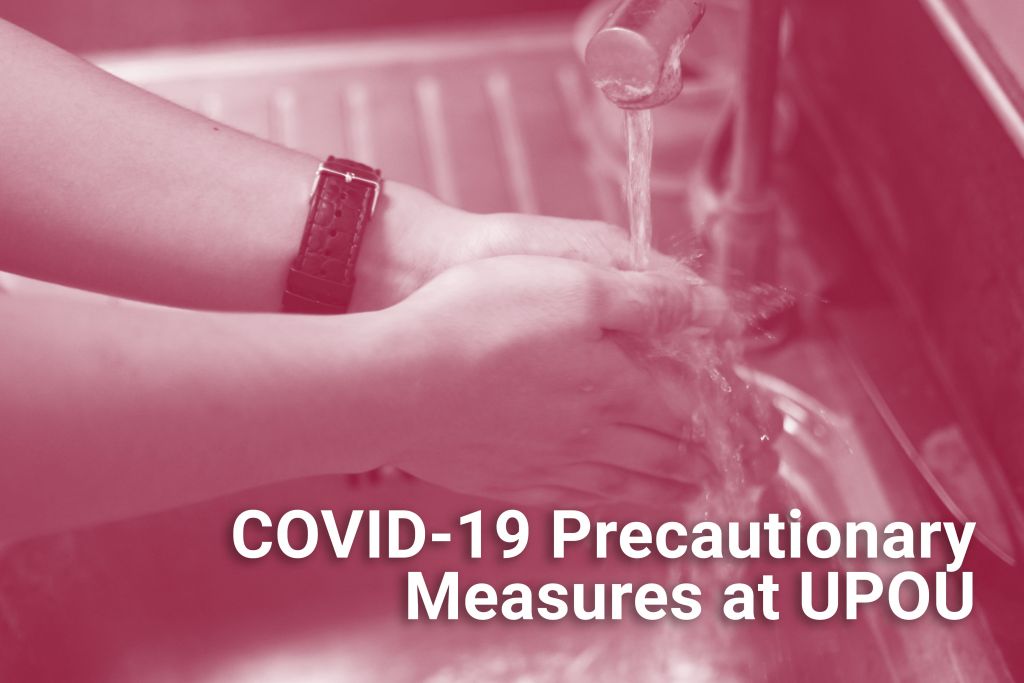 COVID-19 Precautionary Measures at UPOU
The Philippines is now under state of public health emergency as declared by President Rodrigo Duterte via Proclamation No. 922 dated 8 March 2020. This was released as a result of the confirmation of the Philippine Department of Health  (DOH) about the local transmission of COVID-19 in the country which prompted the Department to raise the alert level to "code red sub-level 1." The proclamation aims to "capacitate government agencies and LGUs (local government units) to immediately act to prevent loss of life, utilize appropriate resources to implement urgent and critical measures to contain or prevent the spread of Covid-19, mitigate its effects and impact to the community, and prevent serious disruption of the functioning of the government and the community." 
The article released by the Philippine News Agency articulates the content of the proclamation. To emphasize the seriousness and grave threat that COVID-19 poses, a  separate release by Inquirer.net tackles  the proposed lockdown of the National Capital Region by Albay 2nd District Representative, Joey Salceda. Classes in some areas were ordered suspended. 
At the UP Open University (UPOU), information campaigns are being done as part of the precautionary measures against the spread of the disease. For UPOU students, since all courses are being offered online, classes will not be affected. However, UPOU urges its students, especially those in affected countries and regions, to exercise extreme precautions by monitoring updates about the COVID-19. For those based in the Philippines, the University of the Philippines (UP) System has released its official advice for  the UP community. Students are advised to get their information about COVID-19 from relevant sources only such as World Health Organization, DOH, and other reliable sites. 
For faculty and staff based in the UPOU headquarters and other UPOU offices, alcohol and sanitizers as well as infographics entitled  How can I Protect Myself from the Novel Corona Virus Disease? produced by the UP Media and Public Relations Office (MPRO)  have been made available in strategic places. Employees who traveled to affected  countries identified by Philippine authorities are advised to self-quarantine. The Philippine Civil Service Commission Memorandum Circular 05 s. 2020 and UP Memo No. NGY 20-33 provides the guidelines for the use of leave credits related to the prescribed 14-day quarantine period or treatment of COVID-19. For those employees who will be going on self-quarantine, they are advised to inform the designated safety warden of their units. 
For UPOU affiliates and lecturers who have been infected or in need of assistance, please contact the Public Health Unit of the University Health Service in your campus or in the health facility near you. 
UPOU, with the entire UP System,  continues to call for awareness and action to ensure safety amidst the COVID-19 threat to public health.