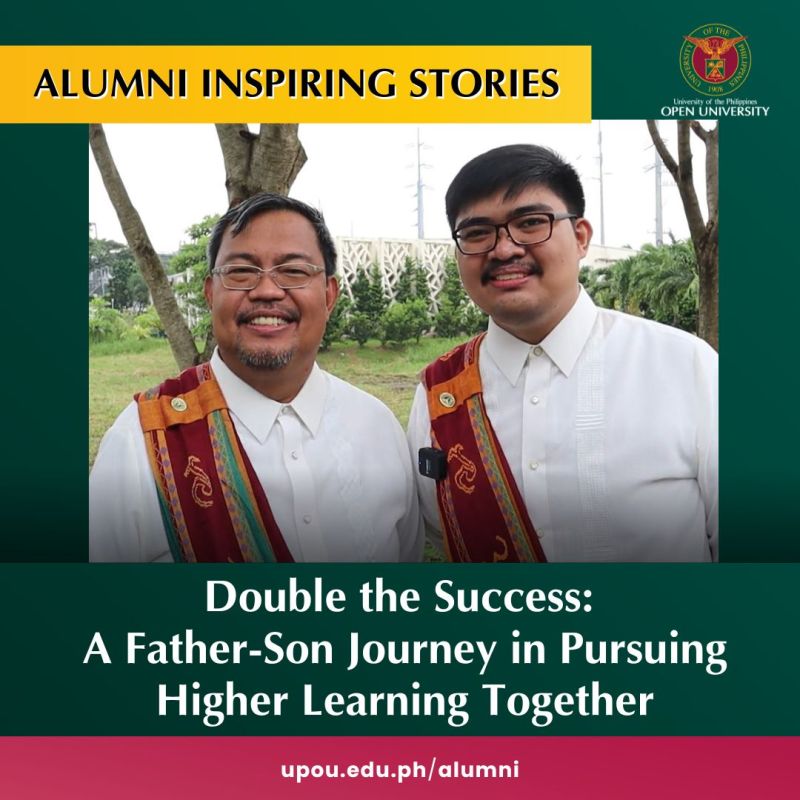 Ronald Hilaria and his son Ron David Hilaria share their positive experiences with the University of the Philippines Open University's (UPOU) Open and Distance eLearning (ODeL) program. 
Ronald, the head of his company's human resources department, enrolled in UPOU's Graduate Certificate in Distance Education program to better understand e-learning and implement it in his company's corporate university. The knowledge he gained from the program helped him spearhead the establishment of an e-learning portal, which proved to be very useful during the pandemic. Ronald's UPOU education also helped him advance his career and create opportunities for him and his son to bond over school requirements. 
On the other hand, his son, Ron David Hilaria, was a student at UP Diliman who struggled to fit into the culture of a traditional university and found UPOU's ODeL program to match his learning style better. He appreciated the flexibility of being able to control his schedule and do advanced study or fast-track the completion of his requirements. In 2019, Ron David enrolled in the Associate in Arts program at UPOU. He also appreciated that his father could better relate to him regarding school requirements. They could talk about their modules, the discussion forums they attended, and all the other things they were going through in their respective studies. His UPOU experience was an eye-opener for him and he was glad that he studied at UPOU for the past two years. Ron would continue with his distance education by taking up BAMS next.
Both father and son highly recommend UPOU's ODeL program to people who are working and still want to pursue higher or advanced learning, as well as those who want to try something different from traditional university education.
UP Open University utilizes ODeL as its mode of teaching and learning, and its mission is to provide access to quality higher education to Filipinos everywhere. UPOU is open to students who are not able to join traditional and physical clases, since all teaching and learning is done online.
Written by Pinky Halos ♦ Edited by Myra C. Almodiel and Anna Cañas-Llamas