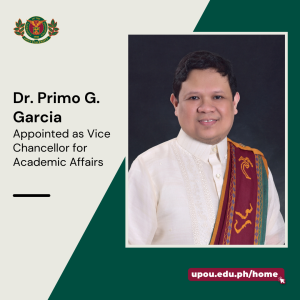 Dr. Primo G. Garcia has been appointed as the new Vice Chancellor for Academic Affairs (VCAA) of the University of the Philippines Open University (UPOU). He will serve at the pleasure of Chancellor Melinda dela Peña Bandalaria starting 1 March 2022.  
Dr. Garcia served as Dean of the Faculty of Management and Development Studies (FMDS) for two terms, first from 2016 to 2019, and the second from 2019 to 2022.  He led the Faculty in reaching its goals and achieving milestones, particularly on the development, institution, and revision of degree programs; increase of enrolled students and graduates; academic support for faculty and staff; adoption of academic program improvement projects; participation in local and international webinars and conferences; and creation of more open educational resources (OERs).
Prior to taking the role as Dean, he was appointed as the Director of the UPOU Information Office (now UPOU Office of Public Affairs) and the UPOU Multimedia Center.  His leadership has been instrumental in propelling UPOU's vision of providing Filipinos wider access to quality higher education through the launching of social media accounts, redevelopment of the university website, development of online capacity building programs and online courses, and production of various promotional and educational videos.
Dr. Garcia also assumed the post of the Program Chair of the Diploma in Research & Development Management in 2002 – 2003 and in 2010 – 2013.  He has been a faculty member of UPOU under FMDS since 2001, and his areas of expertise include organization studies, research and development (R&D) management, agribusiness management, and open and distance elearning (ODeL).  
Dr. Garcia holds a PhD in Organization Studies from the University of Melbourne.  He took his Master of Business in Agribusiness degree at the University of Queensland.  He completed his Bachelor of Science in Agribusiness degree from the University of the Philippines Los Baños.
Written by Jaime P. Guimbao
Edited by Myra C. Almodiel and Anna Cañas-Llamas
Graphics by Lovelyn P. Petrasanta