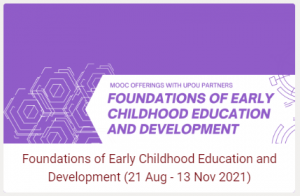 The University of the Philippines Open University (UPOU) Faculty of Education (FEd) in partnership with the Ramon Aboitiz Foundation, Inc. – Dolores Aboitiz Children's Fund (RAFI-DACF), and the UPOU Foundation, Inc. (UPOUFI) is offering the Early Childhood Education and Development course. This offering is also being assisted by the Ugnayan ng Pahinungod UPOU. 
This initiative is part of FEd's mission to reach out to a wider domain of learners.  The online course has been designed to train teachers, practitioners, and workers in early childhood care and development. It provides a sound historical and theoretical rationale for creating child-centered learning projects and communities.   This is done through the Massive Open Distance e-Learning (MODeL), UPOU's platform for offering free massive open online courses (MOOCs). The course started on 21 August and will run through to 13 November 2021.
In this initial run, the course was offered to Cebu daycare center workers and kindergarten teachers.  A total of 108 participants from Cebu are enrolled in the course. To help in the facilitation of the learners, five coordinators are also registered in the course. The course coordinators are tasked to actively participate and initiate in the discussion fora to engage the participants. An orientation for the course coordinators was held on 23 August 202.  Dr. Aurora Fe Bautista, the course developer and the Faculty-In-Charge (FIC), facilitated the orientation.
For more information on the course, you may contact the UPOU Faculty of Education at [email protected]