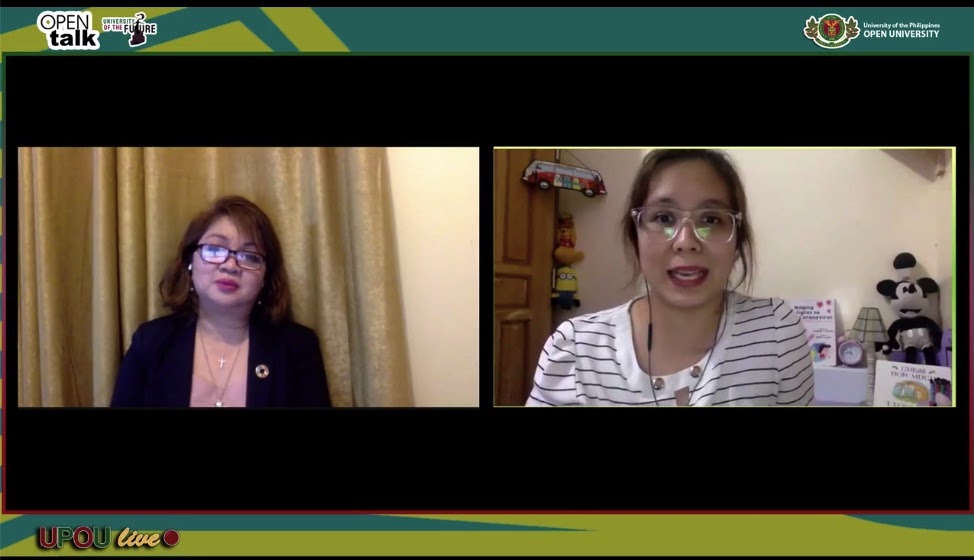 The UP Open University (UPOU) held the 10th episode of OPEN Talk entitled "Pangangalaga sa Unang 1,000 Araw ng Buhay sa Panahon ng Pandemya" on 21 July 2021 from 6:00 PM to 7:00 PM.
The event's resource person was Dr. Azucena M. Dayanghirang, MCH, CESO III, and the Executive Director of the National Nutrition Council (NNC).  Joining her as the moderator was Ms. Finaflor F. Taylan, Assistant Professor of the Faculty of Management and Development Studies (FMDS), UPOU.
Dr. Dayanghirang discussed the importance and implications of the first two years of a child which is the first 1,000 days of life from conception to two years.  She emphasized that such a period of life is considered as the golden window of opportunity where health and nutrition services should be given to both the pregnant woman and the child.  She added that it enables the child's optimum development, maximizes the child's physical and mental health, and enhances the child's well-being and success during adulthood.  
The resource person also tackled the triple burden of malnutrition which the country is currently experiencing.  Dr. Dayanghirang shared that, instead of a dilemma, we have a "trilemma" of undernutrition, overnutrition, and micro-nutrient deficiency. 
As the Executive Director of NNC, Dr. Dayanghirang highlighted the role of the agency in securing nutrition adequacy for the country which is anchored in the Philippine Plan of Action for Nutrition (PPAN).  PPAN is focused on  nutrition intervention and nutrition action improvement encompassing nutrition-specific, nutrition-sensitive, and enabling programs.
Launched by the NNC, Tutok Kainan is the government's national dietary supplementation program and the supplemental feeding program for pregnant women and for children 6 to 23 months old. The program was first implemented in the vulnerable provinces and highly poor communities where there are high cases of stunting, teenage pregnancies,  and other similar problems.
In her concluding message, Dr. Dayanghirang encouraged everyone to celebrate nutrition month every day, to take care of pregnant women, to promote and practice breastfeeding, and to support the PPAN.
Asst. Prof. Taylan, on the other hand, gave her insights and struggles in raising children and acknowledged the difficulties of mothers especially those who work outside the household during the pandemic.  She also shared the same sentiments with Dr. Dayanghirang on the vulnerability of pregnant women and children when it comes to nutrition and other related concerns.
The episode was streamed live on the UPOU Networks Website, UPOU Networks Facebook page, and UPOU Youtube Channel. 
OPEN Talk is UPOU's magazine program that aims to create clarifications and inspire the audience on featured topics.  If you missed watching Episode 10, you can watch the replay here: https://networks.upou.edu.ph/opentalk/.
Written by Jaime O. Guimbao
Edited by Joane V. Serrano and Anna Cañas-Llamas