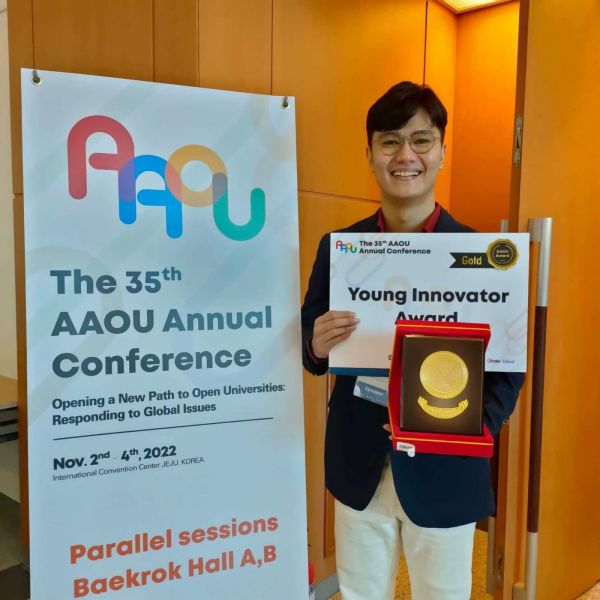 Assistant Professor Reinald Adrian Pugoy, faculty member of the Faculty of Information and Communication Studies, UP Open University (FICS, UPOU) and Director of the UPOU ICT Development Office (ICTDO), was awarded the Gold Medal for the Young Innovator Award at the 35th Asian Association of Open Universities (AAOU) Annual Conference. AAOU 2022 was held at the International Convention Center, Jeju, Korea on 2-4 November 2022. 
Pugoy's paper on "ACES: Automated Academic Essay Scoring Utilizing Neural Regression Models" won him the award. ACES is an essay scoring mechanism that employs natural language processing (NLP). NLP is a subfield of artificial intelligence (AI) concerned with granting computers the ability to understand texts in much the same way humans can. With essay scoring reformulated as a regression problem, ACES takes the essay answer as the input, converts it to a vector representation of numbers in the embedding space, and feeds it to the neural network model (which serves as the approximate regression function) to predict its score as the output. This is developed to address the problem of grading academic essays which is a stressful and cumbersome process for the faculty-in-charge and tutors. 
Asst. Prof. Pugoy has also been awarded the Silver Medal for the Young Innovator Award during the AAOU Annual Conference in 2015 and 2017. Assistant Professor Pugoy teaches courses under the Diploma in Computer Science (DCS) and Master of Information Systems (MIS) programs. 
Every year, AAOU presents the Young Innovator Award comprising one gold medal and two silver medals for deserving candidates. Prior to the AAOU Annual Conference, the academic sub-committee of the host institution shortlists papers from those who qualify the selection criteria.
Written by Yrelle Lleva
Edited by Myra C. Almodiel and Anna Canas-Llamas