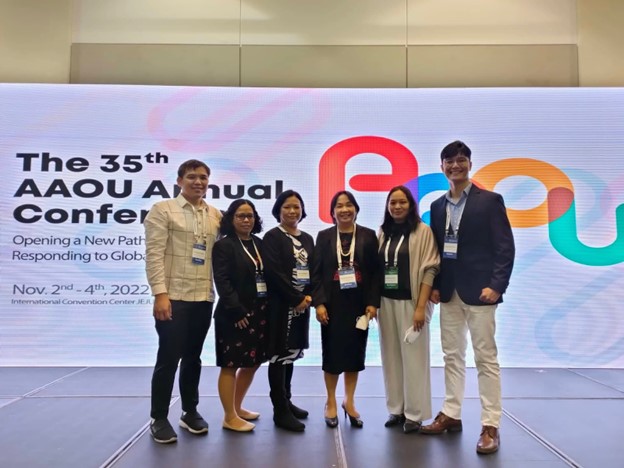 Six research papers on open and distance eLearning (ODeL) authored by the Faculty of Information and Communication Studies, UP Open University (FICS, UPOU) faculty members and research, extension and professional staff (REPS) were presented in the 35th Asian Association of Open Universities (AAOU) Conference held at the International Convention Center, Jeju, Korea on 2-4 November 2022. 
One of the papers presented by the FICS faculty gained the gold medal for the Young Innovator Award. The paper that won the medal was titled ACES: Automated Academic Essay Scoring Utilizing Neural Regression Models and was authored by Assistant Professor Reinald Adrian Pugoy. 
Moreover, Margaret Jarmin-Suarez, FICS REPS, presented the country report on ICDE Global Advocacy Campaign (GAC) on Open and Flexible Distance Learning (OFDL), Philippines during the special session and served as the moderator for the AAOU Collaborative Research Program and as part of the AAOU Secretariat. 
Some of the faculty members who presented in the parallel sessions include Dr. Myra Almodiel with her paper titled Network Analysis of Interactions and the Influence of Centrality in the Knowledge Construction of Students in Online Discussion Forums; Asst. Prof. Cecille Moldez presented her paper A Descriptive Study on UPOU MOOCs Offering through Gamification.; Dr. Roberto Figueroa presented two papers namely, Virtual Reality Photo-based Tours for Teaching Filipino Vocabulary in an Online Class in Japan and Immersive Capability and Spatial Presence in 360 Virtual Tours: Implications for Distance Education. 
The FICS research papers were spread over different parallel sessions following the themes: (1) Repositioning Open Universities in the Post COVID-19 Era; (2) Innovative EduTech in Distance Education; (3) Assessment in Open Universities: Old vs. New; (4) Human Resource Development(HRD) in Open Universities; (5) Best Practices in Providing Students Service in Open Universities; and (6) Contribution to Society as an Open University and Its Implication.
This year's theme was Opening a New Path to Open Universities: Responding to Global Issues. It also focused on the six areas: the roles in the society, assessment, human resources developments, student support services, and the relationship with the SDGs. By sharing experiences and research with member universities, AAOU hoped to find innovative ways to confront the 21st century's challenges.
Written by Yrelle Lleva
Edited by Myra C. Almodiel and Anna Canas-Llamas