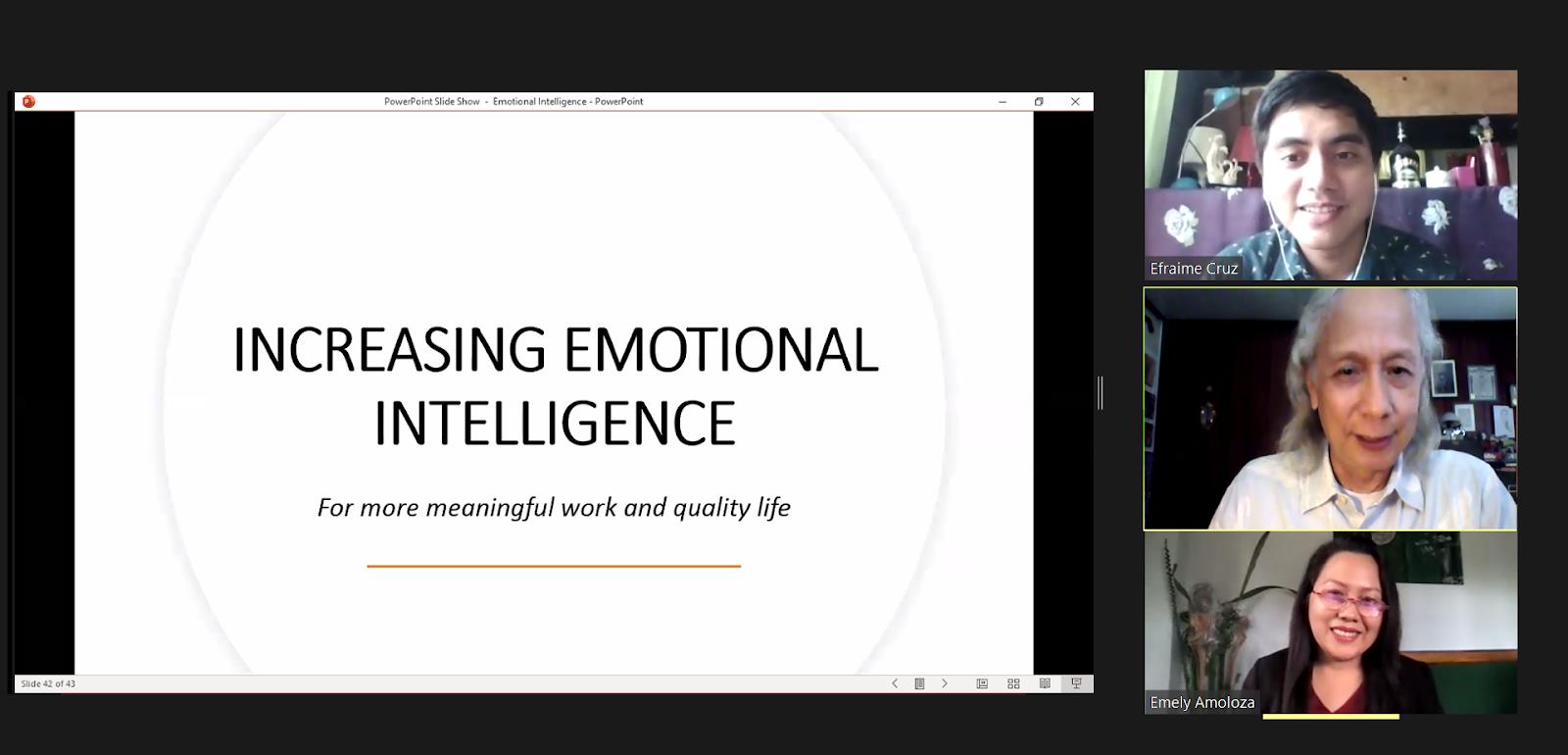 As a response to numerous calls from UP Open University (UPOU) staff members from other offices,  the UPOU Faculty of Information and Communication Studies (FICS) offered a special edition of FICS MeetUPS on 04 June 2021.
Mr. Efraime Cruz, one of the project staff of FICS, served as the Resource Person and discussed "Increasing Emotional Intelligence for Meaningful Work and Quality Life."
The program started with a brief background about the FICS MeetUPs and introduction of its logo. Dr. Alexander Flor, FICS Dean and Professor, shared the beginning of extension in the university. He expressed his bliss that this public service project which started at FICS is now being offered university-wide.  
In his talk, Cruz explained several strategies on improving emotional intelligence. He reminded everyone to be kinder to oneself and to other people. For his closing statement, he reminded the participants to "Always respond wisely and lovingly to everyone."
FICS MeetUPs was initiated in 2018 and is being implemented as a quarterly activity attended by FICS research and administrative staff. This knowledge sharing activity aims to promote trust, social norms, expectations and obligations among the participants. Likewise, it aspires to positively impact the knowledge generation within the group, while consequently having a positive impact on the FICS' intellectual and social capital.
Ms. Emely M. Amoloza, the FICS MeetUPs project proponent, served as the facilitator during this event. This has been a regular get-together of FICS staff, and has also served as a venue for evaluating past FICS activities and planning for forthcoming FICS events. During the time of pandemic, this became a "kumustahan" venue among the FICS staff where each one shares his or her personal experiences, worries and other concerns in connection with the crisis. By offering UPOU-wide MeetUPS, FICS hopes to open a space for knowledge-sharing and "kamustahan" within the whole UPOU community.
Written and Screen Shot by Jesseth Martinez and Germaine Basan
Edited by Joane V. Serrano and Anna Cañas-Llamas