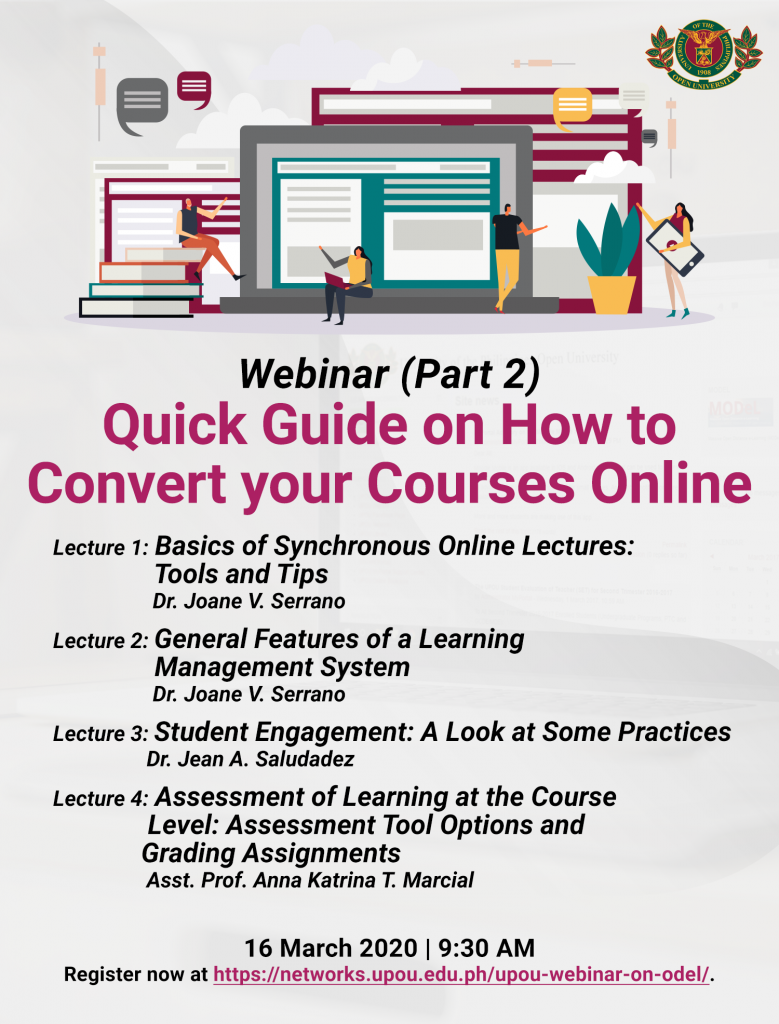 The second part of the series of webinars on "How to Convert your Classes Online" organized by the UP Open University (UPOU) was held last 16 March 2020. The second part covered four lectures and was made available to 673 participants via live streaming.
The first lecture was on the "Basics of Synchronous Online Lectures: Tools and Tips" and was presented by Dr. Ria Mae H. Borromeo on behalf of Dr. Joane Serrano. Her first lecture was on the advantages, considerations, and tools for synchronous learning. Dr. Borromeo also demonstrated how to use the Google Meet as an example of an online tool for synchronous lecture. The second lecture was on "General Features of a Learning Management System" and was also presented by Dr. Borromeo on behalf of Asst. Professor Myra Almodiel. Various learning management systems (LMS) were presented during Dr. Borromeo's second lecture. She also talked about their advantages and features, and demonstrated the key features of a specific LMS (MOODLE). Dr. Borromeo is an Assistant Professor of the Faculty of Information and Communication Studies (FICS) and the Director of the UPOU Information Communication Technology and Development Office (ICTDO).
"Student Engagement: A Look at Some Practices" was delivered by Dr. Jean A. Saludadez, Professor of the Faculty of Management and Development Studies (FMDS) and Vice Chancellor for Finance and Administration. In this lecture, Dr. Saludadez defined student engagement and interactions, and thoroughly showed how she implements student engagement in her classes via the UPOU MyPortal. MyPortal, an open source LMS , is used as UPOU's virtual classroom where students can interact and access learning resources.
Asst. Prof. Ana Katrina T. Marcial of the Faculty of Education (FEd) and Director of the UPOU Office of Academic Support and Instructional Services (OASIS) presented "Assessment of Learning at the Course Level: Assessment Tool Options and Grading Assignments." Asst. Prof. Marcial discussed guides on assessment tools, mechanisms, design strategies, and criteria/rubrics.
Dr. Melinda dela Peña Bandalaria, Professor of FICS and the current Chancellor of UPOU moderated the webinar. Questions and clarifications by viewers sent via chat were answered by each speaker after the last lecture.
These presentations can be accessed via the UPOU Networks.
This webinar series is UPOU's response to provide assistance to the UP community and to the entire academic community of the country who are now shifting to online mode of instruction to cope with and to help prevent the spread of COVID-19. The series is also part of UPOU's thrust as a public service university and its mandate under Republic Act 10650 (Open Distance Learning Act).