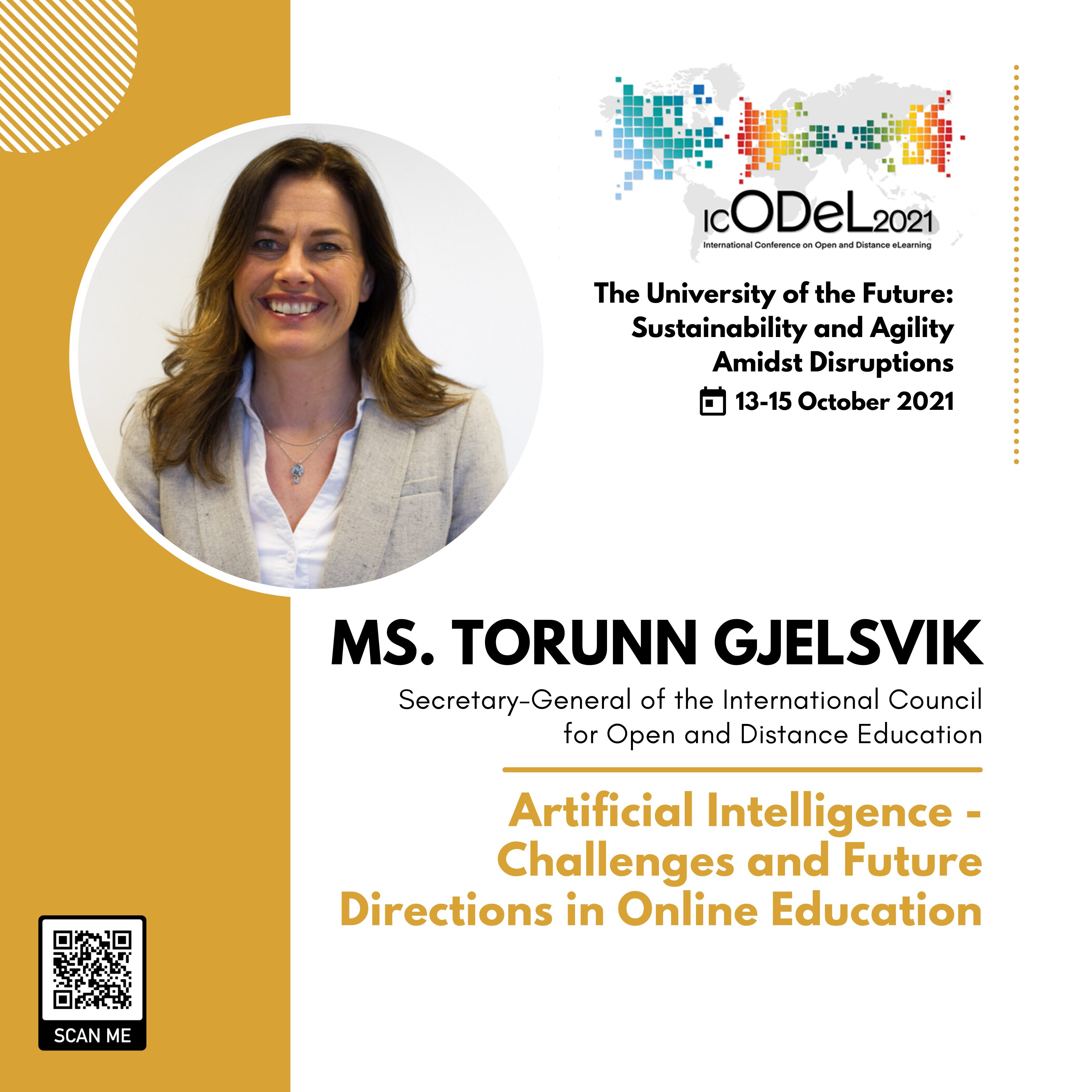 The 4th International Conference on Open and Distance e-Learning (ICODeL 2021) will feature International Council for Open and Distance Education (ICDE) Secretary-General, Ms. Torunn Gjelsvik, as one of the Plenary Speakers.
Ms. Gjelsvik is an experienced leader and professional in distance, open, and flexible education, and technology enhanced learning. She has served as the Executive Director of Flexible Education Norway, and as the Head of Development at the ICDE Secretariat. Ms. Gjelsvik's expertise on distance and open education has led her to holding several executive leadership positions in various educational institutions and organizations. She holds a master in Nordic Languages and Literature from the University of Oslo, and has additional studies in several executive management courses from BI Norwegian Business School. 
Ms. Gjelsvik will speak at ICODeL 2021's Plenary Session 4: "Artificial Intelligence – Challenges and Future Directions in Online Education." This Plenary Session will be held on the second day of the conference.
Carrying the theme "The University of the Future: Sustainability and Agility Amidst Disruption," ICODeL 2021 will be held virtually on 13-15 October 2021. The conference is an event organized by the University of the Philippines Open University (UPOU), along with the Philippine Society for Distance Learning (PSDL), and UPOU Foundation, Inc. (UPOUFI). For more information about ICODeL 2021, visit the official conference page, https://icodel.org/ and follow its official Facebook page, https://www.facebook.com/icodelofficial/. For inquiries, email [email protected]
Written by Janele Ann Belegal
Edited by Joane V. Serrano
Graphics by Lovelyn P. Petrasanta