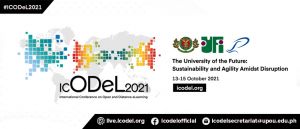 Today marks the start of the 4th International Conference on Open and Distance eLearning (ICODEL).  Mr. Danilo L. Concepcion, President of the University of the Philippines (UP) System, welcomed all ICODeL 2021 participants with the hope that ICODeL 2021 will serve as a "catalyst for reflection and reframing" to address the needs of the education system.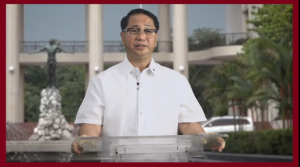 Hon. Mark O. Go, Chair of  the Philippine House Committee for Higher and Technical Education and member of the UP Board of Regents,  stressed the importance of quality and innovative education that changes lives as well as  sustains livelihoods that becomes a standard not only by a few but for all.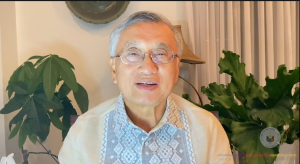 Dr. Melinda dela Peña Bandalaria, Chancellor of University of the Philippines Open University (UPOU), formally opened the ICODeL 2021 to signal the start of the academic exchange among the speakers and participants. Asst. Prof. Ria Valerie Cabanes served as the host of the Opening Program.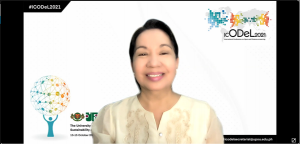 A special session titled "Special Session on Quality Assurance Assuring Quality in Online Medical Education During the COVID-19 Pandemic – Implications for the Future" tackled how different Philippine medical institutions assured the quality of online medical education during the COVID-19 pandemic. Dr. Maria Rowena Raymundo, Assistant Professor and Officer-in-Charge of the Office of the Vice Chancellor for Academic Affairs in the University of the Philippines Open University (UPOU), moderated the session.

Dr. Malaya Pimentel-Santos, Associate Dean and Head of the Medical Education Unit of St. Luke's Medical Center College of Medicine-William H. Quasha Memorial (SLMCCM-WHQM), was the presenter of the session. She was joined by three esteemed Reactor-Panelists, namely Dr. Susan P. Nagtalon, Dean of the SLMCCM-WHQM; Dr. Fernandino Jose A. Fontanilla, Dean of the College of Medicine of San Beda University; and Dr. Charlotte M. Chiong, Dean of the University of the Philippines Manila College of Medicine.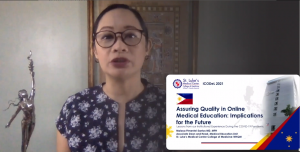 In the afternoon, two plenary sessions were held. The first Plenary Session was presented by Dr. Mansoor Al Awar, Chancellor of Hamdan Bin Mohammed's Smart University (HBMSU), moderated by Dr. Consuelo Habito, Program Chair of the Diploma/Master of Environment and Natural Resources Management (D/MENRM) from the Faculty of Management and Development Studies, UPOU. Dr. Al Awar emphasized their university's value in innovation to access their learners' full potentials in his presentation titled "Quality Assurance for e-Learning Institutions: HBMSU Experience."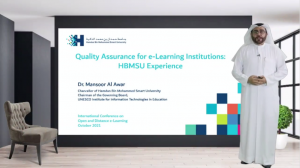 Dr. Don Passey, Professor of Lancaster University, UK, shared about "Using New Technologies for Inclusive Education" in the second Plenary Session. He tackled the changes in the educational landscape caused by the pandemic, identified factors that were affected by these changes, and shared technologies to address and support inclusivity in education. Asst. Prof. Ana Katrina Marcial, Director of the UPOU Office of Academic Support and Instructional Services, served as moderator.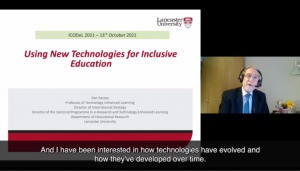 Written by ICODeL 2021 Publicity Committee
Edited by Joane V. Serrano