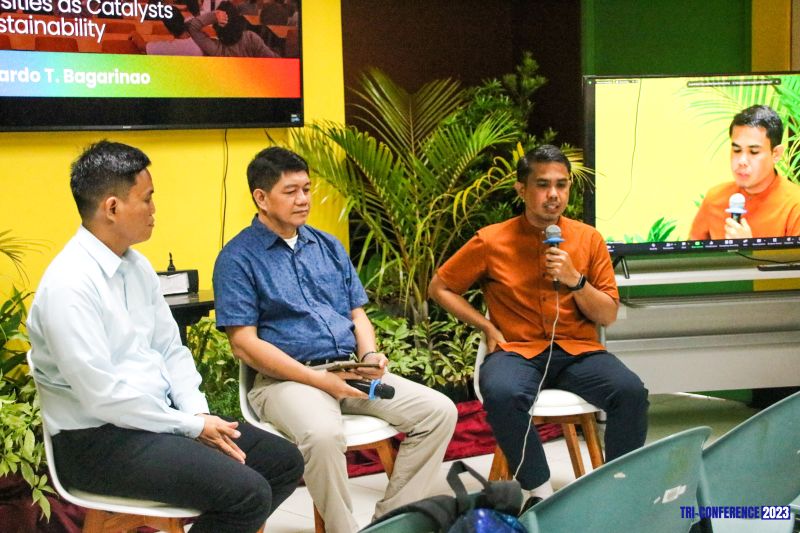 The 5th International Conference on Online and Distance eLearning (ICODeL 2023) made waves on 23 August 2023, as it explored universities' pivotal role in advancing sustainability in education. The hybrid event, featuring in-person and virtual panel sessions, convened under the theme "Sustainability in Education: Intersections, Ideation, and Innovations." This enlightening conference, held simultaneously at the UPOU Headquarters and on Zoom, brought together a diverse array of experts to discuss three crucial facets of sustainability in education.
For Panel Session 5 titled "Universities as Catalysts for Sustainability," Dr. Ricardo T. Bagarinao, the Director of the Center for Open and Digital Teaching and Learning at UP Open University, led a distinguished panel of participants from esteemed higher education institutions. These included representatives from UP Rural High School, UP Los Baños, Ifugao State University, and CARAGA State University. Together, they delved into the vital role of universities in fostering sustainability within local communities and ecological systems.
The discussion culminated in a compelling consensus on the need to infuse sustainability with compassion and purpose, an approach called "Sustainability with a Heart." This transformative paradigm shift emphasizes the importance of redefining institutional paradigms, transcending conventional boundaries, and advocating for a harmonious integration between educational teachings and industry practices. The outcome was a concrete call to action, proposing the development of comprehensive programs that nurture a culture of sustainability enriched with values, education, and ethics. In this symposium, universities emerged as the vanguards of sustainability, guiding the journey towards a more sustainable future that echoes through governance, local communities, and ecological systems. The resounding message was clear: Sustainability is not just an academic concept but a shared responsibility and a powerful force for positive change.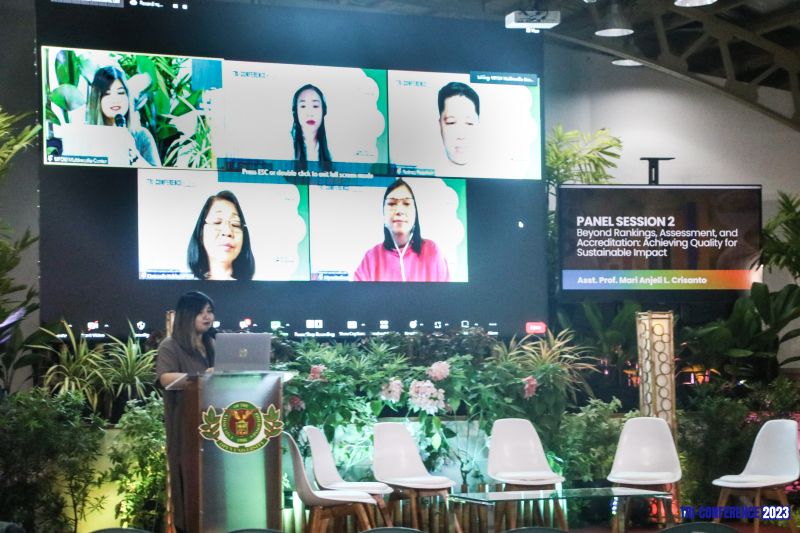 The second-panel session on Beyond Rankings, Assessment, and Accreditation: Achieving Quality for Sustainable Impact featured distinguished experts in the field of education, including Dr. Myra G. Borines – Professor at UPLB, Dr. Consuelo D. Habito – Faculty at UPOU, Dr. Rodney Odesson P. Raguindin – Associate Professor at Lyceum-NorthWestern University, and Ms. Diana Rose Sadili-Chu – Director in SGV & CO / EY. They addressed several crucial questions on the major impact of Higher Education Institutions (HEIs) on sustainability, the roles of quality education in achieving sustainability, measures HEIs should take to address sustainability initiatives, varied sustainability frameworks that HEIs can adapt, and the role of Quality Assurance (QA) activities in HEIs in achieving sustainability.
The panelists emphasized that HEIs are responsible for imparting academic knowledge and nurturing critical thinking, problem-solving skills, creativity, and adaptability. They serve as instruments for achieving societal goals such as democratization, social mobility, economic development, and innovation. Quality education plays a pivotal role in shaping society, promoting evidence-based practice, engaging with the community, enriching culture, fostering equity, diversity, and inclusion, contributing to economic development, and encouraging ethical and moral development.
To address sustainability initiatives, HEIs should empower individuals to make informed decisions, drive innovations, advocate for positive change, engage stakeholders, and evolve through continuous professional development. Sustainability frameworks like the UN Sustainability, Global Reporting Initiative, and ISO21001 can guide HEIs' sustainability efforts. Quality Assurance activities in HEIs should integrate sustainability criteria, ensure resource efficiency, monitor outcomes, formalize team members' roles, and conduct risk assessment. Promoting and practicing sustainability in higher education institutions can start with creating learning modules on sustainability, publicizing university activities, and checking financial sustainability. In conclusion, education is a gateway to creating a sustainable future. Sustainability should go beyond compliance and become a way of life, guiding decisions and actions with human well-being as the top priority.
Panel session 7 featured the Development of Postgraduate Micro-Credentials for Food Security and Climate Change with experts from various universities, including Dr. Kelleen Wiseman from the University of British Columbia and Dr. Mas Nida MD. Khambari from Universiti Putra Malaysia, and Dr. Naroon Waramit from Kasetsart University in Thailand. They discussed the importance of micro-credentials in addressing the pressing issues of food security and climate change.
The panelists highlighted that the world faces a multidimensional and complex challenge due to the climate crisis directly affecting food security. Micro-credentials provide a unique opportunity for young professionals to enhance their skills, diversify, specialize, and contribute to addressing these challenges. However, challenges exist in developing and implementing these short-term courses, particularly in terms of online learning design.
The discussion concluded by emphasizing the need for innovative learning designs, tools, and measurement mechanisms to ensure micro-credentials effectiveness in addressing food security and climate change. These micro-credentials hold the potential to transfer knowledge, leverage skills, and foster real-world solutions, ultimately contributing to a more sustainable future.
ICODeL 2023 is part of Tri-conference 2023 held from 21 to 25 August 2023, organized by UPOU in collaboration with the Southeast Asian Regional Center for Graduate Study and Research in Agriculture (SEARCA), UPOU Foundation, Inc. (UPOUFI), and the Philippine Society for Distance Learning (PSDL). The Tri-conference includes the ICODEL 2023, International Symposium on Education and AI Convergence (ISEAC 2023), and the ASEANnale, which share the same theme: Sustainability in Education: Intersections, Ideation, Innovations. Tri-Conference is sponsored and supported by Concentrix (Platinum Sponsor), Near-Life, Development Bank of the Philippines and Nephila Web Technology, Inc (Gold Sponsors), and the following Exhibit Partners: Digital Freedom Network, Disini Law, Veterans Bank, Land Bank, DOST-PCAARRD.
Written by Tri-Conference 2023 Publicity Committee