Special Sessions were conducted on Day 3 of National Conference in Open and Distance e-Learning (NCODeL), 25 November 202. Special Session 8 covered the NCODeL subtheme of Enhancing Education through Artificial Intelligence (AI). The first speaker, Asst. Prof. Gabriel Avelino Sampedro of UPOU, who is also the Founder and CEO of Philippine Coding Camp, discussed his paper on Reinventing Hello World: Perspectives on an AI-driven Approach to Programming. The next speaker was Dr. Vladimir Mariano, Lead Faculty, Technology and Innovation of Fulbright University Vietnam who discussed his topic on Creative AI and Its Future in Education. The presenters discussed the idea behind AI, which was to train systems to think like humans. With these advancements, challenges, and opportunities, the question of whether AI is a threat or a tool, especially in education, is raised.
Special Session 9 covered the subtheme Sustainable Development Goals (SDG) and Online Distance e-Learning (ODeL) Resilience: Experience, Tool, and Framework. Its first speaker, Dr. Ricardo Bagarinao, Dean and Professor, Faculty of Education (FEd) of UPOU, talked about his paper titled Online Learners Exposure to Natural Hazards Risks in the Philippines where the use of Geographical Information Systems (GIS) for mapping the spatial distribution of the online learners and their vulnerability to hazards was introduced. This was followed by a presentation by Dr. Anton Domini C. Sta. Cruz, Assistant Professor of the University of the Philippines Los Baños (UPLB), on The Potential Role of GIS in Monitoring Online Learners' Risks to Natural Hazards. The session's last speaker was Dr. Jabez Joshua M. Flores, Senior Lecturer of UPOU, who discussed Developing a Disruption-Resilient Framework for Online and Distance Education Learners. These research studies recommended a holistic approach to improving the learning environment of online learners.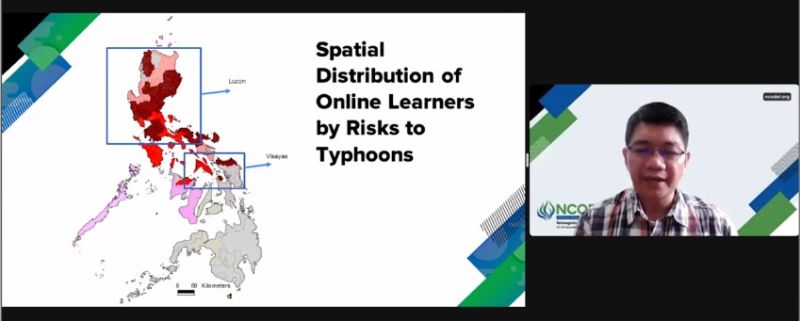 Special Session 10 covered the subtheme of Gender Dimensions in Public Education and Healing through Distance Learning and Interventions. The first presentation for this session was by Ms. Nikkily Natan, a student in the Diploma in Women and Development of UPOU. Her paper entitled Evaluation of a Questionnaire as an Instrument for Measuring the Level of Knowledge about the Magna Carta of Women (RA 9710) and the Safe Space Act (RA 11313) among Homeless Women in Quezon City, aimed to familiarize women with the laws that stated and protected women's rights. 
Another presentation during this session was by Ms. Gelyzza Marie R. Diaz, Project Staff, Office of Gender Concerns (OGC) of UPOU, entitled Zoom In: Advancing the Public's Knowledge on Gender through Digital Platforms, followed by another presentation entitled An Academe's Step Towards Gender Mainstreaming through Course Review by Ms. Denise Therese Anne Palisoc, Project Staff, Anti-sexual Harassment Program of UPOU. These two presentations aimed to show that various platforms (such as Zoom) and course reviews of learning tools could be avenues for mainstreaming gender.
The fourth speaker was Dr. Maria Lourdes T. Jarabe, Assistant Professor, Faculty of Management and Development Studies (FMDS) of UPOU who discussed her research entitled Plants Brought Back to Life: An Exploration of Female Adolescent Survivors' Experiences of Sexual Abuse, Healing, and Resilience. Her research on the resilience of the research participants from their personal experiences could be viewed as a tool to gain knowledge on protective and promotive factors and processes in helping survivors towards healing and positive adaptation.
The last speaker, Ms. Rosalie Galang, a Master of Social Work student at UPOU, gave a presentation on Resilient Response in Diversified Online Education: UPOU's Women and Development Program. She elaborated on the activities of the Diploma in Women and Development program that aimed to bring forth an understanding of the characteristics, dynamics, and effects of women's oppression in society as well as the development of frameworks and strategies with the goal of strengthening gender-related movements and organization.
Special Session 8 was moderated by Asst. Prof. Reinald Adrian dL. Pugoy, Director of Information and Communication Technology Development Office (ICTDO). Special Session 9 on the other hand, was moderated by Dr. Ricardo Bagarinao, Dean of the Faculty of Education. Lastly, Special Session 10 was moderated by Dr. Finaflor Taylan, Director of the Office of Gender Concerns (OGC).
Written by the NCODeL 2022 Publicity Committee