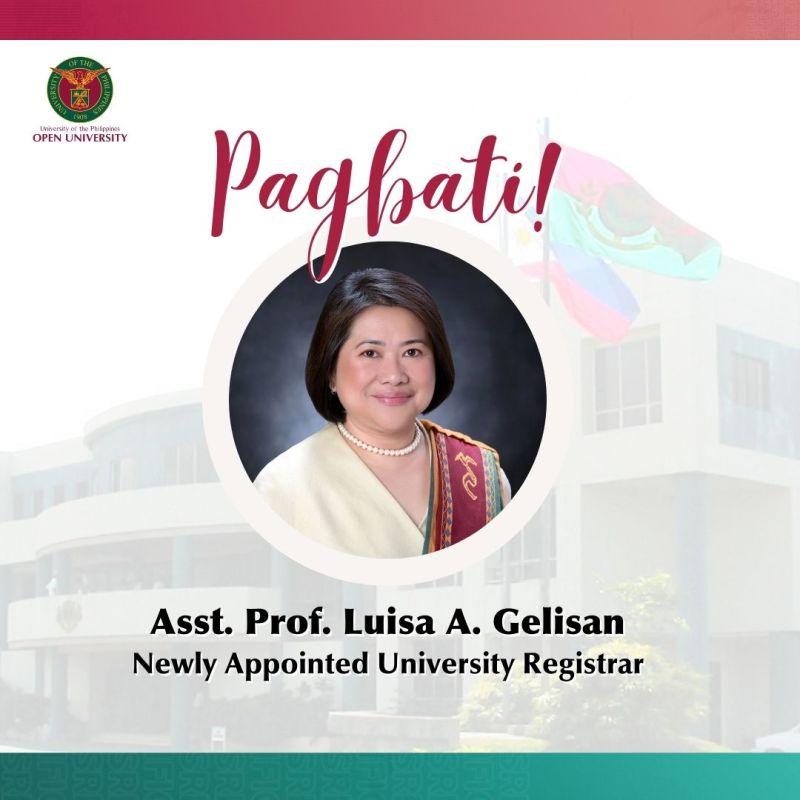 A new University Registrar now sits for the "Cyber" campus of the University of the Philippines System, the UP Open University (UPOU). Assistant Professor Luisa A. Gelisan, a faculty member of the UPOU Faculty of Information and Communication Studies (FICS) and former Director of the UPOU Multimedia Center, is ready to take on the challenge. 
Asst. Prof. Gelisan obtained her Master of Development Communication from UP Open University and her Bachelor of Science in Development Communication from UP Los Banos. 
Registrar Gelisan has a deep advocacy for open and distance elearning , and the production of open educational resources. She joined UPOU in 1997 as its Information Officer and later became a University Researcher at the UPOU Multimedia Center. She was appointed Director of the Multimedia Center in 2018, where the office produced numerous learning materials available to the public for free through the UPOU Networks. She was also tapped to tutor and served as lecturer under the Master of Development Communication and Bachelor of Arts in Multimedia Studies  programs, respectively. She also served as Course Coordinator and Course Developer of Massive Open Online Courses offered by UPOU on topics related to Child Rights Promotion and Protection, as well as on multimedia production. 
Asst. Prof. Gelisan has also presented research papers at local and international conferences, as well as published some of these research articles in journals/books. Some of these papers were products of fellowships and grants that she received, and for which also resulted in two of her publications receiving the UP International Publications Award. 
She also received the UPOU Gawad Chancellor for Natatanging REPS in 2015 and 2021; and is part of the team managing the long running UPOU public service program, Teacher Development Program, that was the recipient of UP Gawad Pangulo for Excellence in Public Service in 2017. 
For this new chapter as the University Registrar, part of her plan is to further automate processes at OUR to be able to serve the varying needs of UPOU students. She will serve from 01 March 2023 to 31 July 2023. (ACLlamas)
Written by  Anna Cañas-Llamas
Edited by Myra C. Almodiel and Luisa Gelisan