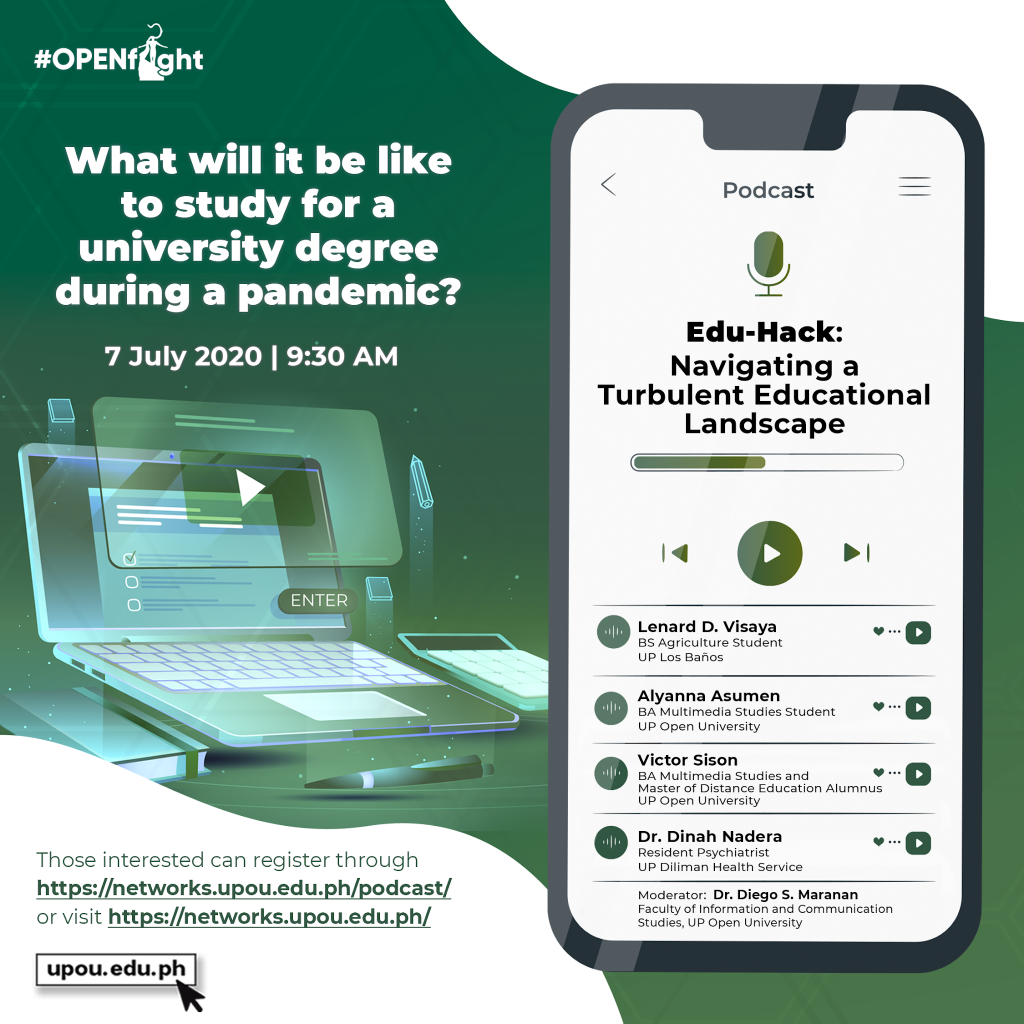 The next episode of "Edu-Hack: Navigating  a Turbulent Educational Landscape"  targets students who will be enrolling this academic year, with the gloom of the pandemic on their shoulders.
"What will it be like to study for a university degree during a pandemic?" is the theme for the next episode. It will feature Lenard D. Visaya, UP Los Banos Bachelor of Science in Agriculture student; Alyanna Asumen, UPOU Bachelor of Arts in Multimedia Studies (BAMS) student; Victor Sison, UPOU BAMS and Master of Distance Education Alumnus; and Dr. Dinah Palmera Nadera, UP Diliman Health Service Resident Psychiatrist and former UPOU faculty member. Dr. Diego Silang Maranan, BAMS Program Chair and Assistant Professor with the UPOU Faculty of Information and Communication Studies (FICS) will serve as the moderator. 
The discussion will revolve around the panel members' experiences during the quarantine period, what they expect when universities open for this academic year, and what difficulties are anticipated with the "new normal" in education. 
The sixth episode of the Edu-Hack Podcast is also intended for other stakeholders of higher education institutions (HEIs) such as administrators, faculty and staff members who have questions about what to expect in an online learning situation, and about the quality of teaching and learning experience during the shift to online learning.
Edu-Hack 6 will be held on 7 July 2020, 9:30 AM over UPOU's online repository of open educational resources, UPOU Networks. The episode will also be streamed live via the UPOU Youtube Channel and UPOU Networks Facebook page. Registration is free for  an unlimited number of participants via https://networks.upou.edu.ph/podcast/. 
Edu-Hack is UPOU's effort to discuss how Philippine universities are responding and adapting to disruptions in higher education brought about by the COVID-19 pandemic. Edu-Hack is also part of the #OPENFight program, UPOU's banner program for all efforts towards coping and managing resources amidst the COVID-19 pandemic.