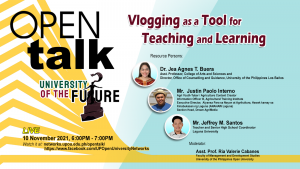 Another episode of UP Open University's (UPOU) OPEN Talk aired on 10 November 2021 and this time it tackled the potential use of vlogging as a tool in teaching and learning. The discussion was led  by the following  resource speakers: Dr. Jea Agnes T. Buera, Asst. Professor, College of Arts and Sciences and Director, Office of Counseling and Guidance, University of the Philippines Los Baños; Mr. Justin Paolo Interno, Agri Youth-Tuber (Agriculture Content Creator); and Mr. Jeffrey Santos, Teacher and Senior High School Coordinator at Laguna University. Asst. Prof. Ria Valerie Cabanes of the UPOU Faculty of Management and Development Studies served as moderator.
The discussion highlighted the advantages and disadvantages of video blogs or vlogs as well as the sharing of experiences, challenges, learned lessons, and best practices for producing video content or vlogs for educational purposes.
Vlogging has been a useful tool to relate knowledge and experiences to students, specifically via YouTube, shared by Dr. Buera as she discussed her dissertation topic regarding vlogging.
 Mr. Interno and Mr. Santos agreed that YouTube is a powerful tool to share experiences and content with a larger set of audience. YouTube is also deemed accessible to a majority of students. In addition, online platforms like YouTube are a great help especially during the pandemic that all classes shifted to online. 
 Vlogging introduced a lot of advantages like easier sharing of content that is more understandable to students as they tend to be more visual. While there are a lot of advantages to vlogging such as  accessible and engaging content, there are also some disadvantages. According to Mr. Santos, vlogging requires more time and effort in order to create a single content. In addition, longer screen time for students can also be harmful because it might have an unnecessary effect on their health as well.
 Mr. Interno also agreed that the main challenge of vlogging is the effort of creating it. The  content must be adjusted and tailor-fit to a specific audience  and also entertaining to engage students.
 A part of these challenges also involves inclusivity. Dr. Buera shared that not all have internet connection and gadgets that they can use to access vlogs and other online content, or in the simplest manner, access online classes. Not all are privileged to have the resources available to access online platforms for their studies.
However, as content tends to be universal, there would be a lot of people who will comment, suggest, and sometimes tend to go overboard and craft them  negatively. To address such concerns, Dr. Buera shared that she considers comments and suggestions, and addresses them on her next vlog. It is also important to reflect on the comments in case there are things needed to be discussed or merit a point to be considered.
Dr. Buera believes in re-evaluating the force of assessment, which means assessing the learning styles, technical skills, and currently available resources of students. "Focus on learning and not on compliance," Dr. Buera concluded. It is also helpful to make students feel that they are still in the classroom.
Mr. Santos, on the other hand, said that YouTube is not only a platform for entertainment but also a platform for teaching and learning. Indeed, vlogging could be an effective tool in both teaching and learning; given proper training and opportunities to teachers and learners.
The recorded event of Open Talk 16 can be watched at UPOU Networks – Multimedia Center Facebook Page.
Written by Alessa Shainne Hostalero
Edited by Joane V. Serrano and Anna Cañas-Llamas