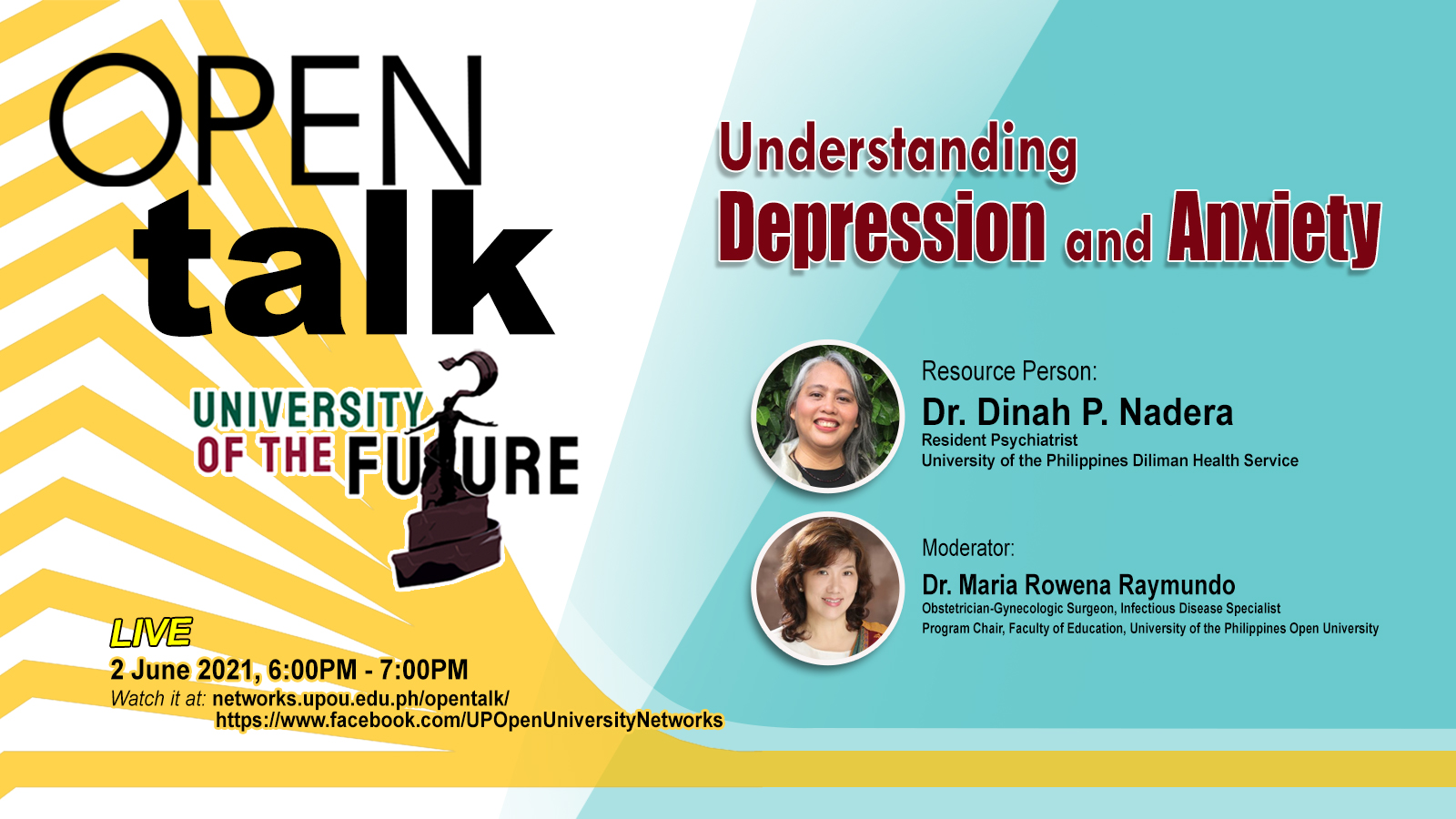 The seventh episode of the University of the Philippines Open University's (UPOU) OPEN Talk featured a discussion on depression and anxiety. This was held on 2 June 2021, 6PM via the UPOU Networks and UPOU Networks Facebook Page. 
Dr. Dinah P. Nadera served as the resource person for the episode. Dr. Nadera is the first resident psychiatrist of the UP Diliman Health Service and previous short-term consultant for mental health and psychosocial support for the Office of the WHO Representative in the Philippines from 2014 to 2015. Dr. Maria Rowena Raymundo, Assistant Professor of the UPOU Faculty of Education, served  as the moderator. 
With the heightened concern on mental health  amidst the COVID-19 Pandemic, this episode sought to provide answers to the questions  "What is depression?" "What is Anxiety?" and "How can we cope and protect our mental health during these trying times?"
Dr. Nadera shared that mental health problems were already increasing in number even before the pandemic. In this time of COVID-19 pandemic, discussion on mental health has even become more important considering that there are now more mental health services available and uncertainty is more prominent. 
She described anxiety as a "normal human emotion" and can be a positive indicator to alert people and be prepared for whatever is making them anxious. However, when this emotion becomes overwhelming, unreasonable, and excessive, and reaches to a point that it paralyzes people, then this is the time when anxiety becomes a disorder. Anxiety disorder has many types but the most common is Generalized Anxiety Disorder (GAD).
Similarly, Dr. Nadera also described depression as a normal human emotion that human beings naturally go through in different phases of their  lives. However, when depression is prolonged, it can result in unproductivity, hampered social relationships, and physical disorders. This mental health illness is called Major Depressive Disorder (MDD). 
Some symptoms of MDD are prolonged (four weeks in Philippine standard) low mood, loss of interest with things that used to make a person happy, and increased sensitivity and negative thinking. Some physical symptoms may include improper sleeping and eating habits. With this, one may have to seek help; this help can be professional, but help from family and friends may also be useful. Self-assessment is necessary to determine what kind of help one might need.
Dr. Nadera shared that there are many entry points for assistance where people can ask for help, this can be mobile applications such as MoodTools to help you track your mood and emotions or consult with mentors at school and at work.
Concerning professional help, the Department of Health and various online teleconsultation platforms such as KonsultaMD, EasyConsult, and SeriousMD offer online consultation with medical professionals. Ugnayan ng Pahinungod also offers free psychosocial support programs to members of the UP community and its partners.
Dr. Nadera suggested that it's not necessary to immediately consult with a psychiatrist or a psychologist, people can consult first with a general practitioner just to rule out physical ailments.
She mentioned that depression and anxiety's worst complication is suicide. Thus, suicide is a complication of severe, untreated depression that's why there is a  need to be very serious in providing mental health services to people with severe mental health illnesses.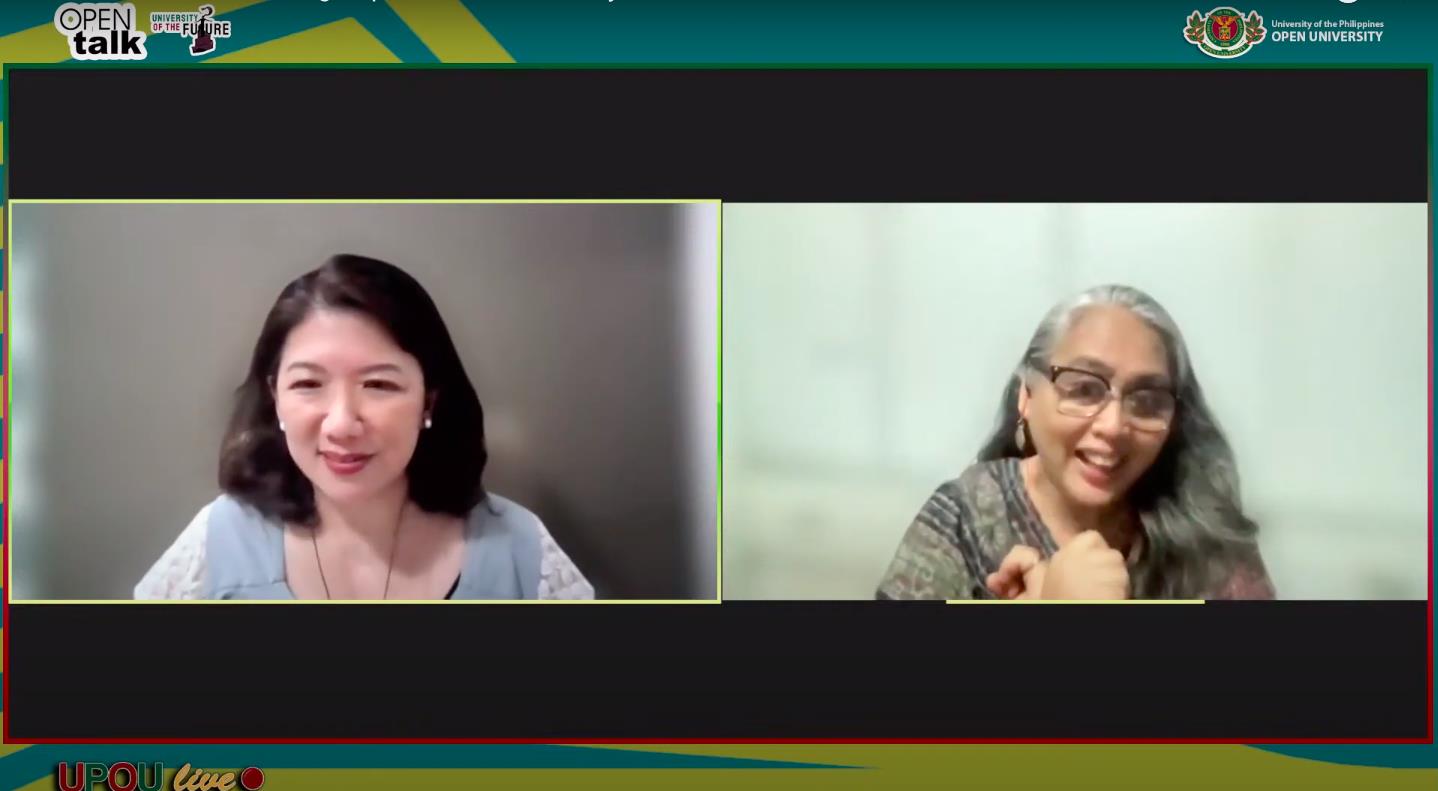 (L-R) Dr. Maria Rowena Raymundo and Dr. Dinah Nadera
discussed depression and anxiety and how to cope with them.
Habits to Improve Mental Health
Dr. Nadera shared best practices that people can do to strengthen their mental health and cope in today's world. Some ways to improve well-being are eating right and well, observing good sleep hygiene, exercising regularly, having a strong support system, and having adequate exposure to sunlight. Dr. Raymundo, also a medical doctor, agreed to this.
Dr. Nadera  also emphasized that there is a  need to have a mindset that does not equate one's being to one's illness. "Your condition does not define you naman," she said. Thus, there is  also a need to work on any internalized stigma or prejudice against ourselves and other people with mental health conditions. Moreover, mental health illnesses such as depression and anxiety can be treated, meaning the symptoms can be controlled and the individual can function well.
Furthermore, to prevent languishing (feeling unmotivated or being on 'autopilot') and languishing turning into depression, Dr. Nadera suggests developing new routines and learning new tasks or skills to generate novelty or new experiences into one's life despite the lockdown.
Mental Health in the Workplace
Republic Act No. 11036 or The Mental Health Act passed in 2019 "ensures that mental health services should actually be institutionalized in workplaces," according to Dr. Nadera. For those who feel like they are having mental health issues and it's affecting their work, Dr. Nadera suggested to check if there's any help available in the workplace or talk to a co-worker that he or she is comfortable with. 
Dr. Raymundo asked Dr. Nadera to expound more on the important provisions of the law wherein it says that workplaces should have mechanisms in place to address mental health. Dr. Nadera shared the following: first, there should be anti-stigma campaigns and people with mental health disorders should not be discriminated against; second, institutions should provide mental health promotion activities such as discussions and forums regarding this; and lastly, workplaces have the responsibility to facilitate access to services such as resources and directory of services for mental health available.
Mental Health as a Public Health Concern
"Alam mo ang mental health problem – depression and  anxiety, these are public health issues. And when we say public health issue siya, hindi pwedeng isa lang 'yung solusyon mo diyan. It really takes the entire community," Dr. Nadera emphasized. Health systems and education systems must be in place to treat and increase mental health literacy, respectively. There is  also a need to strengthen families and at an individual level, there is a  need to strengthen one's values such as self-respect, self-worth, resilience, and purposefulness, she added.
In conclusion, Dr. Nadera imparted, "Your mental health is your mental capital." There is a need to take care and invest in one's mental health because it is interconnected with one's mental capacity that helps people thrive. 
This episode of OPEN Talk was organized by the UPOU Multimedia Center in coordination with the UPOU Office of Ugnayan ng Pahinungod. OPEN Talk is a one-hour public service program to be broadcasted real-time over the UPOU Networks website and UPOU Networks Facebook page. Watch the OPEN Talk Episode 7: Understanding Depression and Anxiety replay via the links below: 
UPOU Networks: https://networks.upou.edu.ph/33417/open-talk-understanding-depression-and-anxiety/?fbclid=IwAR0_Abcv6lPb4fETG9VvqsmvQdGjH987Ipbf3uri9RsC_TR9xe0kDcvM13s
UPOU Networks – Multimedia Center Facebook Page https://www.facebook.com/UPOpenUniversityNetworks/videos/501673777837339
Written and Screen Capture by Kimberly Bacareza
Edited by Joane V. Serrano and Anna Cañas-Llamas