The Office of the Vice Chancellor for Academic Affairs (OVCAA) conducted a half-day orientation for the new tutors last 04 October 2022. Through this orientation, the tutors were given an overview of the teaching and learning approach at UPOU and their roles in an online course. 
Asst. Prof. Ana Katrina Marcial, the former Director of the Office of Academic Support and Instructional Services (OASIS), presented the distinction of resource-based learning approach and the difference between the roles of a UPOU FIC (faculty-in-charge) and a tutor. She also elaborated on the components of UPOU online courses such as the course guide, course site, and the MyPortal. Facilitating and providing feedback in online learning activities were discussed by Prof. Joane Serrano, the Dean of the Faculty of Management and Development Studies (FMDS). Prof. Serrano shared her insights on the types of discussion forums, the online facilitation guide, and some practical considerations on providing feedback to the students. In terms of marking assignments, Asst. Prof. Myra C. Almodiel, the Assistant to the Vice Chancellor (A2VCAA) for Instruction and Special Projects, and Asst. Prof. Roberto Figueroa Jr., a faculty member of FICS, substantially explained the definitions of a tutor-marked assignment, details of the marking guidelines, and the policies on academic integrity. The last topic that was discussed was about Monitoring Student's Progress. Prof. Primo G. Garcia and Asst. Prof. Rita C. Ramos, the Vice Chancellor for Academic Affairs and University Registrar, respectively, discussed the administrative matters on how to deal with student's concerns such as non-submission of assignments, requests for late submission, psychosocial issues, among others. Assoc. Prof. Ria Mae Borromeo, the Director of the Office of  Student Affairs (OSA), detailed the student support services offered by the University, specifically the available scholarship and financial assistance programs, learning hub management, counseling and guidance, and student organizations and activities. Lastly, Asst. Prof. Reinald Adrian D. Pugoy, the Director of the Information Communication and Technology Development Office (ICTDO), gave information on the available features of Moodle and how to efficiently use the platform through the generated logs and reports.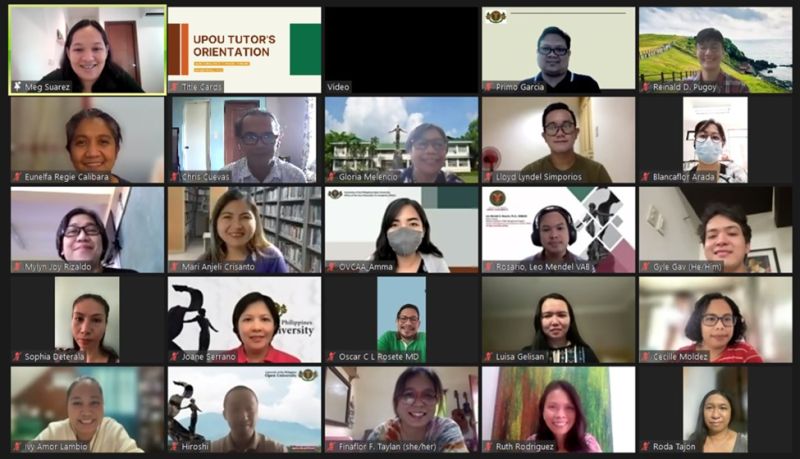 After each topic, a 15-minute question and answer session was provided to give the tutors an avenue to clarify their tasks in relation to the topics. An open forum for other questions was facilitated by the Vice Chancellor Garcia at the end of the program.
As a follow through of this activity, the OVCAA has set-up a dashboard at the UPOU Workspace that will serve as a repository of resources to be made accessible for the tutors.
Written by Ammanessi Joy Lapitan
Edited by Yasele Yambao, Myra C. Almodiel and Anna Cañas-Llamas