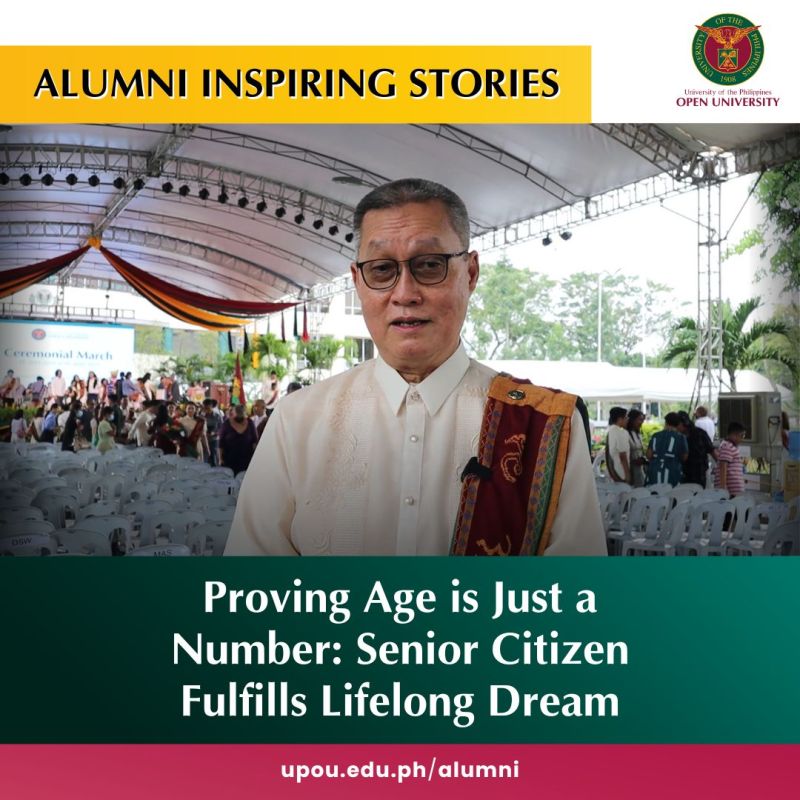 Edwin C. Tan's inspiring story of pursuing higher education at an older age proves that it's never too late to fulfill one's dreams. A loving husband and a cool dad, Edwin decided to take the leap, enroll at the University of the Philippines Open University (UPOU), and complete a Diploma in Environment and Natural Resources Management degree.
UP Open University utilizes open and distance elearning (ODeL) as its mode of teaching and learning, and its mission is to provide access to quality higher education to Filipinos everywhere, even to senior citiizens like Edwin. At the University of the Philippines, including UPOU, no student shall be denied admission to the University System by reason of age, sex, nationality, religious belief, or political affiliations  [from Art. 332 of the UP System Code]. In addition, UPOU is open to students who are not able to join traditional and physical clases, since all teaching and learning is done online. 
For Edwin, education is an essential part of life, regardless of age, and he believes that finishing a degree at one of the top schools in the country is an advantage. And although Edwin faced many challenges while completing his requirements, he persevered and was ultimately rewarded with a sense of fulfillment and accomplishment.
Through his experience at UPOU, Edwin developed a greater sense of belongingness, it developed his character and confidence, which has impacted his life in significant ways.
Today, Edwin is a proud UPOU alumni and he encourages others to follow in his footsteps. His advice to anyone considering pursuing higher education at UPOU is to take advantage of every opportunity that comes their way and not wait any longer. Edwin's inspiring journey is a testament to the power of perseverance and serves as a reminder that it's never too late to chase your dreams.
Written by Pinky Halos
Edited by Myra C. Almodiel and Anna Cañas-Llamas