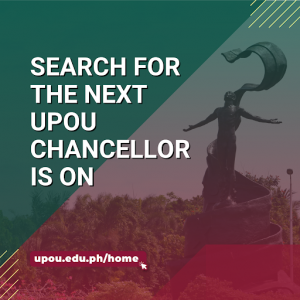 The call for nominations for the next Chancellor of the University of the Philippines Open University (UPOU) has been released. Dr. Melinda dela Peña Bandalaria, the incumbent Chancellor of UPOU, will be ending her second term on 28 February 2022.  
Nominees for the position of the Chancellor should have the following qualifications: (1) commitment to academic freedom and the ideals of the university; (2) distinction in the nominee's expertise coupled with a generalist view and an appreciation of other disciples; (3) Filipino citizenship with a strong nationalist commitment; (4) demonstration of observance of the principles of collegiality and the democratic process; (5) unquestionable moral integrity; (6) academic leadership and administrative skill; and (7) willingness to serve as Chancellor on full-time basis and for the full term of three years. 
The nomination is open to all faculty and staff members, students and alumni of UPOU. To submit a nomination, a signed nomination letter specifying the justifications for nomination, a copy of the nominee's curriculum vitae and a summary should be submitted to the UP Office of the Secretary of the University (OSU) through this email address – [email protected] or to the Chair of the Search Committee, Assoc. Prof. Joselito G. Florendo through this email address – [email protected]).  Submission of nominations  should be on or before  5:00 PM on 29 October 2021.
As part of the search process, a presentation of the accomplishments, priorities and challenges of the incumbent Chancellor will be held on 27 October 2021. The nominees will be presenting their visions, plans and programs on 3 November 2021, and consultations will be held among UPOU constituents on 4 November 2021. The nominees will also be interviewed by the Search Committee on 6 November before a report is submitted to the UP President by 12 November 2021. 
Along with Assoc. Prof. Florendo, other members of the Search Committee include Prof. Rolando Talampas, Senior Faculty Representative; Dr. Diego Maranan, Senior Faculty Representative; Asst. Prof. Cesar Z. Luna, Junior Faculty Representative; Ms. Eleanor P. Manipol, REPS Representative; Mr. Alejandro Zamor, Administrative Representative; Col. Darlene Flores, Student Representative and Ms. Anna Cañas-Llamas, Secretary. 
All presentations and consultations will be done virtually via Zoom. The details for each activity will be released by the Search Committee and disseminated to all UPOU constituents.
Written by Anna Cañas-Llamas
Edited by Joane V. Serrano