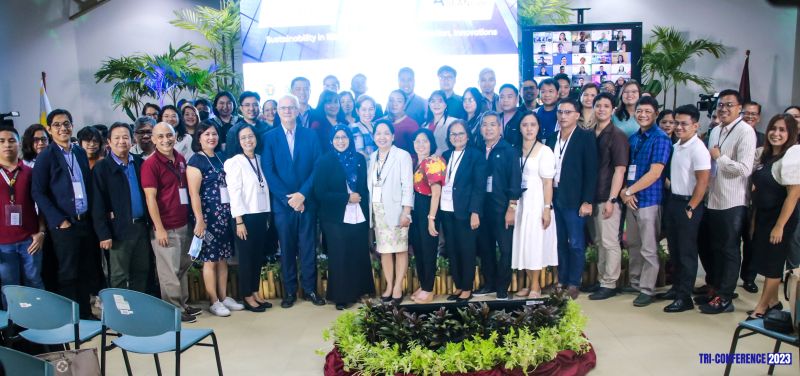 On 22 August 2023, the University of the Philippines Open University (UPOU) opened the Tri-Conference 2023, its first ever multimode three-conference-in-one. The opening ceremony was held at the UPOU Headquarters in Los Baños, Laguna, with the theme "Sustainability in Education: Intersection, Ideation, Innovations." Hosted by Asst. Prof. Ria Valerie Cabanes, the Tri-Conference marked the debut of a transformative academic journey.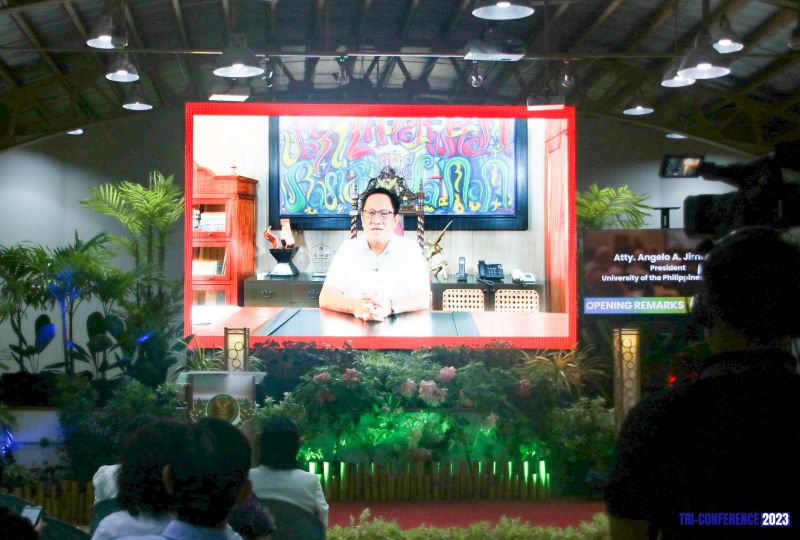 Atty. Angelo A. Jimenez, University of the Philippines President, has a resounding message amidst the volatility, uncertainty, complexity, and ambiguity (VUCA) of recent times. In his welcome remarks, he emphasized the necessity to strategically strengthening institutions, including the academe, and the need for cooperation and collaboration among institutions.  "Working together will help build our resilience, allowing us to be flexible and agile, positively adjusting to challenges and emerging as more strengthened institutions." According to President Jimenez, the Tri-Conference 2023 is an opportune time to learn from varying perspectives.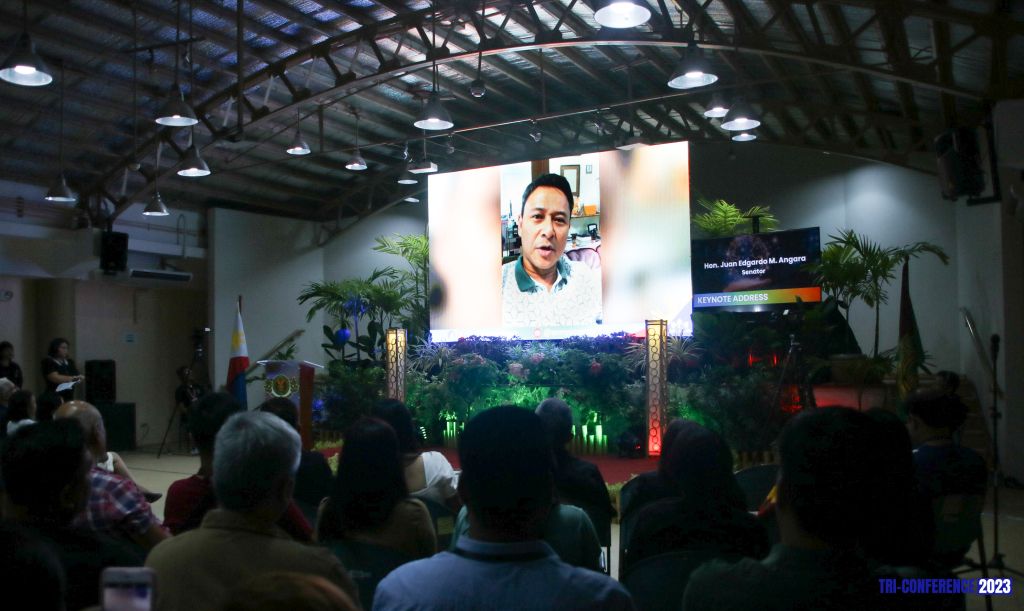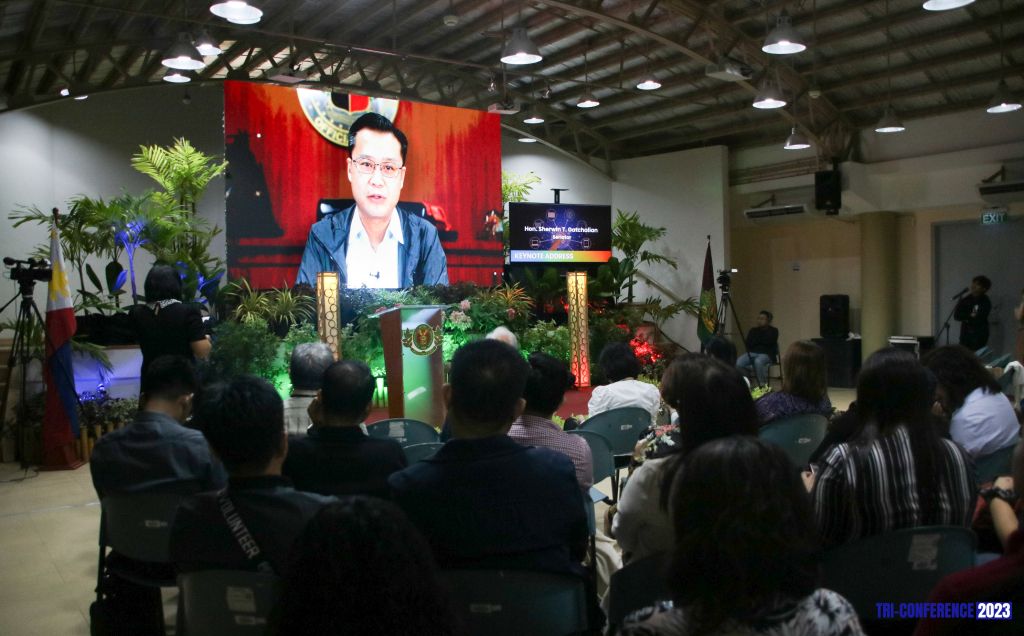 Hon. Sen. Juan Edgardo "Sonny" M. Angara and Hon. Sen. Sherwin T. Gatchalian, distinguished advocates of education, also conveyed their congratulatory messages and expressed their hopes for a productive and successful Tri-Conference 2023. Senator Angara highlighted the timeless significance of quality education amidst the rise of AI, while Senator Gatchalian emphasized collective participation in education's transformation.
The opening ceremony also featured the launch of the UPOU Roadmap for Micro-Credentials. It will serve as the university's guide in the institution and implementation of micro-credential courses – from development, evaluation, review and approval, delivery, delivery platform, administration, assessment, and awarding of certificates.Through micro-credentialing, UPOU hopes to contribute to bridging the gap between the academic goals of students and the skills and abilities required in their fields.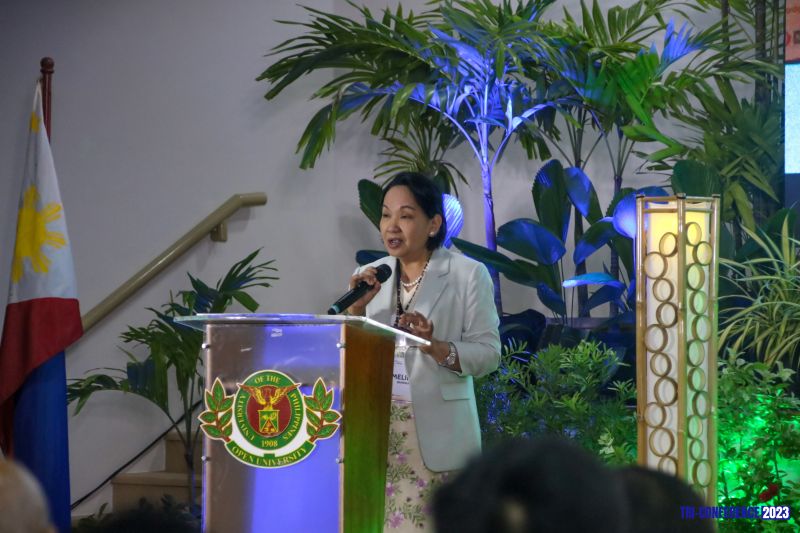 The Tri-Conference 2023 is a convergence that reshapes the trajectory of education. With united minds, shared perspectives, and intertwined aspirations, the conference revealed a blueprint for a future where innovation flourishes, boundaries blur, and education evolves into a force of unparalleled transformation. It brings together the 5th International Conference on Open and Distance eLearning, the 1st International Symposium on Education and AI Convergence, and the ASEANnale 2023. Tri-conference 2023 held from 21 to 25 August 2023, organized by UPOU in collaboration with the Southeast Asian Regional Center for Graduate Study and Research in Agriculture (SEARCA), UPOU Foundation, Inc. (UPOUFI), and the Philippine Society for Distance Learning (PSDL).  The Tri-conference includes the ICODEL 2023, International Symposium on Education and AI Convergence (ISEAC 2023), and the ASEANnale, which share the same theme: Sustainability in Education: Intersections, Ideation, Innovations. Tri-Conference is sponsored and supported by Concentrix (Platinum Sponsor), Near-Life, Development Bank of the Philippines and Nephila Web Technology, Inc (Gold Sponsors), and the following Exhibit Partners: Digital Freedom Network, Disini Law, Veterans Bank, Land Bank, DOST-PCAARRD.
Written by Tri-Conference 2023 Publicity Committee (AFGonzales and ACLlamas)