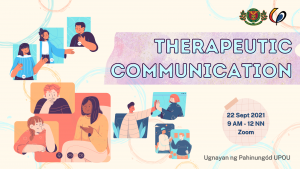 The University of the Philippines Open University (UPOU) Ugnayan ng Pahinungod will be conducting a webinar on Therapeutic Communication on the 22nd of September, via Zoom. 
This webinar is open to all UPOU students, faculty and staff, as well as Ugnayan ng Pahinungod UPOU Volunteers. Through this webinar, participants are expected to obtain basic knowledge about Therapeutic Communication and be able to practice Therapeutic Communication techniques and strategies. These knowledge and techniques will enable them to support themselves as well as the people around them, especially with the various challenges encountered as a result of the ongoing pandemic. 
This webinar is part of the activities of the Ugnayan ng Pahinungód UPOU Committee on Psychosocial Emergency Services (UP-CoPES). Two of UPOU's faculty members will serve as resource speakers: Asst. Prof. Queenie Roxas-Ridulme is the Program Chair of the UPOU Master of Arts in Nursing (MAN) program; and Asst. Prof. Ria Valerie Cabanes is the Program Development Associate for MAN and the Ugnayan ng Pahinungód UPOU representative to UP-CoPES. 
For inquiries about this webinar, please contact the Ugnayan ng Pahinungod UPOU office through their email address, [email protected].