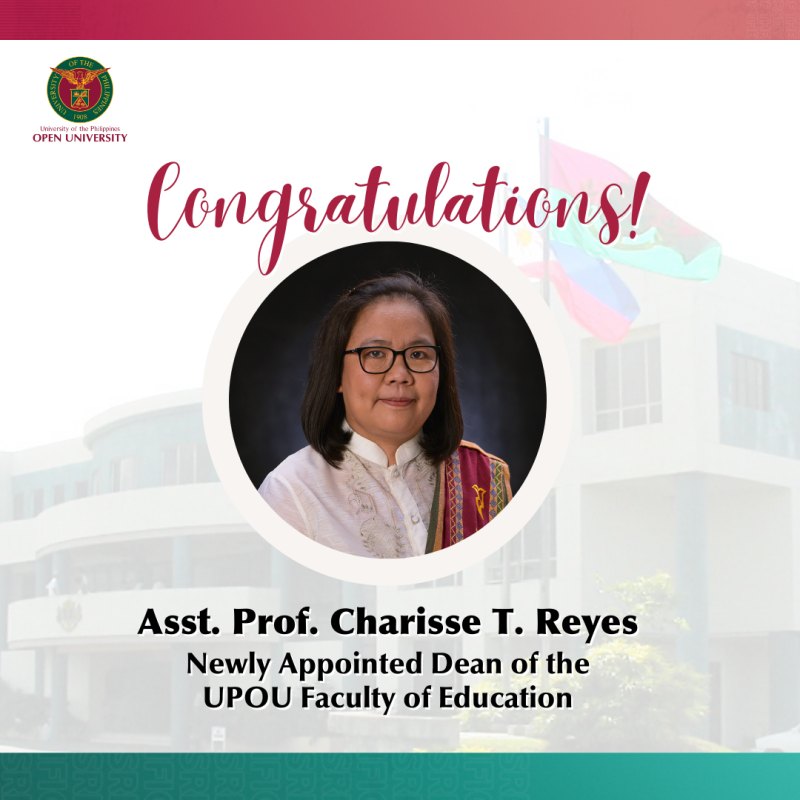 The University of the Philippines Board of Regents (UP BOR) has approved the appointment of the new Dean of the UP Open University Faculty of Education (FEd). On the 1378th meeting of the UP BOR held on 23 February 2023, Asst. Prof. Charisse T. Reyes was named Dean of FEd, succeeding Dr. Ricardo T. Bagarinao, who served for two terms. 
Asst. Prof. Reyes is a staunch advocate of innovations in inclusive pedagogical practices in chemistry education and in enhancing teaching and learning chemistry through technology and learning analytics. Her research advocacies also include the efficient use of open educational resources for teaching and learning in science education. As the Dean of FEd for the next three years, her plan for the Faculty is to continue its mission of providing quality and equitable higher education services, especially to non-traditional, underrepresented, and underserved learners. The quality of FEd academic programs will be improved by subscribing to national and international standards and metrics to eventually possess quality features that other institutions can benchmark against. Another vision she mentioned is that the pillar of FEd academic programs will be strengthened to nurture, support, and recognize faculty and course developers; to institute a robust student support system; to establish a contented, thriving working environment where the welfare of faculty, REPS, and administrative staff members is prioritized; to eventually establish the Center for the Learning Sciences that is envisioned to be the leading research institution for technology-enhanced pedagogies, instructional design, learning analytics, and inclusive education for indigenous people, gender, and alternative education systems; and to maintain FEd's commitment to serving the community by strengthening ties with higher education institutions and institutions that offer educational services through networked programs. 
At the UPOU FEd, she teaches courses in chemistry and science education. She served as Program Chair for the Associate in Arts and Bachelor of Education Studies.  She also served as Faculty Secretary before she went on leave to pursue her Doctor of Philosophy degree at Monash University in Australia in 2019. Before joining UPOU in 2013, she was a full-time faculty with the Institute of Chemistry, UP Los Baños.  Asst. Prof. Reyes has a Bachelor of Science and Master of Science degree in Chemistry from the University of the Philippines Los Baños. 
Asst. Prof. Reyes has received several awards and scholarships as an academician and a researcher. As a Ph.D. candidate, she was the recipient of the Monash Graduate Scholarship, the Faculty of Science Dean's International Postgraduate Research Scholarship, and the Erik Duval Learning Analytics Summer Institute Scholarship. She also received the Monash Postgraduate Publication Award. As a UPOU faculty member, she was awarded the One UP Faculty Grant Award in Chemistry (Chemistry Education) for Outstanding Teaching and Research (2019-2021), and the One UP Faculty Grant Award in Chemistry (Chemistry Education) for Outstanding Research and Public Service (2016-2018). She has also led several research projects and has published several journal articles, including chapters in a book in her field, and is involved in a number of extension activities and public service projects with UPOU. 
Asst. Prof. Reyes is a licensed chemist recognized as a member of international and national organizations. She is a member of the Integrated Chemists of the Philippines (ICP). Kapisanang Kimikia ng Pilipinas-Southern Tagalog Chapter, Philippine Association of Chemistry Teachers,  European Science Education Research Association, Society of Learning Analytics Researchers, and is also a Postgraduate Member of the Royal  Australian Chemistry Institute. 
Asst. Prof. Reyes will serve as Dean of FEd from 23 February 2023 until 22 February 2026.
Written by  Anna Cañas-Llamas
Edited by Myra C. Almodiel and Charisse T. Reyes