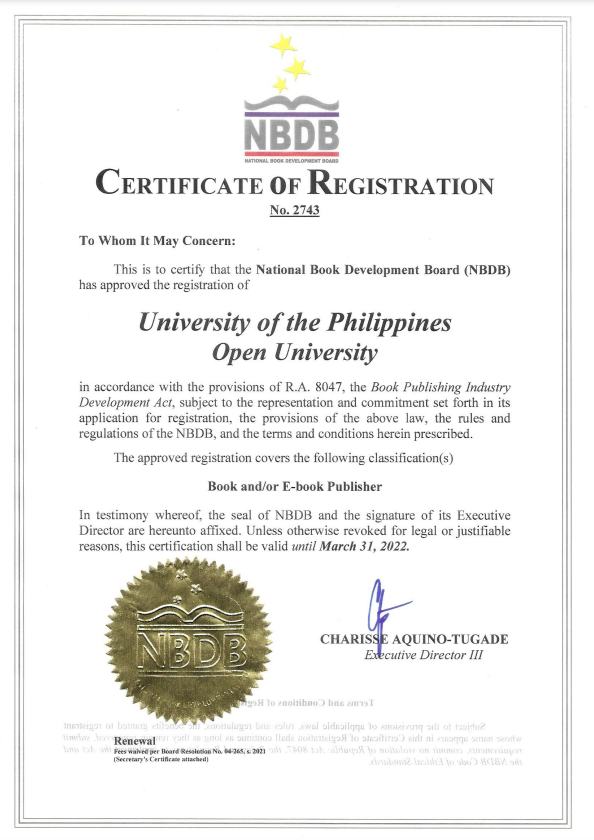 The UP Open University (UPOU) received the renewal of  its National Book Development Board (NBDB) certificate of registration  on 31 March 2021 and is valid until 31 March 2022. 
The National Book Development Board (NBDB) is an agency of the Philippine government under the Department of Education formed through Republic Act No. 8047 or the Book Publishing Industry Development Act. RA 8047 which  is responsible for promoting the continuing development of book-publishing in the Philippines with the active participation of the private sector. 
UPOU publishes  books, e-books and multimedia books on open and distance elearning (ODeL) and other fields of study  that are available and being used by  its faculty, staff,  students, alumni, external stakeholders and the general public. 
For inquiries on UPOU publication, the Office of the Vice Chancellor for Academic Affairs (OVCAA) can be contacted through ovcaa@upou.edu.ph.
UPOU publications can be accessed through the UPOU networks website and UPOU website.
Written by Phoebe May Apostol
Edited by Joane V. Serrano