UPOU Advisory-1 for the Community on COVID-19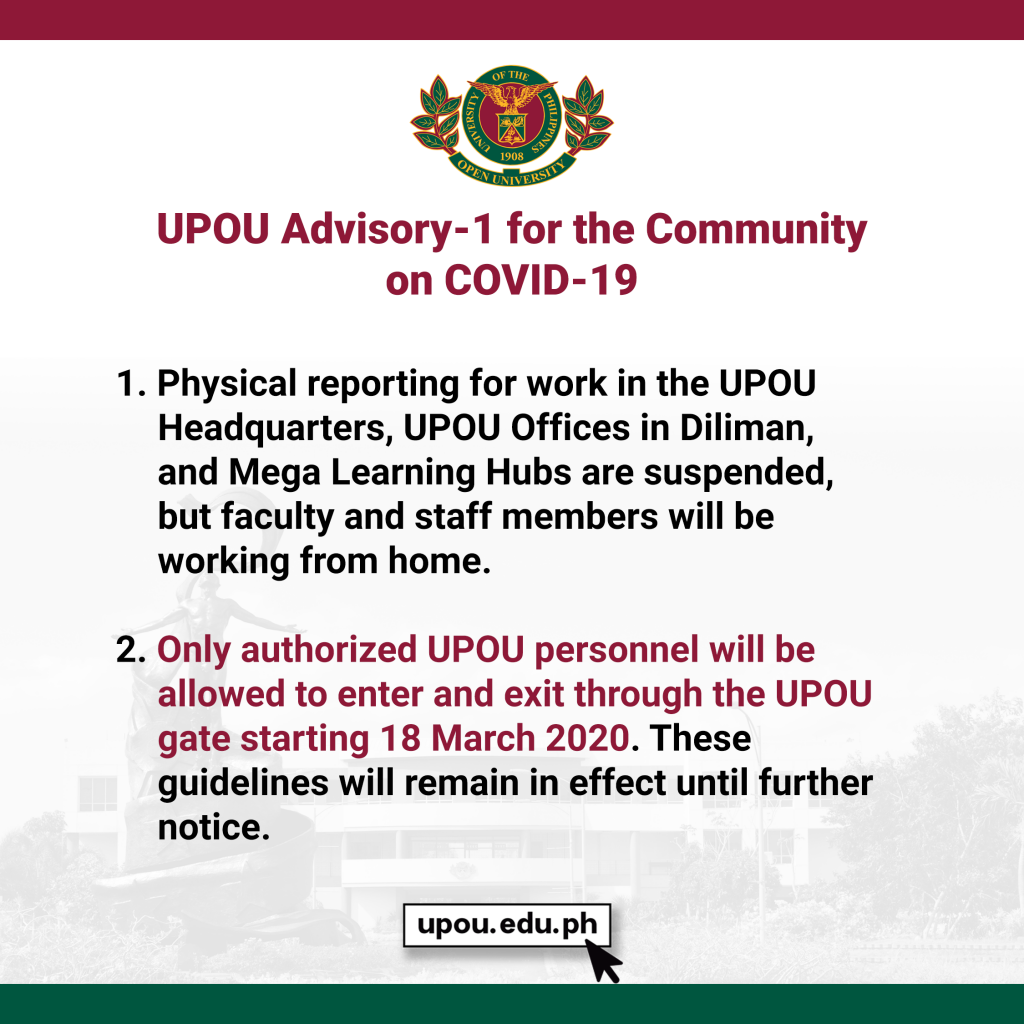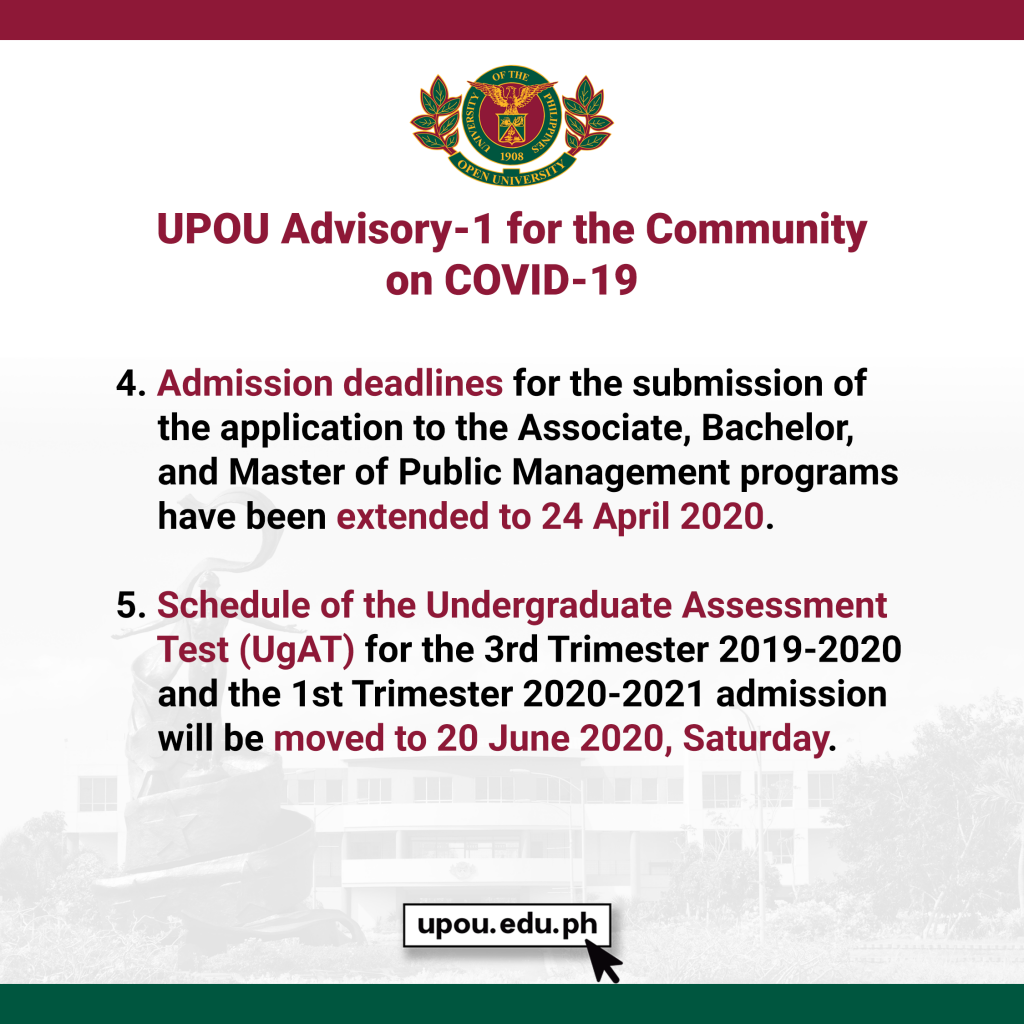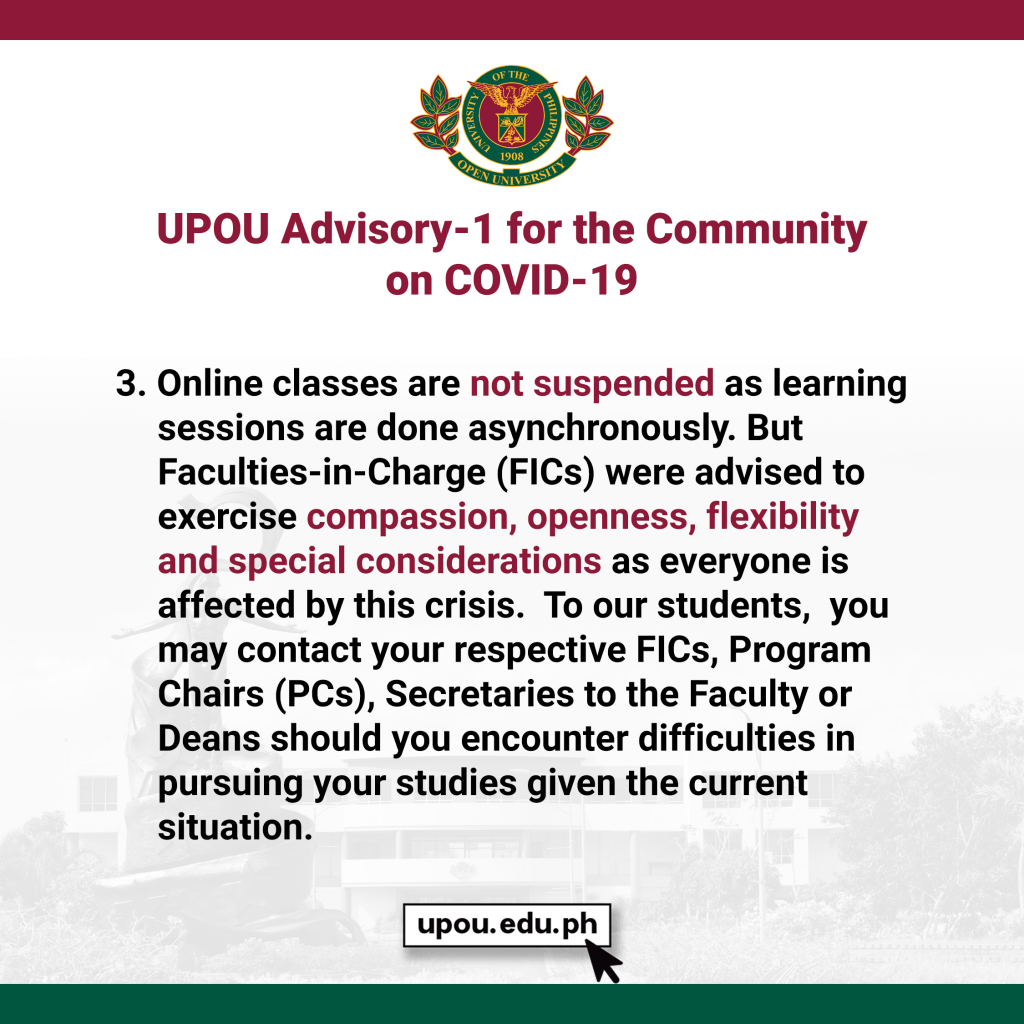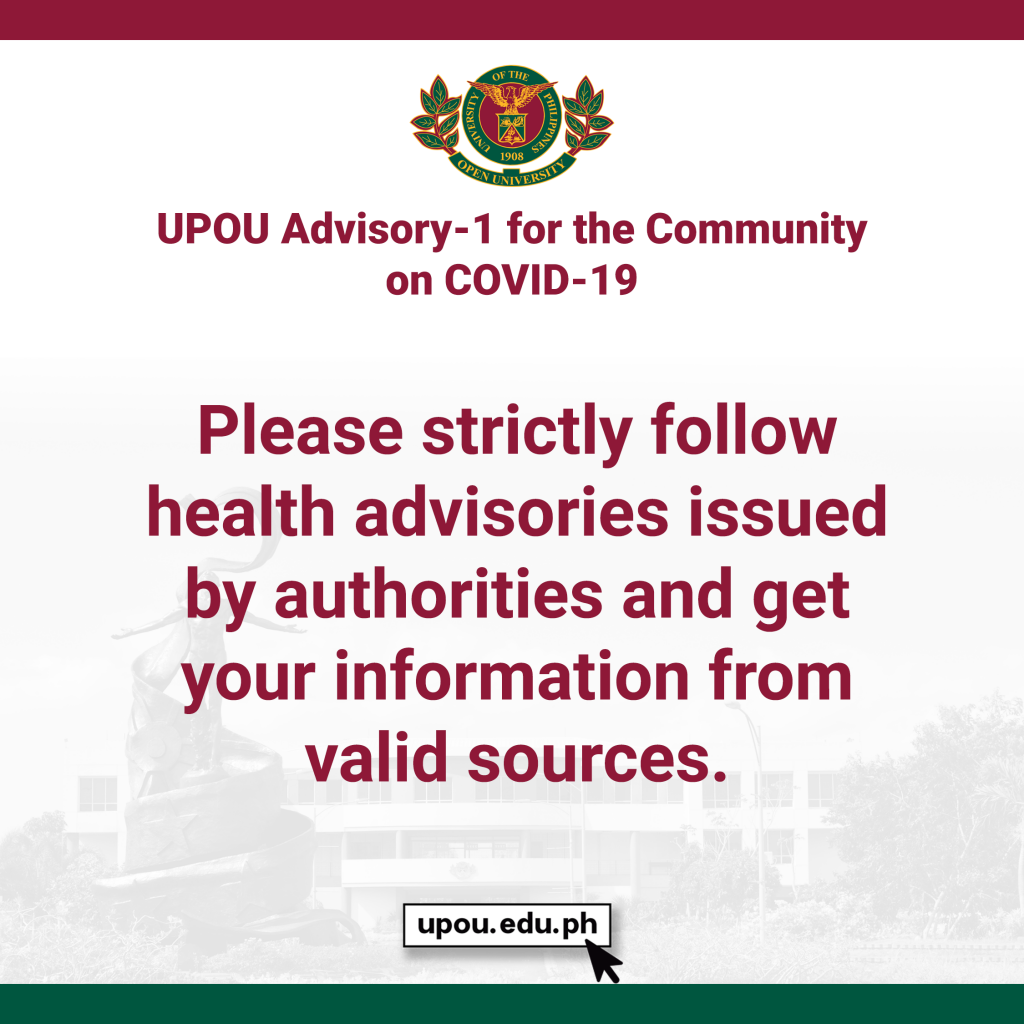 To our Community,
Starting today, 17 March 2020,  in its effort to prevent the spread of COVID-19, the Philippine government has placed the entire Luzon under Enhanced Community Quarantine. Following this, work from home arrangement (WFHA)has been put in place for all University of the Philippines (UP) Constituent Units (CUs) including the UP Open University (UPOU).
Starting 18 March 2020, only authorized UPOU personnel will be allowed to enter and exit through the UPOU gate. These guidelines will remain in effect until further notice
Phone calls and walk-in visitors in UPOU cannot be attended to as of the moment. All concerns may be directed to the following email addresses:
Service
Concerned Offices
Email Address
General Information about UPOU Programs
Information Office
[email protected]
Admission, Application Status
Office of the University Registrar
[email protected]
Registration, Student ID, Refund
Office of the University Registrar
[email protected]
Students Records, Document Requests (Diploma, TOR, Certification) and Graduation
Office of the University Registrar
[email protected]
Online Bookstore (Distribution and Sale of Course Materials
OASIS
[email protected]
MyPortal
MyPortal Support
[email protected]
Email Account
ICTDO
[email protected]
Academic Advising
Program Chairs
(please refer to upou.edu.ph)
Academic Status, Re-admission, LOA, Dropping, Completion, Removal
Faculty Offices

Faculty of [email protected]@upou.edu.ph
Faculty of Management and Development S[email protected]@upou.edu.ph
Faculty of Information and Communication [email protected]@upou.edu.ph

Library Services
Library Office
[email protected]
Examination
Office of Student Affairs
Scholarship and Financial Services
Office of Student Affairs
[email protected]
Please take note that the admission deadlines for the submission of the application to our Associate, Bachelor, and Master of Public Management programs have been extended to 24 April 2020.
The schedule of the Undergraduate Assessment Test (UgAT) for the 3rd Trimester 2019-2020 admission originally scheduled on 14 March 2020 and the 1st Trimester 2020-2020 admission originally scheduled on 6 June 2020 will be both moved to 20 June 2020, Saturday. Additional information and detailed instructions will be provided by the UPOU Office of the University Registrar to the examinees.
To our students, if you have concerns, you may email your respective Program Chairs (PCs), Administrative Officers, or Deans. Students are advised to be in close communication (via email or MyPortal) with their respective PCs should they encounter difficulties in pursuing their studies given the current situation. 
Rest assured that the UPOU administration is monitoring the situation and everyone is advised to standby for further announcements. 
Let us all stay safe, and stay informed. Listen to and read news updates from trusted and valid sources. Follow protocols and advisories released by authorities.
UPOU Information Team on COVID-19