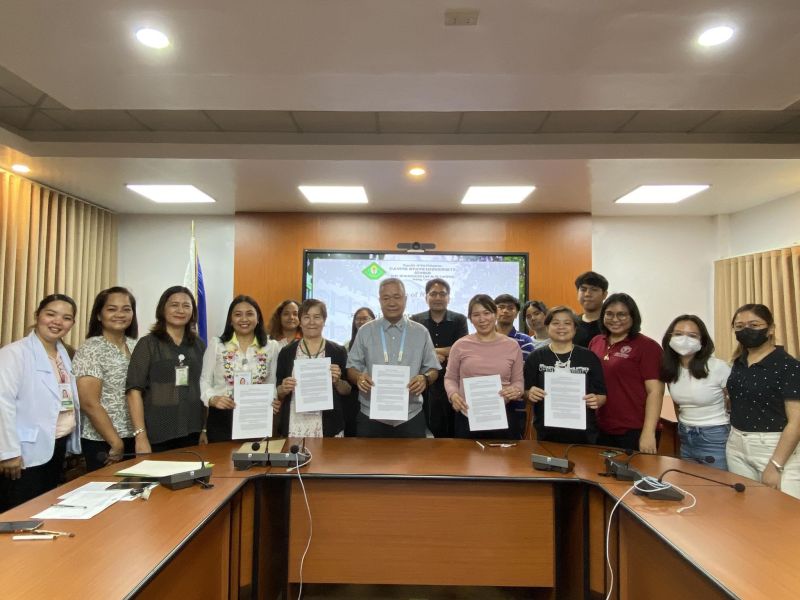 On 22 May 2023, the UP System's EIDR Program at UP Open University titled, Development of a Filipinized Learning Management System (LMS), conducted its last field visit activity at Cavite State University (CvSU) – College of Nursing as part of the implementation and monitoring of the project. 
In a significant stride towards innovation in education, the Emerging Interdisciplinary Research (EIDR) – Filipinized LMS Team recently engaged in a productive meeting with Cavite State University. UPOU Faculty members Assistant Professor Rita C. Ramos and Assistant Professor Queenie Ridulme led the Team in a meeting with the esteemed CvSU President, Dr. Hernando D. Robles, accompanied by College of Nursing Dean, Dr. Evelyn M. Del Mundo and faculty members, as well as International and Local Collaborations and Linkages Office (ILCLO) Director Ma. Veronica P. Peñaflorida. This gathering served as a platform for strengthening the collaboration between the two institutions, marked by a ceremonial signing of the Memorandum of Agreement.
Following the formalities, a brief program was organized by the EIDR Team, inviting the College of Nursing faculty members and student representatives to delve deeper into the project. The program served as a venue for comprehensive discussions, enabling attendees to gain a deeper understanding of the benefits and features of the Filipinized LMS. An exciting highlight of the program was the launch of the Filipinized LMS Mobile Application, which captivated the users with its user-friendly interface and enhanced functionality. The partnership is poised to propel the Filipinized LMS to new heights, paving the way for a more dynamic and interactive educational journey at CvSU and beyond.
The Filipinized Learning Management System aims to help nursing students and faculty have an accessible online learning environment despite the slow internet connection in the country. Currently, the project is being implemented in three state universities in the country – Mindanao State University Buug, Cavite State University, and Visayas State University, respectively. The project hopes to expand its partnerships with other academic fields and institutions.
Contributed by the EIDR Filipinized LMS Team
Edited by Anna Cañas-Llamas and Rita C. Ramos