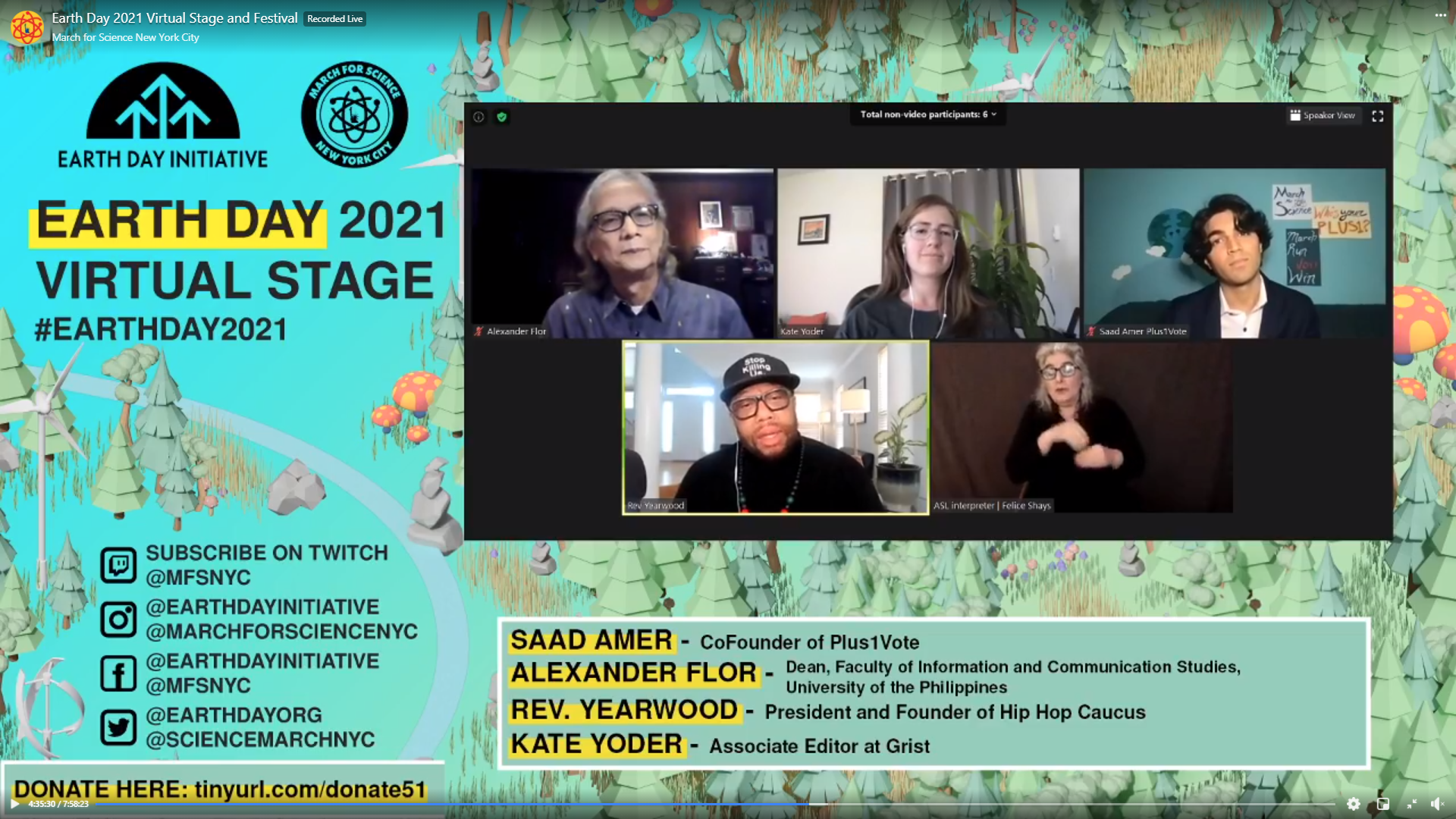 Earthdayinitiative.org, together with March for Science NYC, organized the grand Earth Day 2021 Virtual Stage and Festival to kick off the Earth Week 2021 which is celebrated every 22 April of each year. The University of the Philippines (UP) through the UP Open University (UPOU) took pleasure in being a part of this global event. 
Dr. Alexander G. Flor, Dean of the UPOU Faculty of Information and Communication Studies (FICS) and environmental communication expert, represented the university  and shared the perspective of the climate communication science community.
He was part of the round table discussion for the third part of the event, which was dedicated to Communicating Climate, specifically focusing on effective communication strategies. Along with Dr. Flor are Rev. Lennox Yearwood Jr., President and founder of Hip Hop Caucus, an organization that advocates climate action that will stop and reverse the impacts of the climate crisis; Saad Amer, co-founder of PlusOne Vote, a nonpartisan nonprofit organization dedicated to getting out the vote and creating a democracy that is more representative of its people, and is engaged in various campaigns, including Climate Change; and Kate Yoder, journalist with Grist, a nonprofit, independent media organization dedicated to telling stories of climate solutions and a just future.
Ms. Yoder started the discussion with how climate change can be intimidating and feel overwhelmingly big, especially the science behind it. Her advice to people is to just talk about things that matter to them, and communicate by actions taken and let it resonate and repeat in various media over time. Mr. Amer stated that climate change is an intersectional issue – it includes human rights, social justice, economics, health, democracy. Once there is an understanding of how issues are connected, people will be more equipped to push the conversation forward and instigate real changes across the world. Mr. Yearwood's advice is for people within the climate change movement to communicate personal stories better to be more successful in communicating change. For him, climate justice is racial justice and racial justice is climate justice. 
As the Father of Climate Communication, Dr. Flor shared that UPOU published the book "Environmental Communication'' where it was observed that not much emphasis is given to environment  or climate communication as the scientific community classifies climate action only as (1) climate mitigation and (2) climate change adaptation. He proposes that a third category for climate action be recognized which is climate communication or climate advocacy.  He emphasized, however, that there are implications to this proposition in terms of budget, resources and support. Scientific research centers in the global south doing work on climate communication have limited resources compared to corporate communication. Dr. Flor also raised an important question on whose voice is being represented? Is it the voice of the climate scientist? The politicians? Or the deniers? How about the vulnerable communities where climate change is a reality? He pointed out that for the majority of the global population, especially in the global south, climate change is a day to day reality. Dr. Flor also surfaced the notion that when we talk about climate communication, the climate itself is a participant. "Oftentimes, we rely on climate or bio signals but beyond that we do not have the agency or the means to communicate and it's up to us to serve as their agents to amplify these signals. "
UPOU is a staunch advocate of environmental protection. It offers the Diploma in and Master of Environment and Natural Resources Management programs, as well as Integrating Climate Change Adaptation and Disaster Risk Management in Policies, Plans and Investments toward Inclusive and Sustainable Agricultural and Rural Development (ICCARDM4ISARD) and Responding to Climate Risks in Agriculture and Natural Resource Management (RCRANRM).
The  Earth Day 2021 Virtual Stage and Festival included four more parts that included topics on Climate and Environment Policy, Public Health, Technology and Infrastructure and Individual Action meets Systemic Change. It was held on 18 April 2021 via Facebook but is available for viewing anytime.
Written and Screen Capture by Anna Cañas-Llamas
Edited by Joane V. Serrano