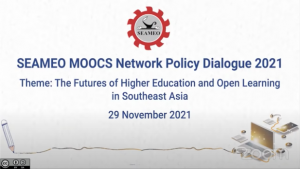 University of the Philippines Open University Chancellor, Dr. Melinda dela Peña Bandalaria, participated in the Southeast Asian Ministers of Education Organization (SEAMEO) Massive Open Online Courses (MOOCs) Network Policy Dialogue 2021 on 29 November  2021 via ZOOM. Themed "The Future of Higher Education and Open Learning in Southeast Asia", the event focused on the essential role of Open Educational Resources (OERs and other learning materials amidst the pandemic where face-to-face classes were deemed impossible. The event featured five panel presenters to share their presentations towards the use of OERs. 
Dr. Bandalaria's presentation titled "The University of the Future: the UP Open University Articulation" focused on four topics: (1) OERs and MOOCs at UP Open University, (2) Best Practices: OERs and MOOCs in the teaching and learning in the time of the pandemic, (3) OERs and MOOCs in the University of the Future Configuration, and (4) Policy Recommendations.  She talked about the model for OER development in UPOU which was "equivalent to the content of credit courses offered by the HEIs (based on Policies, Standards and Guidelines for the Curriculum issued by CHED,"  in hopes to improve the quality of higher education. 
She went into detail about MOOCs, and the different types of OERs that UPOU developed, like the set of OERs for Business Analytic courses which was developed in collaboration with the Commission on Higher Education (CHED). This course contains 90+ learning objects for its nine courses.  The development and offering of MOOCs were similar to OERs which also equate to the content of credit courses offered by Higher Education Institutions or HEIs (1 MOOC = 1 credit unit content). More about her presentation is available here.
Other speakers who took part in the Policy Dialogue were Dr. Libing Wang, Chief, Section for Educational Innovation and Skills Development, UNESCO Asia and Pacific Regional Bureau for Education, Bangkok, Thailand and Dr. Roger Chao Jr., PhD, Head, Education, Youth and Sports ASEAN Secretariat as the Keynote Speakers. Other Panel Presenters with Dr. Bandalaria were Dr. Kamolrat Intratat, Director & Founder, THE Research Center of Communication and Development Knowledge Management, Sukhothai Thammathirat Open University, Thailand; Dr. Nu Nu Yi, Pro Rector, Yangon University of Distance Education, Yangon, Myanmar; Dr. Le Nguyen Tue Hang, Vice Provost, Duy Tan University, Vietnam; and Prof. Dr. Paulina Pannen, Chairman, Indonesia Cyber Education Institute, Universitas Terbuka, Indonesia. 
The event also included the sharing of insights and responses from representatives of the different SEAMEO Regional Centres, which were Ms. Ethel Joan Atienza, Specialist for Learning Management and Implementation, SEAMEO INNOTECH, Philippines; Asst. Prof. Dr Romyen Kosaikanont, Centre Director, SEAMEO RIHED, Thailand; Dr. Ho Thanh My Phuong, Centre Director, SEAMEO RETRAC, Vietnam; and Ms. Cahya Kusuma Ratih, Acting Deputy Director, SEAMEO SEAMOLEC, Indonesia. 
The Southeast Asian Ministers of Education Organization (SEAMEO) was established in 1965 among governments of Southeast Asian countries to promote cooperation in education, science, and culture. With the motto "Leading Through Learning," the SEAMEO aims to enhance the understanding, cooperation and unity among Member Countries to "improve the quality of and equity in education, preventive health education, culture and tradition, information and communication technology, languages, poverty alleviation and agriculture and natural resources."
Written by Enrico Feria
Edited by Joane V. Serrano and Anna Cañas-Llamas