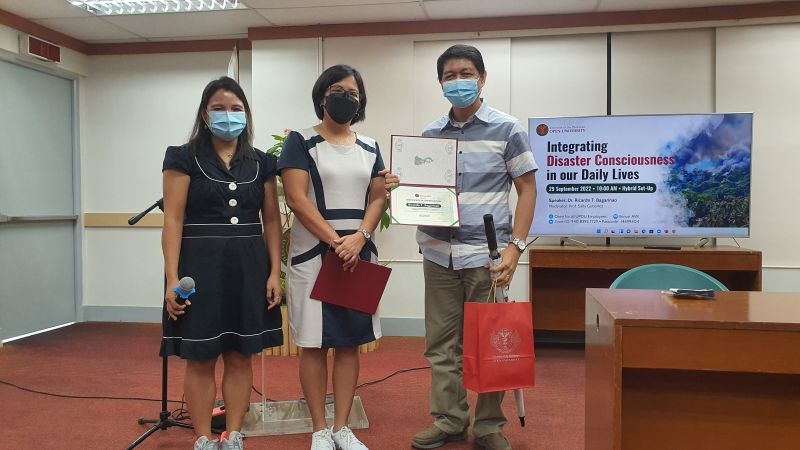 To help build a resilient community during disasters, the Disaster Risk Reduction and Management (DRRM) Committee of the University of the Philippines Open University (UPOU), conducted hybrid seminar on disaster preparedness entitled, "Integrating Disaster Consciousness in our Daily Lives" on 29 September 2022, at 10:00 AM. Dr. Joane V. Serrano, PhD., Chair of the UPOU DRRM Committee, also led the launching the "#AlwaysReady" Campaign the UPOU DRRM Dashboard.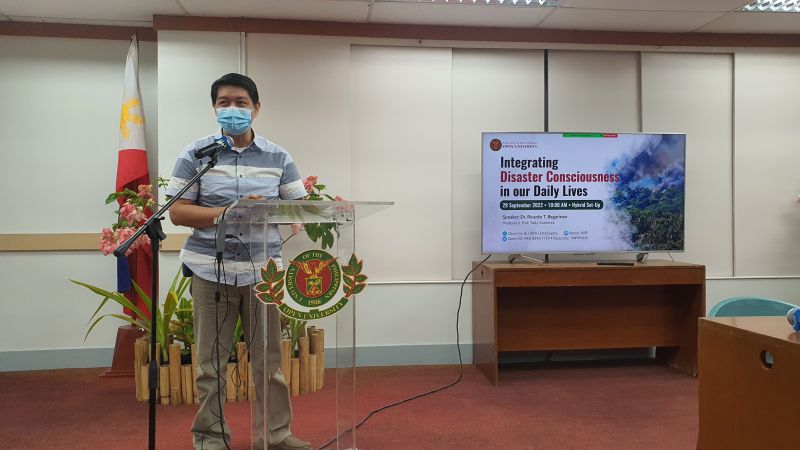 During the seminar, the speaker, Dr. Ricardo T. Bagarinao, PhD., who was the former Chairperson of the DRRM Committee and also the Dean of the Faculty of Education, covered topics such as characteristics of a disaster and elements of an Integrated Disaster Preparedness Program that could be applied at home, in the workplace, and anywhere else. A number of participants engaged in the discussion by sharing their suggestions, knowledge, and lessons from their own experiences. Some suggested that videos on what to do during disasters be shown at the start of every UPOU event.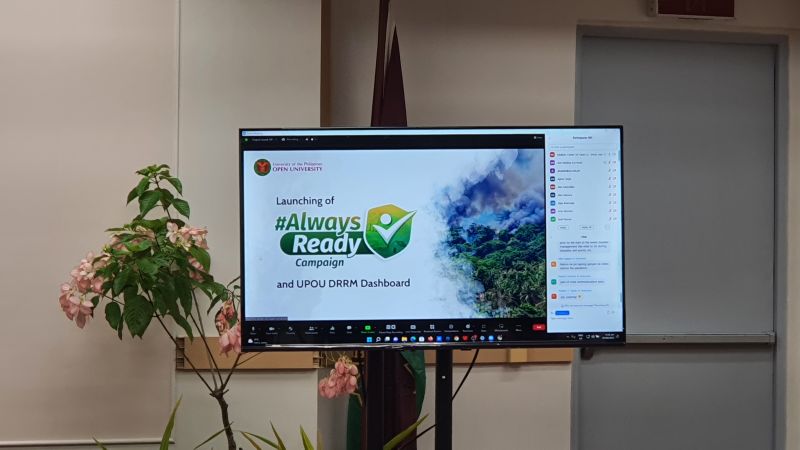 With the launch of the "#AlwaysReady" campaign, Dr. Serrano explained that the aim of the campaign is to equip every member of the UPOU community to be fully prepared for any kind of disaster. Aside from the series of seminars that the UPOU DRRM Committee will be conducting, they also launched the UPOU DRRM Dashboard. The UPOU DRRM Dashboard contains all the information on disaster preparedness that the committee has made and gathered is already available. She also encourages everyone to contribute to the dashboard and to reach out to the committee for comments or suggestions.
The seminar was moderated by Dr. Sally Gutierrez, PhD., Assistant Professor with the UPOU Faculty of Education. It was attended by a total of 136 participants of which 96 were online and the rest were in person.
Written by Pinky Halos
Edited by Myra C. Almodiel and Anna Cañas-Llamas