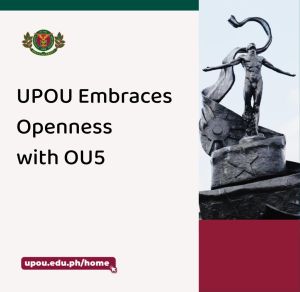 The University of the Philippines Open University (UPOU) engaged in a series of meetings with various open universities in the ASEAN Region last 21 July 2022 and 25 July 2022. The aim of the meetings is to solidify the future plans in providing distance education for the learners in the region.
Spearheaded in 2014 through the inking of a Memorandum of Agreement (MoA), the Open University 5 (OU5) aims to conduct several collaborative studies on the ASEAN dynamics, to review current policies, standards and guidelines of the region's governments, ministries, and commissions in higher education, and to help stakeholders in embracing the role of open universities in human resource development, social and political acceptability, and the future strategies for open education.
In 2020, UPOU hosted a OU5 Virtual Forum with the goal of concretizing the research collaborations with the other ASEAN  open universities, namely: Sukhothai Thammathirat Open University, Hanoi Open University , Open University Malaysia and Universitas Terbuka.
At present, the OU5 meetings conducted were focused on laying the foundation related to the openness in culture, education, and intensive research. The first meeting was held to gather the researchers and coordinators across all universities and to ponder upon the key projects on benchmarking related to research, teaching and quality assurance, and student services. They further delved into the topics on the non-degree curriculum credit bank transfer, OU5 course recognition and alignment, current opportunities and risks for open universities, and institutional and ASEAN-focused research.
The succeeding meeting became the culmination of the meeting among researchers and coordinators The different university leaders witnessed the presentation of the future plans for their respective institutions to broaden their reach towards learners during the post-COVID-19 era and other challenges that may be present in the years to come.
UPOU, through OU5, is setting to conduce more research projects and other related activities that would help in further molding the ASEAN region into a more prosperous, welcoming, and diverse society to its local constituents, and gradually, to other parts of the globe.
Written by Nikhaela Valenciano
Edited by Myra C. Almodiel and Anna Canas-Llamas