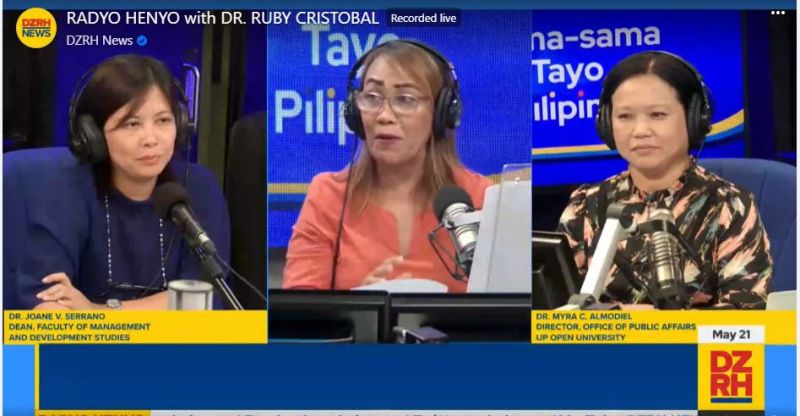 UP Open University (UPOU) was featured at DZRH's Radyo Henyo last Sunday,  21 May 2023.  The Dean of the UPOU Faculty of Management and Development Studies (FMDS), Dr. Joane V. Serrano, and the Director of the UPOU Office of Public Affairs (OPA), Dr. Myra C. Almodiel, were guest interviewees at Radyo Henyo hosted by Dr. Ruby Cristobal, UPOU MDC Alumni. 
The discussion was about education opportunities for Filipinos in the country and abroad, and the programs that UPOU offers via open and distance elearning (ODeL). Dr. Serrano explained that UPOU helped many education institutions transition to flexible and technology-assisted online learning during the pandemic, as part of its mandate under Republic Act 10650 (Open Distance Learning Act). Dr. Almodiel also shared the various continuing education programs (CEP) and Massive Open Online Courses (MOOCs) that UPOU offers. While CEP courses are open to those who have completed high school and come with a fee, the UPOU MOOCs, offered via the MODeL platform (model.upou.edu.ph), are free and open to everyone.
Dr. Serrano and Dr. Almodiel also had the opportunity to promote UPOU's Triconference (tricon.upou.edu.ph) that will be held this coming 22-25 August 2023.  This Triconference features three conferences in one event with a common theme, "Sustainability in Education: Intersections, Ideation, Innovations." These conferences include the International Conference on Open and Distance eLearning – ICODeL , International Symposium on Education and AI Convergence – ISEAC 2023, and ASEANnale 2023.
To watch the full interview, visit https://www.facebook.com/dzrhnews/videos/285129237181653/?mibextid=YCRy0i starting 38:00. 
This interview was made possible through the help of Mr. Juan Paolo Aquino from the UPLB Office of Public Relations.
Written by Anna Cañas-Llamas
Edited by Myra C. Almodiel