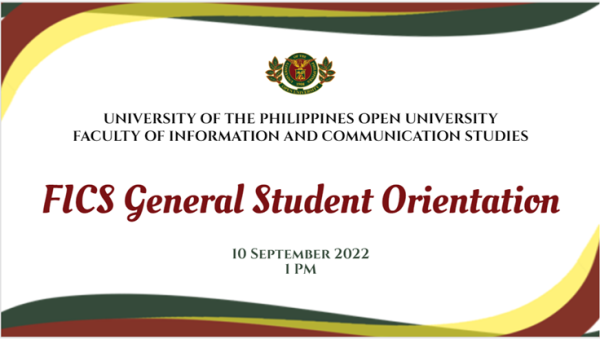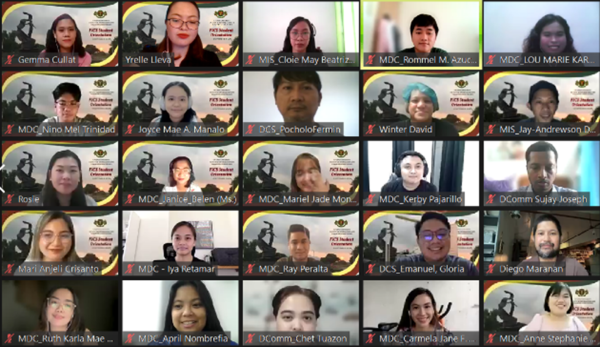 The University of the Philippines Open University (UPOU) Faculty of Information and Communication Studies (FICS) conducted a virtual orientation for its newly admitted students for the Academic Year 2022-2023. Students under the Bachelor of Arts in Multimedia Studies (BAMS), Diploma in Computer Science (DCS), Master of Information Systems (MIS), Master of Development Communication (MDC) and Doctor of Communication (DComm) programs participated in the FICS orientation program held through Zoom on 10 September 2022, 1PM. 
The program started by introducing FICS to the students then the faculty members including the affiliates, adjunct, lecturers, and tutors. They were also introduced to the staff and REPS under the faculty of study. 
Dr. Diego Silang S. Maranan, FICS Dean, welcomed the students with a short message by reading a few lines written by the former dean,  "UPOU adopts a specific type of open learning which we call open and distance learning (OdeL). All courses in the FICS are conducted online however there are certain activities in the programs that you are in that may require face to face interaction and your physical presence." He emphasized that this makes UPOU ideally placed for post-pandemic education. He also discussed that the learner is the center in the OdeL learning process. 
Dr. Alexander G. Flor, Former Dean and DCOMM Program Chair, also provided greetings to the students. This was followed by a message by adjunct faculty and former student, Dr. Davide Dall'Agata, and OSA Director, Dr. Ria Mae Borromeo. 
Assistant Professor Joyce Mae Manalo, Secretary to the Faculty, then proceeded with the orientation proper, providing the students with the relevant information that they will need throughout their journey as an FICS student. After this, the attendees were given a chance to ask academic and faculty-related questions which were then answered by the Dean and the Faculty Secretary. 
The program orientations for DCS, MIS, MDC and DCOMM were held through Zoom breakout sessions after the FICS general orientation. 
The orientation for the trimestral programs will be conducted on 08 October 2022 and will then be followed by the Bachelor of Arts in Multimedia Studies program orientation. 
Written by: Yrelle Mae Lleva 
Edited by: Myra C. Almodiel and Maine Basan