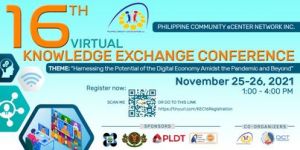 The University of the Philippines Open University (UPOU) Faculty of Information and Communication Studies (FICS) is co-sponsoring the 16th Virtual Knowledge Exchange Conference (KEC) by the Philippine Community eCenter Network, Inc. (PhilCeCNet) and the Department of Information and Communications Technology (DICT) on 25 to 26 November 202, 1:00 PM to 4:00 PM, with the theme "Harnessing the Potential of the Digital Economy Amidst the Pandemic and Beyond."
The said conference will feature outstanding speakers in the Information and Communication, Public Health, Education, and Research and Development industries. The event will discuss topics related to tools for Online Education, Digital Transformation Centers; the role of eCenter in the country's vaccination program, its best practices and accomplishments despite the COVID-19 pandemic, and its insights from eCenter stakeholders; and highlight the launch of PhilCeCNet's Most Outstanding eCenter Award. 
For the program highlights, Dr. Richard E. Amansec, Management and Information Systems Division Director of the Department of Science and Technology-Philippine Council for Agriculture, Aquatic and Natural Resources Research and Development (DOST-PCAARRD), will open the program on 24 November 2021 and will serve as the master of ceremony. 
USEC. Emmanuel Rey "Manny" R. Caintic, Undersecretary for Digital Philippines, DICT, will deliver his keynote speech followed by Dr. Paraluman R. Giron, First Vice President of the Philippine Association of the Professional Regulatory Board Members, Inc (PAPRB), who will  discuss the SDG 2030 and its impact on ICT and Education objectives and programs in the Southeast Asian Region. 
The conference will also tackle the pandemic situation with Dr. Enrique A. Tayag, Director IV, Knowledge Management and Information Technology of the Department of Health (DOH), in his talk, "COVID 19 Pandemic: What happens five (5) years from now?"
ASEC. Evamay C. Dela Rosa, OIC Assistant Secretary for Digital Philippines, DICT, will also present the Digital Vaccination Administration System (D-VAS). Ms. April Ann M. Corpuz, VaxCertPH Project Manager will expound on the topic of VaxCertPH via eCenters. These topics, D-VAS and VaxCertPH Implementation will be discussed by Mr. Marvin A. Jacela and Engr. Romarico M. Cabellon, Center Managers for Tayabas Cec Tech4ED and San Remigio Tech4ED. 
The Knowledge Exchange Conference will also be completed with additional experts from the fields of Education, Knowledge Management, ICT, and Research. Dir. Marita A. Carlos, Applied Communications Division Director of DOST-PCAARRD, will explain the DOST-PCAARRD eLibrary Teknolohoya-Kaalaman platform of GALING-PCAARRD. Ms. Alexandra Z. Cabrera, Knowledge Management Unit Head of Management Information System Division (MISD) of DOST-PCAARRD will present KM4AANR.ph
Atty. Alvin M. Navarro, Assistant Secretary for Digital Capability and Transformation, DICT, will expound on the Tech4ED and Digital Transformation Centers. 
The two-day conference will be moderated by Prof. Pierangel B. Alejo, iCollege Managing Director of the Asian Institute of Journalism and Communication (AIJC); Dr. Mary Ann A. Cortado, M'lang eCenter Manager, North Cotabato; Dir. Frederick "Rik" Dela Casa Amores, Regional Director, VC2, DICT; Dr. Ma. Cristina B. Orbecido, NOLITC School Admin & Tech4ED Center Manager; and Prof. Conchita Marta "Bal" B. Mirabueno. 
The event panelists will be Mr. Angelo G. Macha, Tech4ED Center Manager, Carmona, Cavite, and Engr. Amelia S. Dean, OIC Director IV, Regional Operations Coordination Service, DICT. 
Dr. Melinda dP. Bandalaria, UP Open University Chancellor and PhilCeCNet President, will deliver the closing message. The UPOU is part of the organizing team for the said event, and Ms. Emely Amoloza serves as the Secretariat. 
Admission to the event is FREE. Attendees may register via https://tinyurl.com/KEC16Registration.