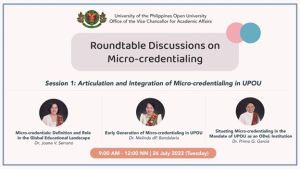 The University of the Philippines Open University (UPOU), through the Office of the Vice Chancellor for Academics Affairs (OVCAA), spearheaded the Roundtable Discussions (RTD) on Micro-Credentialing on 26 July 2022 via Zoom. During its first session, the activity centered on the Articulation and Integration of Micro-Credentialing in UPOU which would be quintessential in helping learners in forming their skillset and engaging in lifelong learning.
The discussion proper started with Dr. Joane V. Serrano, Dean of the Faculty of Management and Development Studies (FMDS). She delved into the definition and role of micro-credentialing in the global perspective as it aims to aid learners, educators, and advisors in interlinking curricular goals with the skills needed in the workforce. In furtherance, she also shared that it will "have a significant impact on the future of postsecondary teaching and learning" as enshrined in the 2022 EDUCAUSE Horizon Report Teaching and Learning Edition.
Chancellor Bandalaria established micro-credentialing as a pivotal pathway to help learners not only in building their skills but also to address the long-standing challenges in the workforce in the country. She further shared that the unbundling of the stackable courses would help the stakeholders in acquiring diverse knowledge to enhance their careers and to embody the essence of learning.
Dr. Primo G. Garcia, Vice Chancellor for Academic Affairs, situated the concept of micro-credentialing in the university. He illustrated that the realization of micro-credentialing in UPOU would lead to a harmonious relationship with informal forms of education as well as macro-credentialing. This would pave the way for the promulgation of new learning designs to be formulated in order to be tailor-fit with the Philippine context.
After the presentations, Dr. Alexander G. Flor, UPOU Professor Emeritus, served as the moderator for the open forum. The discussions with the faculty and researchers of the university resulted in the conception of more fruitful ideas and high-yielding pathways on the implementation of micro-credentialing and its effects on the stakeholders and in contrast with the existing policies on education.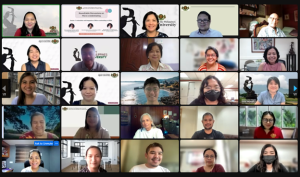 Micro-credentialing is currently prevalent in higher education amidst the emergence of the COVID-19 pandemic in order to upskill and reskill employees, and to aid in economic sustenance. Even though there are present challenges and apprehensions related to its implementation, the university shall exert utmost efforts in integrating micro-credentialing in existing and future academic programs. 
More RTDs are slated to be conducted in the next few months to concretize the implementation and integration of micro-credentialing in UPOU alongside its thrust to sustain the University of the Future (UoF) conversations.
Written by Nikhaela Valenciano
Edited by Myra C. Almodiel and Anna Cañas-Llamas