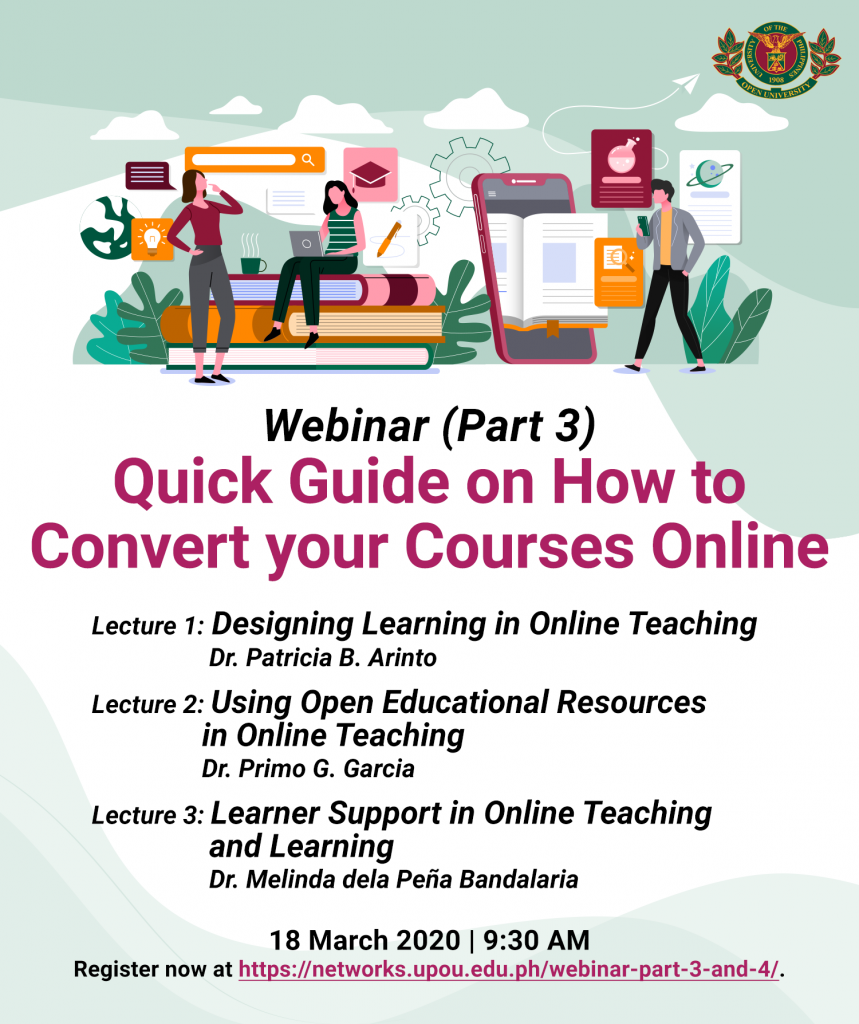 The University of the Philippines Open University (UPOU) hosted the third part of its webinar series on "How to Convert your Classes Online" on 18 and 19 March 2020. 
Due to the recent developments regarding the public health challenges that the country is experiencing and as precautionary measures, UPOU released its third part of the webinar series as recorded video lectures instead of livestream viewing. These presentations were uploaded in the UPOU Networks site (https://networks.upou.edu.ph/), and at the UPOU MODeL (https://model.upou.edu.ph/) for the question and answer (Q&A) session and activities for the issuance of the digital certificates. Further announcements will be made for each video lecture.
Three lectures comprise the third part of the webinar series. Dr. Patricia B. Arinto,  Professor of the Faculty of Education (FEd) of UPOU and the current UP Visayas Tacloban College Dean, discussed "Designing Learning in Online Teaching." Dr. Primo G. Garcia, Professor and Dean of the Faculty of Management and Development Studies (FMDS) shared practices on "Using Open Educational Resources in Online Teaching". Lastly, Professor of the Faculty of Information and Communication Studies (FICS) and Chancellor of UPOU, Dr. Melinda dela Peña Bandalaria presented "Learner Support in Online Teaching and Learning."
This webinar series is UPOU's response to provide assistance to the UP community and to the entire academic community of the country who are now shifting to online mode of instruction to cope with and to help prevent the spread of COVID-19. The series is also part of UPOU's thrust as a public service university and its mandate under Republic Act 10650 (Open Distance Learning Act).