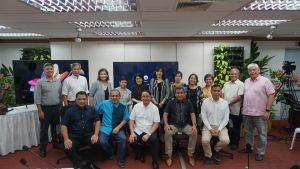 The University of the Philippines Open University (UPOU) hosted the University of the Philippines (UP) President's Advisory Council ( PAC) meeting that was held on 12 August 2022 at the Audio-visual Room, UPOU Headquarters, Los Baños, Laguna.
It was attended by UP President, Atty. Danilo Concepcion; Vice President for Academic Affairs, Prof. Ma. Cynthia Rose B. Bautista, PhD; Vice President for Planning and Finance, Prof. Lisa Grace S. Bersales, PhD, represented by AVP Noreen Escultura; Vice President for Administration, Asst. Prof. Nestor G. Yunque; Vice President for Development, Prof. Elvira A. Zamora, DBA; Vice President for Public Affairs, Prof. Elena E. Pernia, PhD; Vice President for Legal Affairs, Atty. Hector Danny D. Uy, LLB, MNSA, represented by Atty. Benedict Nisperos; Secretary of the University and of the Board of Regents (BOR), Atty. Roberto M.J. Lara; UP PGH Director, Dr. Gerardo D. Legaspi, MD; UP Diliman Chancellor, Prof. Fidel R. Nemenzo, DSc; UP Los Baños Chancellor, Prof. Jose V. Camacho, Jr., PhD; UP Manila Chancellor, Carmencita D. Padilla, MD, MAHPS; UP Visayas Chancellor, Prof. Clement C. Camposano, PhD; UPOU Chancellor, Prof. Melinda DP. Bandalaria, PhD; UP Mindanao Chancellor, Prof. Lyre Anni E. Murao, PhD; UP Baguio Chancellor, Prof. Corazon L. Abansi, PhD; and UP Cebu Chancellor, Atty. Leo B. Malaga.
The PAC meets once a month to go through system-wide policy directions, administrative and academic operation coordination, and special concerns with autonomous units. The PAC has also acted as a venue for coordinated and unified deliberations about the growth and development of the university, as well as for the dissemination of information on academic and administrative policies adopted by the BOR. Furthermore, it has acted as a coordinating body for different university initiatives and projects, a sounding board for policy proposals prior to submission to the BOR, and a feedback mechanism for the university's numerous academic and administrative concerns.
SOURCE: UP Office of the Secretary of the University (OSU) Website, https://osu.up.edu.ph/pac-matters/
Written by Pinky Halos
Edited by Myra C. Almodiel and Anna Cañas-Llamas
Photo by Christian C. Guevarra